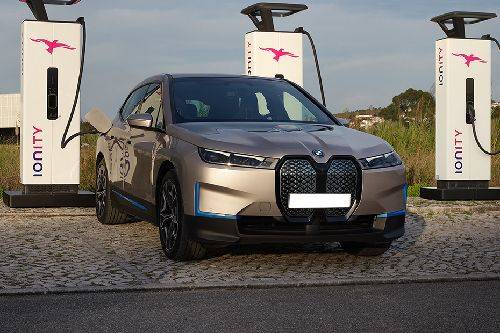 BMW iX
BMW iX is a 5 seater SUV car. BMW iX is available in 1 variants and 2 colours.
Expected Launch date: May, 2021
Key specifications & features of the BMW iX. View engine specs, dimensions, safety and technology features in detail below
Features

Parking Sensors
Child Safety Locks
Side Impact Beams
Rear Seat Belts
Front Impact Beams
BMW iX Price List
Checkout iX price list below to see the SRP prices and promos available.
Share your experience and
get a chance to win an Apple Watch.
Terms & Condition*
Write a review
BMW iX Colors and Images
Front Angle Low View
Front Left Side
Full Front View
Front View
Full Front View
Front View
Front Side View
Front Left View Angle
Rear Cross Side View
Rear Left View
Front Cross Side View
Front Right View
Front Ac Vents
Front Air Vents
Steering Wheel
Steering Wheel
Passengers View
Passenger View
Front Seats
Door view of Driver seat
Seat Adjustment Controllers
Seat Adjustments Control
Courtesy Lamps
Rear View Mirror/Courtesy Lamps
Upholstery Details
Upholstery Details
Front Seat Headrest
Front Seat Headrest
Rear Seat Head Rest
Rear Seat Head Rest
Rear Medium View
Rear Medium View
Rear Medium Side View
Rear Medium Side View
Medium Angle Front View
Medium Angle Front View
BMW iX Colors
BMW iX is available in 2 different colors - Red and Silver
Front Angle Low View
Front Left Side
Full Front View
Front View
Full Front View
Front View
Front Side View
Front Left View Angle
Rear Cross Side View
Rear Left View
Front Cross Side View
Front Right View
Rear Medium View
Rear Medium View
Rear Medium Side View
Rear Medium Side View
Medium Angle Front View
Medium Angle Front View
Front Ac Vents
Front Air Vents
Steering Wheel
Steering Wheel
Passengers View
Passenger View
Front Seats
Door view of Driver seat
Seat Adjustment Controllers
Seat Adjustments Control
Courtesy Lamps
Rear View Mirror/Courtesy Lamps
Upholstery Details
Upholstery Details
Front Seat Headrest
Front Seat Headrest
Rear Seat Head Rest
Rear Seat Head Rest
Second Hand Cars Similar to BMW iX