Isuzu C-Series
Isuzu C-SERIES 2023 tough competitors are: Dongfeng KL, Isuzu F-Series, Isuzu E-Series, TATA Prima 6038 S and TATA Prima 4438 S.
SRP : ₱5.05 - 5.75 Million
Key specifications & features of the Isuzu C-Series. View engine specs, dimensions, safety and technology features in detail below
Isuzu C-SERIES 2023 Price in Manila
Checkout 2023 C-SERIES price list, variants, EMI's and available promos.
Isuzu C-SERIES Latest Updates
The Isuzu C-Series is available in two variants in the Philippine market – the CYZ52 priced at Php 5.05 Million and the CYH52 priced at Php 5.75 Million. Both variants are powered by a 15681cc 6-cylinder in-line, Blue Power Diesel engine with turbo-intercooler that makes 414 bhp of power at 1800 rpm and 1863 Nm of torque at 1300 rpm. The engine is paired to a 7-speed manual transmission gearbox. The C-series trucks feature a comfortable cabin that is equipped with features like adjustable driver seat and air conditioning. Safety comes in the form of seat belts and Anti-Lock Braking System.
Isuzu C-SERIES Pros & Cons
Get the better insights of Isuzu C-SERIES, Read our expert opinion and helps to buy or not
Things We Like in Isuzu C-SERIES
Reliable and powerful engine
Good load-carrying capacity
Things We Don't Like in Isuzu C-SERIES
Dated interior cabin
Limited features on offer
Isuzu C-SERIES Colors and Images
Isuzu C-Series Review
Isuzu C-SERIES Overview

Forming the range of medium-duty trucks from Isuzu, the C-Series is a truck that promises pure Japanese engineering for the commercial vehicle segment, which is known for reliability and a no-nonsense approach in its focused duties. The Isuzu C-Series is being offered in two different variants to choose from – CYZ52 (10-wheeler) and CYH52 (12-wheeler) – both of which can be had in a sole shade of white.

Isuzu C-SERIES Interior

The interior cabin of the Isuzu C-Series looks very outdated and basic for today's day and age, with the dull grey finish of the cabin making the cabin look even more lackluster.

The driver's cockpit of the Isuzu C-Series, which is a combination of a large two-spoke steering wheel as well as a simple and basic all-analog instrument console, looks too outdated. Even the center console, with its curved outer part, looks a tad too basic and houses rectangular housings for a 1-DIN audio system, switches panel, and AC vents, which look too basic. 

Below the center console of the dashboard, there is a wide housing that gets the transmission lever and a few storage bins, with the latter enhancing the practicality of the cabin.

Isuzu C-SERIES Exterior

The Isuzu C-Series can be best termed as simple and sober when it comes to its visual appeal – while it is not extrovert and in-your-face in its appearance, it does look large and different for a truck of its size, without going too overboard.

The Isuzu C-Series has got a tallish appeal when it is viewed head-on. The long rectangular and flat front profile comes with a large rectangular windscreen, which covers almost half of the upper part of the truck. This windshield, with its curved edges, actually is large and one of those trucks which require three different wipers.

It is the middle part of the front profile which is the most interesting part of the truck to look at. The front apron here gets protruding rectangular portions on the sides and a wide grille setup spread in the middle of it. This grille is comprised of six different trapezoidal portions – three in upper row and three in the lower row, thus making the front look very unique.

The front bumper at the bottom too looks fairly large and makes the front profile look even bigger, with its tall layout. The vertical placement of angular headlamps on the lower corners of the front bumper manages to make the front bumper taller than what it actually is. Then there is a large trapezoidal black panel spread across the center of the front bumper, which accommodates the license plate housing as well.

The side profile of the Isuzu C-Series has a conventional design to it, with a trapezoidal side window panel and a rounded rectangular quarter glass behind it, both of which sport rounded edges. There is a pair of hinged rearview mirrors on both sides, and they, along with the door handles and side cladding over wheel arches, are finished in black theme.

Isuzu C-SERIES Ride & Handling

The Isuzu C-Series comes with a very basic sounding taper leaf spring setup for the suspension at both front and rear, which is actually very heavy duty and reliable setup for carrying heavy loads with ease. The braking duties are taken care of by auto adjustable full air operated service brake. 

Isuzu C-SERIES Engine & Fuel Consumption

The Isuzu C-Series sources all of its thrust from a large and punchy 6WG1-TCN series 15.7-liter, six-cylinder, four-stroke, direct injection, water-cooled, inline overhead camshaft, VGS turbocharged, blue power diesel engine. Mated to a 16-speed manual gearbox, this engine makes maximum power and torque outputs of 420 PS and 1863 Nm respectively.

Isuzu C-SERIES Braking & Safety

The only major safety feature which the Isuzu C-Series comes equipped with is the ABS.

Isuzu C-SERIES Verdict

The Isuzu C-Series, for its unique exterior design, reliable engine, and simple but heavy-duty mechanical setup under the skin, is one worthy option to go for. However, the truck could have done with a bit more focus on modernizing the interior cabin with a better layout and more features onboard.
C-SERIES Owner Reviews
Based on
2 Customer Reviews
C-SERIES Reviews
I was in search of a heavy-duty truck for my transportation business. My two criteria for selection...Read More

Christian Thursday Mar 9, 2023 02:50:46

Superb power, outstanding torque and nice fuel efficiency make the Isuzu C Series a great truck....Read More

Evan Wednesday Aug 11, 2021 15:02:34
Isuzu C-SERIES News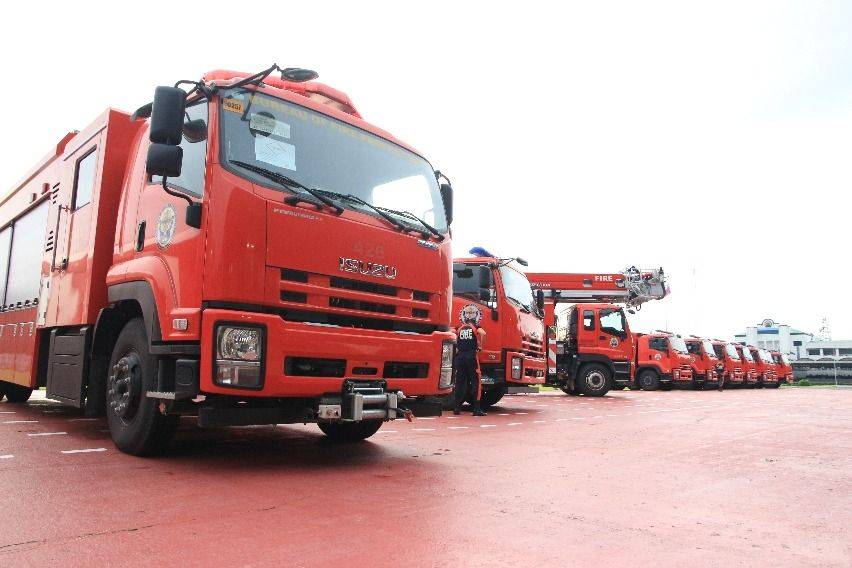 Automotive News
Isuzu C-Series Alternatives
FAQs on Isuzu C-SERIES
Answers to most common frequently asked questions (FAQs) on Isuzu C-Series
What is the Price of Isuzu C-Series in Philippines?

The price of Isuzu C-Series in Philippines starts from 0 and goes upto 0.

What is the Fuel Tank Capacity of Isuzu C-Series?

The Fuel Tank Capacity of Isuzu C-Series is 400.

What is the Engine Displacement of Isuzu C-Series?

The Engine Displacement of Isuzu C-Series is 15681 cc.

What is the Weight of Isuzu C-Series?

The Gross Weight of Isuzu C-Series is 33000 Kg.

What is the Maximum Speed of Isuzu C-Series?

The maximum speed of Isuzu C-Series is 80 kmph.

Which are the tough competitors of Isuzu C-Series 2023 in Philippines?