Act of God Car Insurance Coverage Explained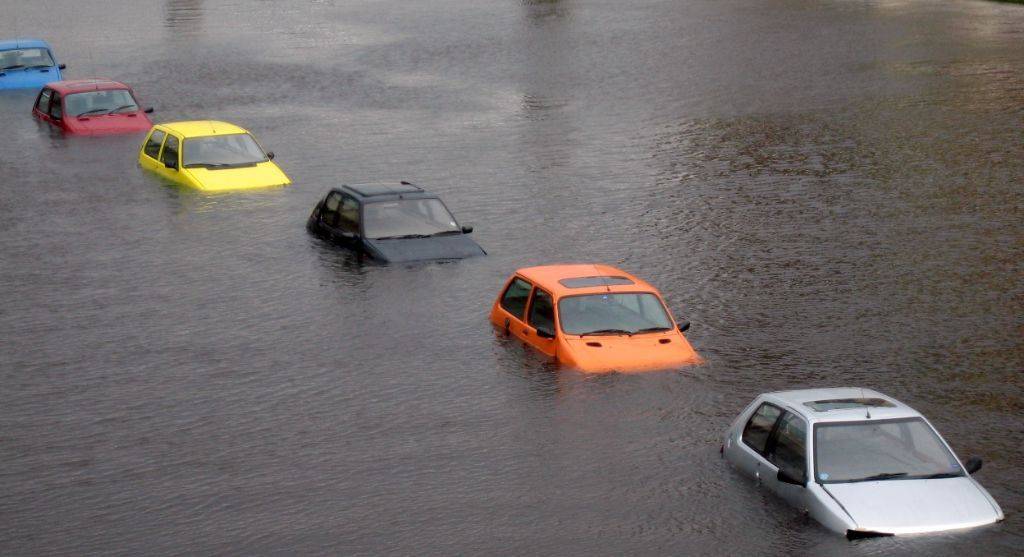 ## What is an Act of God?
"Acts of God", also known as "AOG", "Acts of Nature" or "AOG coverage", is a term used by car insurance companies to refer to unpredictable, natural catastrophes that can't be prevented, avoided, or controlled either by preparation or caution. Act of God coverage will help pay for your car's repairs in case it gets damaged in the aftermath of a catastrophe.
### A brief background of the Act of God insurance policy
AOG coverage wasn't as popular in the Philippines until the typhoon Ondoy devastated the entire country, left nearly 500 people dead, and destroyed an estimated 14,000 motor vehicles.
This led many Filipinos to purchase Act of God insurance to protect their cars from three of the most common natural calamities in the country: floods, earthquakes, and typhoons.
According to Michael Rellosa, the Deputy Chair and Spokesperson for the Philippine Insurers and Reinsurers Association (PIRA), their AOG coverage has gone up from 20 percent to 60 to 70 percent ever since the Ondoy incident left parts of the country in ruins.
Yet despite its sudden increase, this coverage continues to be an optional add-on coverage for a standard insurance package.
## What does Act of God insurance cover?
AOG coverage may vary from one insurance company to the next, but whatever the case, your vehicle is protected when it gets damaged by any of these calamities:
- Animal contact (such as hitting an animal while driving on the road)
- Earthquakes (sometimes not included)
- Explosion
- Fire
- Vandalism or vengeful mischief
- Falling objects, such as missiles
- Civil unrest
- Windstorm
- Floods (sometimes not included)
- Typhoon
- Volcanic eruptions
## How does Act of God coverage work?
Many car owners assume that having a standard insurance package like a Comprehensive Car policy means they also have an AOG coverage. The truth is, the word "comprehensive" here is quite deceptive, since insurance companies don't normally include AOG or "Acts of Nature" in this type of policy.
You also can't purchase an AOG policy by itself. The only way you can avail of this coverage in the Philippine is to get comprehensive insurance first and then add an AOG policy alongside it.
A comprehensive car insurance premium costs around 1.8% to 2% of your insured car's value per year. You will need to pay an additional 30% to 40% of your insurance premium if you want to include Act of God coverage on top of your comprehensive insurance.
---
Here's an example for you. Suppose you buy a car that's worth P1 million. This means that your comprehensive car insurance premium will be estimated at around P18,000 (P1 million x 1.8%) to P20,000 (P1 million x 2%) per year.
Now let's say you have a lot of money to spare, so you've chosen the P20,000 per annum comprehensive car insurance premium. You will need to add around P6,000 (P20,000 x .30%) to P8,000 (P20,000 x .40%) to avail of Act of God coverage. So your total premium in this case will range from P26,000 (P20,000 + P6,000) to P28,000 (P20,000 + P8,000) per year.
__A word of warning__: If your vehicle gets damaged by an Act of God event, then your comprehensive insurance might only reimburse the current market value of your car. If your car's price is already low to begin with, then adding AOG coverage on top of your comprehensive insurance premium might not be worth the added expense.
## What are the limitations of Act of God coverage?
### Inclusions and exclusions
Coverage for Acts of God insurance is not always up front; there are times when there are gray areas that need to be clarified first. For instance, some companies exclude earthquakes in their coverage, while others don't.
It's always best to ask your insurance company to give you a detailed list of which natural disasters are included and excluded from the policy. Let them enumerate the rules and conditions for each calamity that it covers.
### Act of God or simply negligence?
Another gray area here is that thin line between natural and man-made causes. Sometimes, people confuse the two and lay the blame on nature instead of themselves.
Let's say that your neighbor's old tree falls on your parked vehicle and crushes the hood of your car. This happened after a typhoon hit your area. Your neighbor refuses to pay for the damages, citing that it was not their fault but simply a natural occurrence. Now, the question is this: Is it really an Act of God, or simply negligence on your neighbor's part?
Suppose that the same tree has been infested with termites for years now, and has been rotting from the inside ever since. Was the typhoon the real cause of the mishap, or was it because your neighbor didn't take any steps to prevent the situation from getting worse in the first place?
This scenario could easily have been avoided if your neighbor took steps to get rid of the termites in the first place. Should this be the case, then you have enough grounds to claim negligence on your neighbor's part, and not an Act of God.
Many car buyers tend to overlook an AOG coverage when shopping for car insurance. Their main reason is that their chances of encountering a serious calamity is quite rare and doesn't need attention. While this may be true, it's always good to take the notch higher by becoming more prepared. That way, when nature throws you a curve ball, you'll have enough resources to throw the ball right back.
Car Articles From Zigwheels
News
Article Feature
Advisory Stories
Road Test
MG Cyberster now in ASEAN region

Ruben Manahan IV

.

Dec 01, 2023

Shell PH to raffle off 1-M Go+ points monthly in latest raffle

Ruben Manahan IV

.

Dec 01, 2023

Hyundai, Kia unveil 'Uni Wheel' drive system for future mobility products

Hazel Nicole Carreon

.

Dec 01, 2023

Porsche's Zuffenhausen plant undergoes major upgrade

Hazel Nicole Carreon

.

Dec 01, 2023

Toyota, Lexus retail over 160k units in PH for Jan.-Oct. 2023

Hazel Nicole Carreon

.

Dec 01, 2023
What's inside the Kia Stonic

Hazel Nicole Carreon

.

Dec 01, 2023

Here are the Kia Sorento's 3 conservative colors

Paulo Papa

.

Nov 30, 2023

Sedan showdown: Kia Soluto vs. Changan Alsvin

Paulo Papa

.

Nov 30, 2023

First-class efficiency: Honda CR-V

Paulo Papa

.

Nov 30, 2023

Crossover clash: Kia Stonic vs. Volkswagen T-Cross

Hazel Nicole Carreon

.

Nov 30, 2023
Oil players cut pump prices anew

Paulo Papa

.

Nov 14, 2023

PH oil price hike to continue this week

Ruben Manahan IV

.

Sep 11, 2023

Maximizing Transmission Lifespan: How Often Should You Change Your Transmission Fluid?

Hazel Nicole Carreon

.

Aug 23, 2023

Navigating the Aftermath: A Comprehensive Guide to Assessing Flood Damage on Cars

Hazel Nicole Carreon

.

Aug 07, 2023

Car Insurance 101: What Every Car Owner Needs to Know

Hazel Nicole Carreon

.

Jul 28, 2023
Fine China: 2023 Chery Tiggo 7 Pro

Dylan Afuang

.

May 26, 2023

Review | 2023 Toyota Raize 1.0 Turbo | Rocket Bunny

Roy Robles

.

Apr 27, 2023

Old but still golden: 2023 Mitsubishi Mirage hatchback

Alvin Reyes

.

Mar 01, 2023

First Drive | 2023 Kia EV6 GT-Line | Post Modern Philosophy

Roy Robles

.

Feb 24, 2023

More than just a kit | 2023 Mitsubishi Xpander Cross

Roy Robles

.

Jan 30, 2023