2020 Nissan Qashqai N-TEC Edition Reaches the UK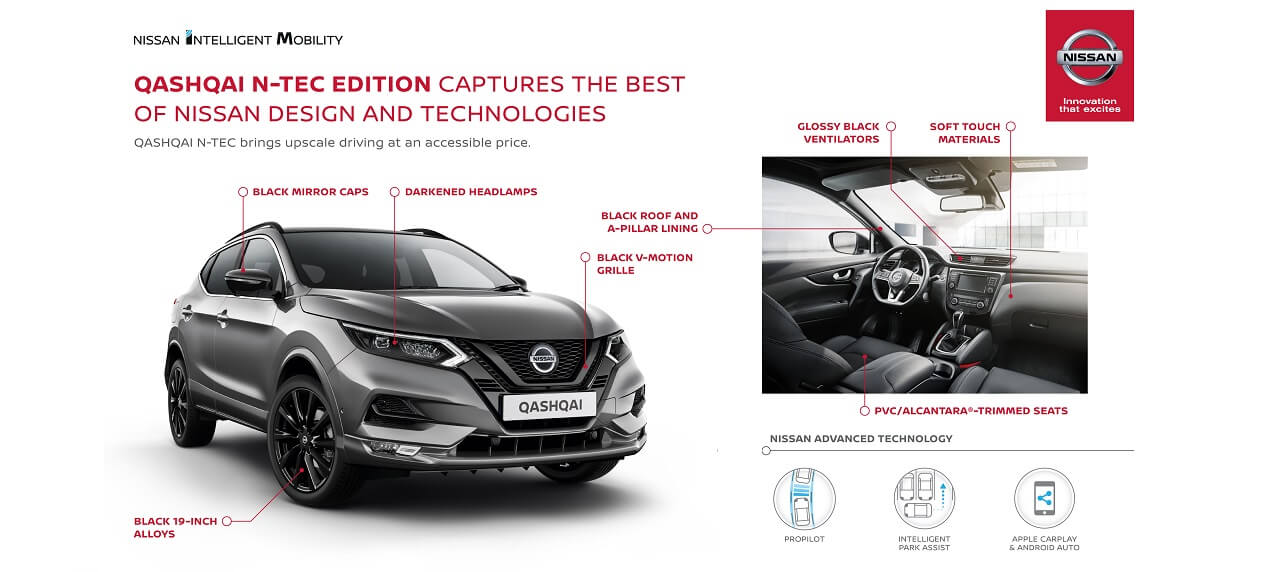 Nissan started the new decade with the launch of their new tech and design editions, which were scheduled for implementation in their Micra, Qashqai, and X-Trail core models. Now, the Japanese brand has released more details about the Qashqai N-Tec Edition that combines "stand-out design and advanced technologies" while bringing "upscale driving at an accessible price" to Nissan's popular seven-seater crossover, known as the Rogue Sport in the US and Dualis in Australia and its native Japan.
Style-wise, the Qashqai N-Tec edition gets more aggressive courtesy of all-black 19-inch alloy wheels, and similarly blacked-out front grille and black mirror caps.
Meanwhile, smoked headlights and taillights add further menace to the car's sporty allure.
The black theme continues into the crossover's cabin with PVC/Alcantara upholstery and soft touch materials. The AC vents, roof, and A-pillar lining are also given the black treatment.
The Qashqai N-Tec Edition's more stylish look is matched by an even more dynamic tech, starting with the advanced Nissan ProPILOT system and Intelligent Park Assist. While these features are usually made available only to range-topping grades, they come standard in this edition.
The ProPilot system in particular, helps keep the vehicle in lane, regulate its speed, manage traffic jams and control the distance to the vehicle ahead, making any trip all the more convenient for the Qashqai N-Tec's owner.
The Qashqai N-Tec also comes equipped with the NissanConnect infotainment system, which includes Apple CarPlay and Android Auto to ensure effortless connection to digital life while ensuring both driver and passengers enjoy the drive.
The Intelligent Park Assist feature on the other hand, gets rid of the frustrations of reverse parking, with advanced sensors identifying a suitable parking space and then performing the maneuver, with the driver simply regulating the speed, while viewing the car's immediate surroundings with the Qashqai's Around-View Monitor on the touchscreen display.
Speaking about Nissan's strategy towards technology, David Moss, Senior Vice President of Nissan Europe's Research and Development said: "As a brand that has earned a reputation for democratizing technology and bringing innovation like Intelligent Parking Assist and Autonomous Driving Technology to the mass market first, Nissan is committed to learning which innovations consumers want in the future. Through understanding these needs, we can help move people to a better world thanks to new technology."
"The Qashqai N-Tec edition brings Nissan Intelligent Mobility innovations to a wider audience. It's a car that continues in the finest Nissan tradition by bringing together the very best of Nissan design and technology, and therefore upscaling the drive for Qashqai customers," Moss concludes.
The Nissan Qashqai N-Tec Edition comes standard with a 2.0 liter DOHC 4 Cylinder engine that makes 141 hp and 200 Nm. Gearbox options include a 6-speed manual and a continuously variable transmission (CVT).