Adapt x Innovate: Mercedes-Benz PH gears up for 'new normal'
In line with the Philippine government's easing of its enhanced community quarantine (ECQ) measures, luxury car brand Mercedes-Benz is once again opening its doors to its customers.
"Showrooms and service centers in Greenhills Edsa and BGC will resume on May 16, while Alabang and Cebu will reopen on May 18," announced The Auto Nation Group, the exclusive distributor of Mercedes-Benz vehicles in the country.
Along with the resumption of operations, Mercedes-Benz PH is also launching the Mercedes-Benz AI: Adapt x Innovate program in its entire dealership network to ensure a "pandemic-proof environment" and reduce the risk of infection for its customers.
The Adapt x Innovate plan consists of two parts—the first part (Adapt) implements precautionary measures including the strict adherence to physical distancing, required wearing of personal protective equipment (PPE) such as face masks and gloves, temperature screening, regular sanitation of common areas, and installation of safety reminders at key locations.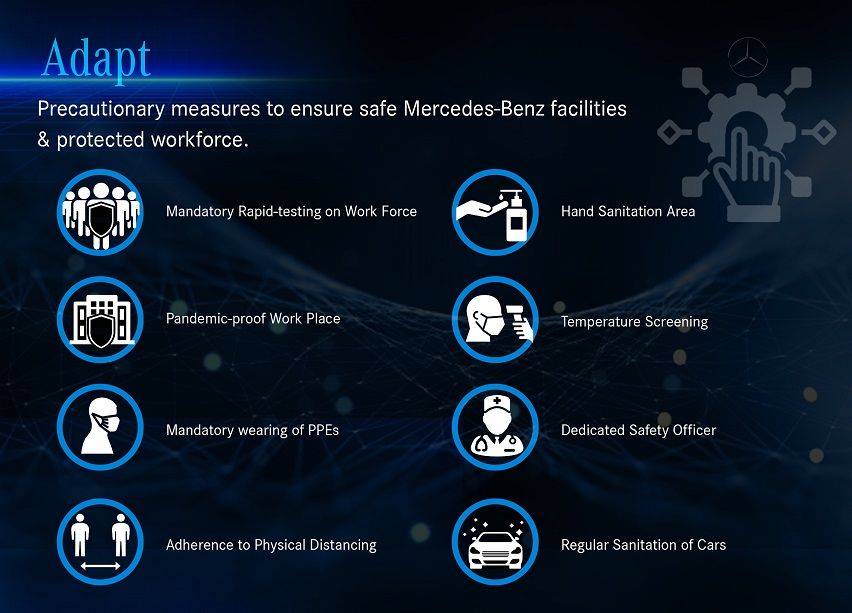 MB will also have its employees undergo antibody rapid testing before they are cleared for work. Afterwards, employees will also receive additional training and education on prevention awareness as well as improved personal hygiene and sanitation.
The company has also implemented work-from-home setups for some of its employees, with the goal of having a maximum 50% workforce at its dealerships. Vehicle test drives are still allowed, and the vehicles are all disinfected and sanitized before and after each test drive to ensure the utmost safety of the company's staff and customers.
The second part of the plan (Innovate) involves the use of technology to promote less contact between Mercedes-Benz staff and customers. Measures include the strengthening the company's online presence, building additional contact channels, and enhancing the safety of online payment options.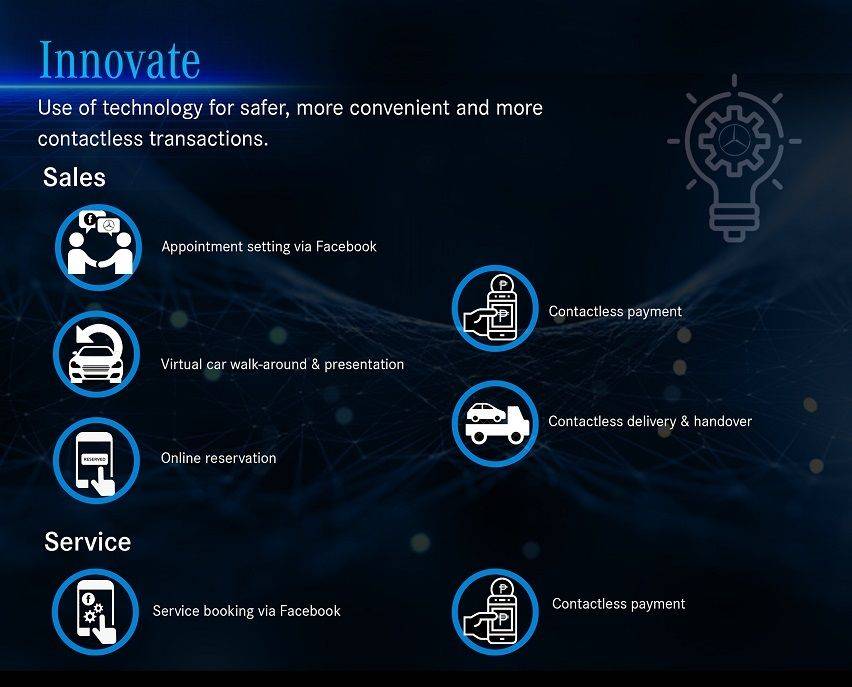 MB is also encouraging car owners to book their service appointments via its official Facebook page.
"Our sales executives are trained to conduct virtual vehicle demonstration and presentation using our proprietary applications to help serve our customers at the comforts and security of their homes. Also, Mercedes-Benz PH has devised a no-contact delivery and handover process for safer transactions," the company said.
The safety protocols described above are part of MB's efforts "to adapt effectively and efficiently to the new reality," according to the company, with the promise to "continuously innovate to bring unparalleled experience whenever and however its clients engage with the brand."
Photos from Mercedes-Benz Philippines
Also read
Mercedes-Benz Launches the eSprinter Electric Commercial Vehicle
Featured Mercedes-Benz Cars
Mercedes-Benz Car Articles From Zigwheels