Aston Martin Commemorates the Concorde's 50th Anniversary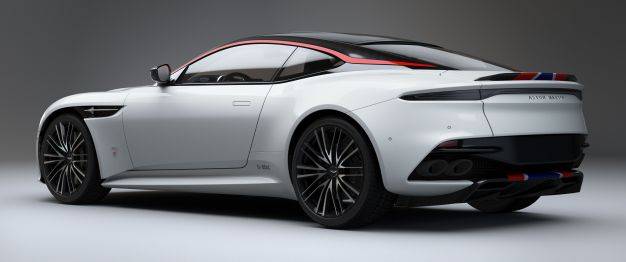 It was the 2nd of March, 1969 when the British-French turbojet-powered supersonic passenger airliner Concorde first took flight.

And even though the aircraft is now retired and defunct, fellow European marque Aston Martin wanted to commemorate the historic moment the supersonic jet first took flight.

Another reason to celebrate? One of Concorde's operators, British Airways, is celebrating their 100th anniversary.






Aston Martin will produce only 10 units of the special edition DBS Superleggera Concorde edition, making it extremely rare and desirable for collectors.

Every single unit of this grand tourer is customized and personalized by Aston Martin Q division. The car is painted while, and uses the Union Jack's color palette on its front splitter, roof strakes, rear spoiler and diffuser accents.

The roof is pure carbon fiber and almost translucent, bearing the silhouette of the iconic aircraft. The side strakes are milled from solid aluminum and there are various homages to the British Airlines logo throughout the car.




Stepping inside the DBS Superleggera is like boarding a first class flight. You will be greeted by a sleek and luxurious cabin, with a navy blue theme and metal accents throughout. The paddle shifters are crafted from the very titanium in the Concorde's compressor blades. Aston Martin's attention to detail even carries through the alcantara headliner, which depicts a sonic boom. 




Of note, all changes made to the DBS Superleggera are cosmetic, as it keeps the same engine. However, a twin turbo 5.2 liter V12 engine that puts out a massive 715 hp and 900 Nm of torque is nothing to be disappointed about. The DBS Superleggera is capable of reaching 0-100km/h in just 3.4 seconds, and can reach neck breaking speeds of 340 km/h.




Even though this car is obviously exclusively available to the 1%, Aston Martin almost makes up for it by donating a part of the proceeds to the Air League Trust, a non profit organization that teaches underprivileged kids how to operate an aircraft and offers them support to work in engineering.

Pricing has not been announced yet for this special edition Aston Martin, but since it is a limited production vehicle, we can almost be certain that it will significantly cost more than a standard DBS Superleggera, which already has a starting price upwards of $300,000.
Also Read
https://www.carmudi.com.ph/journal/aston-martin-enters-the-suv-market-with-all-new-dbx/