Caltex Havoline unleashes Super 4T and SuperMatic 4T oils for better performance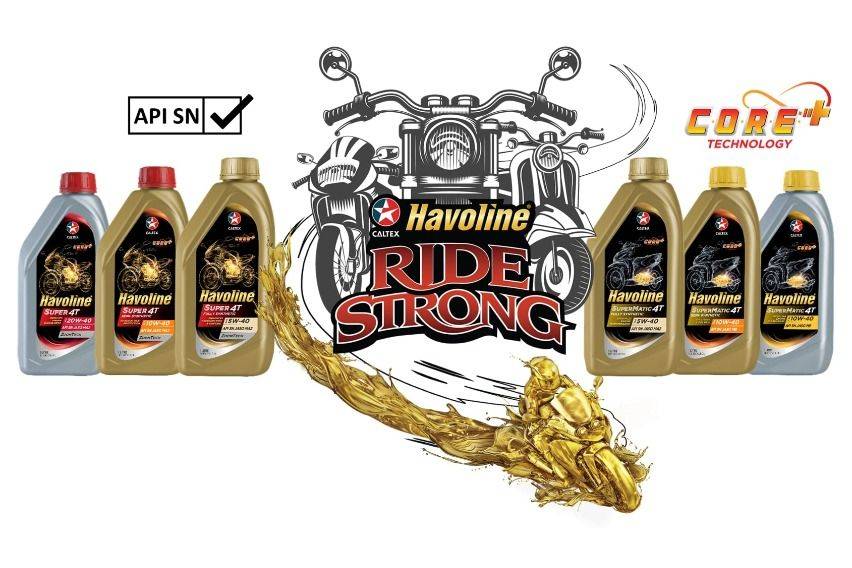 Caltex Havoline, under Chevron Philippines Inc. (CPI), has updated its motorcycle engine oils for optimized performance and smoother operations.
The latest Havoline Super 4T and SuperMatic 4T four-stroke motorcycle and scooter engine oils now come with the upgraded CORE+ Technology.
The new oil line for motorcycles and scooters covers the three types of engine oils (fully synthetic, semi-synthetic and mineral) that are still engineered with signature CORE+ Technology, and ZOOMTECH.
Surpassing the previous version, the latest CORE+ Technology further tackles engine issues, especially during heavy traffic. Aside from that, Caltex claims that the new oils provide better cleaning properties, thereby enhancing vehicle performance while delivering a more enjoyable riding experience.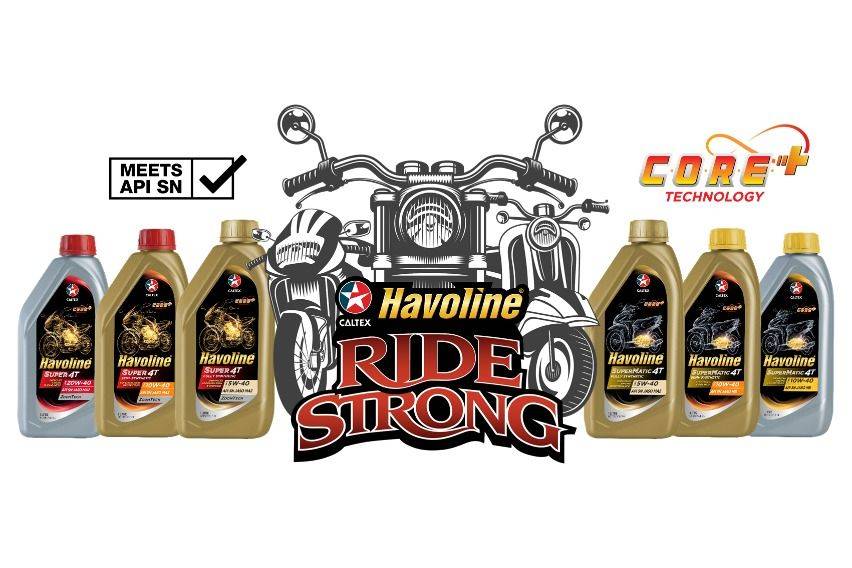 Apart from an upgrade in product technology, the entire Havoline Super 4T and SuperMatic 4T range also meets American Petroleum Institute (API) SN, one of the latest specifications in the industry, to offer increased high temperature deposits protection for pistons, better wear control, and improved sludge control in urban, stop-and-go riding conditions. This tops the previous range of API SL.
"Today's consumers are more discerning with the engine oils they choose, and most demand for better protection and performance of the engine, clutch and gearbox," said Chevron Lubricants for Philippines Area Business Manager Hafiz Nasar.
"The newest generation of motorcycle engine oils spurs from our success of the previous Havoline motorcycle range and raises the bar for product performance across the industry. We constantly improve and evolve our products to meet the latest industry's standards, while also keeping abreast of the lubrication requirements of vehicle manufacturers as their engine technology advances."
Asia-Pacific accounts for 83 percent of the global two-wheel population (524.2 million units), and is only expected to grow, due to rising urbanization in growing economies within the region and increasing demand for transport in small cities.
Last year, the local two-wheel market hit the 8th all-time record in a row, becoming the 5th largest in the world. While the 2020 outlook isn't good, the industry is expected to have a fast recovery next year.
To those who do not know, CORE+ Technology stands for
Cleans and protects – Maintains efficient engine performance
Oxidation stability – Protects against oil degradation
Reduces engine heat damage – Delivers continuous and superior oil stability
Enhances acceleration – Improves clutch grip under high loads with ZOOMTECH
In addition, these engine oils are also formulated with ZOOMTECH, which delivers better oil frictional properties. For the everyday rider, this improves clutch grip and prevents slippage, especially under high load conditions, and ensures maximum power transfer for enhanced acceleration.
Photo/s from Chevron Philippines Inc.
Also read:
Chevron Extends Help to Taal victims
Caltex-Lalamove introduces new reward card for partner-drivers