CAMPI/TMA: Vehicle Sales Pick Up in August
The Chamber of Automotive Manufacturers of the Philippines, Inc. (CAMPI) and the Truck Manufacturers Association (TMA) published a joint report stating that the Philippine auto industry managed an 8.1-percent month-on-month growth, selling 30,313 units in August 2018 compared to July's 28,038 units. The report attributed the increase to new model launches and the intensive promotional campaigns related to these new releases.
"Coming from a double digit decline in July, our August sales performance is an indication of improving consumer confidence," said CAMPI president Atty. Rommel Gutierrez.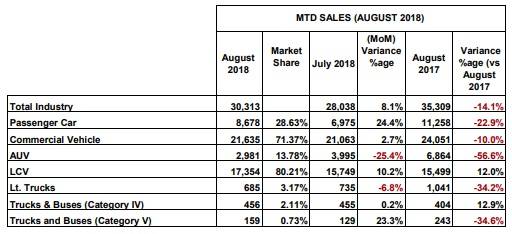 Still, both year-over-year (YOY) and year-to-date (YTD) sales are still down by 14.1 percent and 14.3, respectively. August 2017 sales were at 35,309, which is 4,996 units more than August 2018's numbers. Likewise, sales for the first eight months of 2018 is only at 229,941 compared to 268,424 units during the same period last year, for a difference of 38,483 units.