Car Comparison: Nissan Terra vs. SsangYong Rexton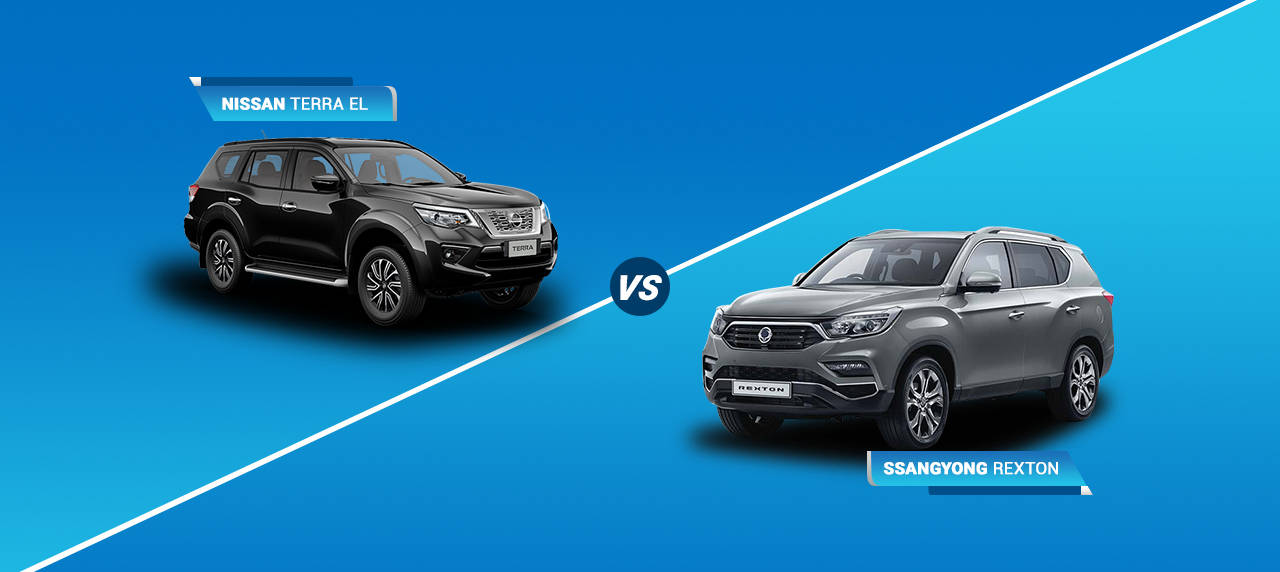 The local midsize SUV market has seen steady gains in the past few years. Filipino car buyers now show more purchasing power and are ready to take on larger vehicles focusing on decent interior and exterior specs designed to do more than just carry a family of five and a bag full of groceries on any given Sunday. In this category are two midsize SUVs, the Nissan Terra and the SsangYong Rexton. Both vehicles are built from a ladder-frame chassis, have a diesel engine to boast, and seemingly comparable builds. But which exactly between our two five-door midsize sport utility vehicles is the better ride for the average Filipino family? Let's start by checking how the base variants of both midsize SUVs stack up against each other frame by frame.
Dimensions
Surprisingly, the South Korean car manufacturer gifted the SsangYong Rexton 4x2 AT with a beefy frame as it dominates the Nissan Terra 2.5L EL AT 4X2 in terms of breadth. This translates to a better cabin room, giving the SsangYong Rexton generous interior space akin to luxury SUVs. Nevertheless, Nissan makes it a neck and neck competition as the Nissan Terra 2.5L EL AT 4X2 offers taller and longer proportions, allowing it to enjoy a roomier engine bay and spacious luggage room. Ground clearances on both SUVs are virtually identical.
Exterior
Both front and back, these SUVs look exceptionally round and robust with a slight touch of sophistication allowing both nameplates to blend in the segment they belong to. The base trim level of the Nissan Terra sports a stylish chrome grille with LED headlamps coupled with styled finisher as well as the standard automatic on and off and follow-me-home features native to the Terra SUV. Its front fog lamps are also outfitted with chrome accent finishers coupled with chrome outside door handles and a chrome rear plate garnish. And mind you, this is just the base AT variant. The usual suite of roof rails and side steps are also expected from a midsize SUV from one of the top brands from the Land of the Rising Sun. Meanwhile, SsangYong won't give up that easy. Making the competition a little tougher for Nissan, they endowed the Rexton 4x2 AT with relatively classy features. We're talking about chrome strips that run on the upper portion of the SsangYong Rexton's hexagonal grille. It boasts HID projector headlights with matching daytime running lights accentuated by chrome trims on the frame that houses both front headlamps. It's got its fair share of chrome accents at the side as well as a pair of LED tail lights and rear fog lights to boast with the same chrome accent strip that gives its rear end a befitting look.
Interior
The Nissan Terra 2.5L EL AT 4X2 takes a minimalistic approach to its interior design outfitting the base trim level with just the bare essentials. But this does not mean that they skimped on the details. Inside, you'll find an extension of chrome accents in the inside door handles. It's also packed with four 12V accessory sockets, ambient lighting on the floor, a couple of vanity mirrors, and a map lamp – not that anyone uses them anymore but, hey! We'll take it! The infotainment amenities are rudimentary yet functional with a 6.75-inch touchscreen display audio system paired with Phonelink connectivity, Bluetooth (Handsfree Call and Audio Streaming), USB, iPod, Aux, and Tuner. Audio is distributed in the cabin by way of six speakers, pretty deece. Not to be left behind is the SsangYong Rexton 4x2 AT with a black on black interior offering a sleek and sophisticated tone. Surprisingly, the base variant offers superior quality seating material with a slew of amenities centered on convenience and comfort with the all controls nestled within reach of the driver's seat. It boasts a larger, eight-inch LCD display outfitted with smart audio with USB that's also Apple CarPlay and Android Auto ready. What's noteworthy is that the second-row seats sport a center armrest with two cup holders and a hidden stash for snacks and goodies.
Engine
When it comes to what beats under the hood, Nissan's offering sweeps SsangYong off the floor without question. The Nissan Terra 2.5L EL AT 4X2's larger engine offers better performance in terms of acceleration and pulling power.
Safety
Both midsize SUVs come with an impressive suite of safety features including your basic loadout of airbags, seatbelts, alarms, and sensors.
Price
Offered in four variants, the Nissan Terra leaves enough room for customization. Depending on your budget, you can make do with the decent specs of the lower trim levels or go all-out on the nameplate's top-spec trims. On the other hand, the up-and-coming SsangYong Rexton showcases its offering in two variants.
Conclusion
The midsize SUV segment offers cut-throat competition with various manufacturers taking a huge chunk of the market. The Nissan Terra has been a constant player in this segment offering base variants that are laden with solid value like a reliable and powerful engine for its price. Meanwhile, the SsangYong Rexton 4x2 AT does offer features and amenities leaning heavily on aesthetics but slightly comes short in driving comfort and performance. The Nissan Terra 2.5L EL 4X2 7AT is our pick as the better midsize SUV for the Filipino family.
Read All
Featured Articles