DPWH to Close, Replace Estrella-Pantaleon Bridge
It seems the nine-year old Estrella-Pantaleon Bridge, which connects Estrella Street in Makati City to Barangka Drive in Mandaluyong City, has exceeded its 20,000 daily vehicle limit that the Department of Public Works and Highways (DPWH) will close it and replace it with a new one.
Speaking to the House Committee on Metro Manila Development, DPWH Director Virgilio Castillo said that the bridge needs to be replaced despite being opened less than a decade ago.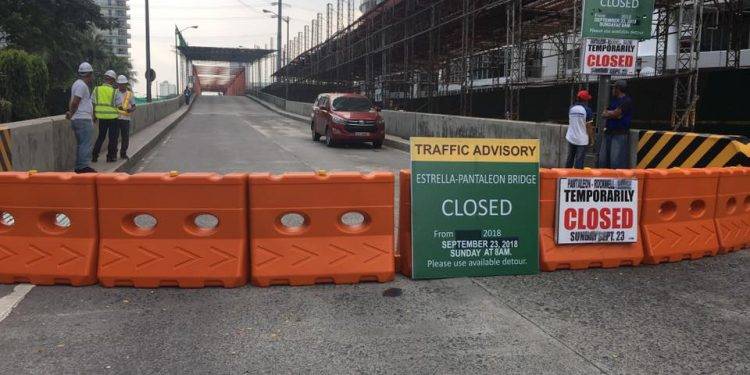 From MMDA Spokesperson Celine Pialago's Facebook page
The original date for the closure was supposed to be September 20, but this has been postponed to today, Sunday, September 23. According to Metropolitan Manila Development Authority (MMDA) Spokesperson Celine Pialago, the postponement was to give the concerned government agencies "more time to disseminate the information" to the residents and stakeholders in the affected areas.
It "could no longer be postponed"
Caloocan Representative Edgar Erice pointed out that the timing can worsen traffic, especially right now when the holiday season is just around the corner.
The closure of the Estrella-Pantaleon Bridge is expected to divert at least 100,000 vehicles to the Guadalupe Bridge, leading to further traffic congestion on Epifanio delos Santos Avenue (EDSA).
Lane Modifications
A new bridge, which will have four lanes spanning more than 500 meters and costing around PHP1.2 billion, is set to be constructed and expected to be completed by 2020.

Getting funds for this projects will not be from scratch. The bridge is part of the 12 new bridges that will be constructed across Pasig River, Marikina River, and Manggahan Floodway. It will be funded by China as part of its agreement with President Duterte's Build, Build, Build Plan.

As for the bridge's reopening, it varies according to the source. In the press release issued by the MMDA on its site at MMDA.gov.ph, MMDA General Manager Jojo Garcia said the bridge "will be demolished and replaced with a new and wider one for a period of seven months" while Pialago said in a post in her Facebook page that the bridge is "closed to traffic for 30 months."