Ford Explorer vs. Mazda CX-9: Which upscale SUV should you upgrade to?
Consumers demand more from midsize SUVs today. Such vehicles not only need to accommodate seven, but they also have to pack features that almost belie their price point, and wear styling that's more akin to a sleek sedan.
The Ford Explorer and the Mazda CX-9 seem to fit the requirements. But as upscale seven-seat crossovers, the Ford and the Mazda are expected to feel classier than, or have a trait that will set them apart from, their mainstream contemporaries.
The Explorer carries two varieties, 2.3L Limited and 3.5 Sport, respectively priced at P2.798 million and P3.178 million. The CX-9 is available in FWD Sport Touring and AWD Signature guises, priced at P2.380 and P2.950 million.
Tech specs
The Explorer Limited is powered by a 2.3-liter, four-cylinder, turbo gasoline engine called EcoBoost, which churns out 270hp and 408Nm. With six-speeds in its automatic transmission, power is sent to the front rollers.
On the other hand, the Explorer Sport has a 3.5 liter V6 turbo gasoline mill that produces 365hp and 473Nm of pull. The mill is also mated to a six-speed auto, but here the power moves all four wheels.
The Explorer Sport can, well, explore rougher ground with its Terrain Management System (TMS). Via a knob on the center console, the driver can choose which TMS setting is needed for the terrain, whether it be sand, rock, or mud.
As for the Touring and Signature CX-9, both variants are powered by a 2.5-liter Skyactiv turbo gasoline engine with 231hp and 420Nm. The numbers are managed by a six-speed automatic, while the Touring drives its front wheels and the Signature all four.
But most of the time, CX-9 Signature's i-Activ AWD drives the front wheels. The system kicks into action once it senses that the vehicle has slipped, or encountered loose terrain.
Interior amenities
The Explorer varieties carry the Sync3 infotainment system with Apple CarPlay and Android Auto functionality, which is linked to a premium Sony sound system with 12 speakers.
The equipment list continues with the powered front seats, rear seat entertainment, a dual panel moonroof, and 180-degree camera.
A similar infotainment system is found in the CX-9, which also allows mirroring of Apple and Android phones. Its Bose stereo pipes music to 12 speakers, as well.
Aside from a 360-degree camera, it also features a windshield projected Active Driving Display, ventilated power adjustable seats, automatic tailgate operation, a powered sunroof, pull-up rear door sunshades in the second row, and rear automatic climate control.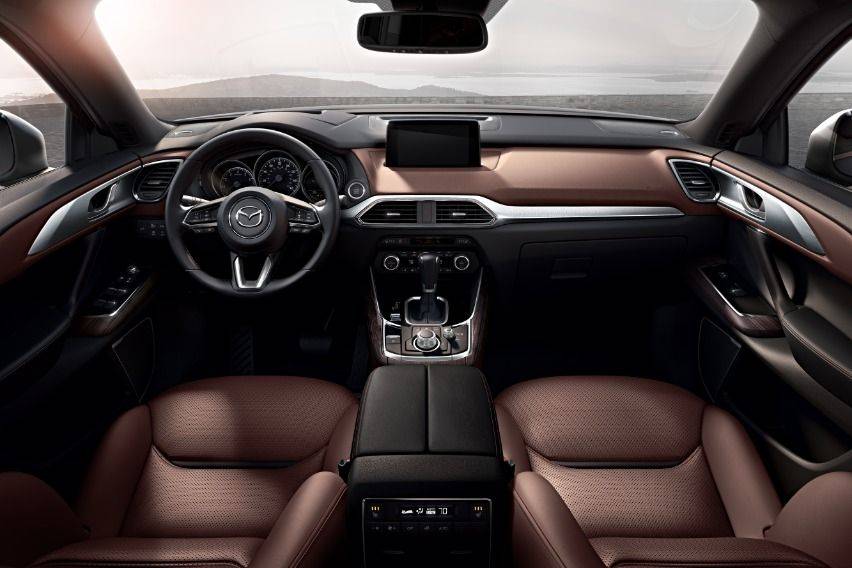 Verdict
The Explorer is big and butch, befitting its American roots. It's also well-equipped, something expected given its upscale positioning.
As a Japanese model, the CX-9 is sleekly styled. It also trumps the Explorer for having a longer equipment list, and for having a fresher design and appeal.
Photos from Ford, Mazda
Also read:
Ford Explorer vs. the competition: Your other local luxury midsize SUV options
Mazda US introduces new Carbon Edition for select models only
Ford Explorer vs Mazda CX-9 Comparison
Car Articles From Zigwheels
News
Article Feature
Advisory Stories
Road Test