GM Powertrain Thailand Celebrates 500,000th Engine Production Milestone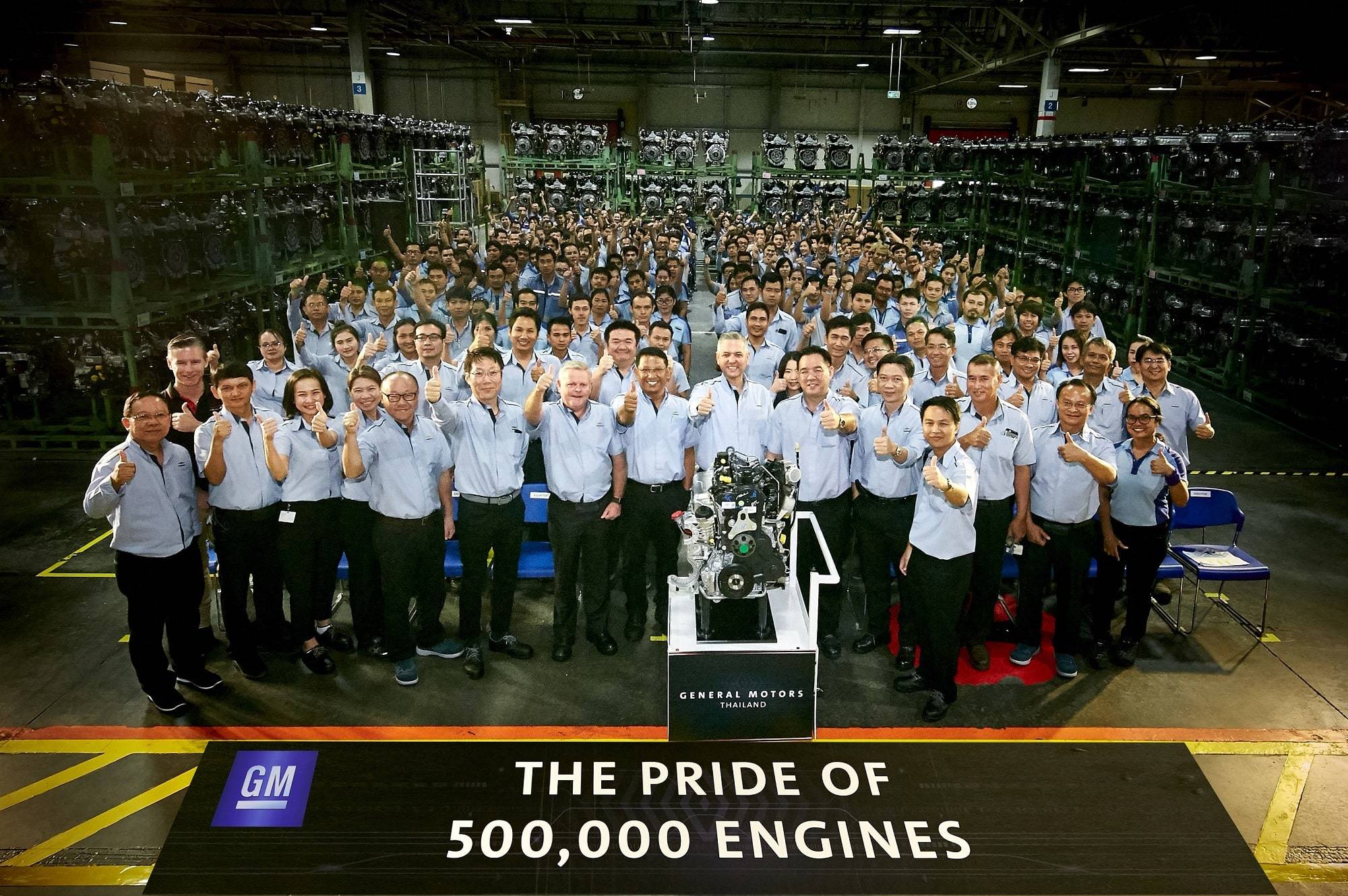 GM Powertrain Thailand, General Motors' (GM) first diesel engine plant in Thailand and Southeast Asia, recently achieved its 500,000th production milestone since production officially started in 2011. It is the first GM facility in the world to produce the four-cylinder Duramax turbo-diesel engine.
Speaking to employees during the milestone celebration, Hector Villarreal, President of GM Southeast Asia, said "The Duramax engines serve as the heart of our award-winning Colorado and Trailblazer. They are one of the most important components that we manufacture in Rayong for both domestic and export markets. Reaching half a million engines is not only an important milestone for the GPS team but also for everyone at GM Thailand. You should all be rightly proud of achieving this together."
Both the 2.5-liter and 2.8-liter Duramax engines currently used in the Chevrolet Colorado and Trailblazer are two of the most advanced diesel powertrains in the market. The 2.5-liter engine features a fixed-geometry turbocharger, while the 2.8-liter engine features a variable-geometry turbocharger. Both have aluminum cylinder head, integrated oil cooler, and a high-pressure common-rail fuel delivery system for increased output, performance, fuel efficiency, and durability. They also feature an EGR cooler for emissions compliance, capable of up to Euro-5 rating, plus a balancer shaft and laminated lower oil pan for lower NVH (Noise, Vibration and Harshness) during operation.
Amnat Saengjan, Vice President of Manufacturing, GM Thailand said during the celebration, "GM Powertrain Thailand is the only GM facility that fully manufactures the 2.8-liter Duramax diesel engine. Our exports represented over 20 percent of total production, 80,000 engines of the four-cylinder diesel 2.5-liter and 2.8-liter Duramax engines in 2018. Today, we celebrate not only the successful production of the 500,000th Duramax engine by GM Powertrain Thailand, but the teamwork from all of you that has made this possible."
"I am very proud of our team members who have taken a key role in helping us achieve this milestone, thanks not only to every team member's hard work and dedication, but also to the growing popularity of the products that use the Duramax engine, the Chevrolet Colorado and Trailblazer. It shows how far we have come," he added.
"We are a world-class facility, we need to keep the momentum by staying together as a team and making quality the number-one principle in everything we do today and in the future," Saengian concluded
Further, GM Thailand's Rayong facility was recognized for its outstanding efforts in environment conservation at the Prime Minister's Industry Awards of 2018. It was one of two automotive companies which received the award. The facility is part of GM's 142 manufacturing and non-manufacturing landfill-free facilities globally.
GM Powertrain Thailand continues to play a key part of GM Thailand's successful growth strategy in the region. GM Powertrain Thailand is also recognized the Best Safety Culture Award of GM's manufacturing facility globally in 2018.
To learn more about the Chevrolet products and services in the Philippines, log on to www.chevrolet.com.ph, like the Chevrolet Philippines Facebook page, or follow the Chevrolet Philippines Instagram page.