Goodyear PH Launches Four New SUV Tires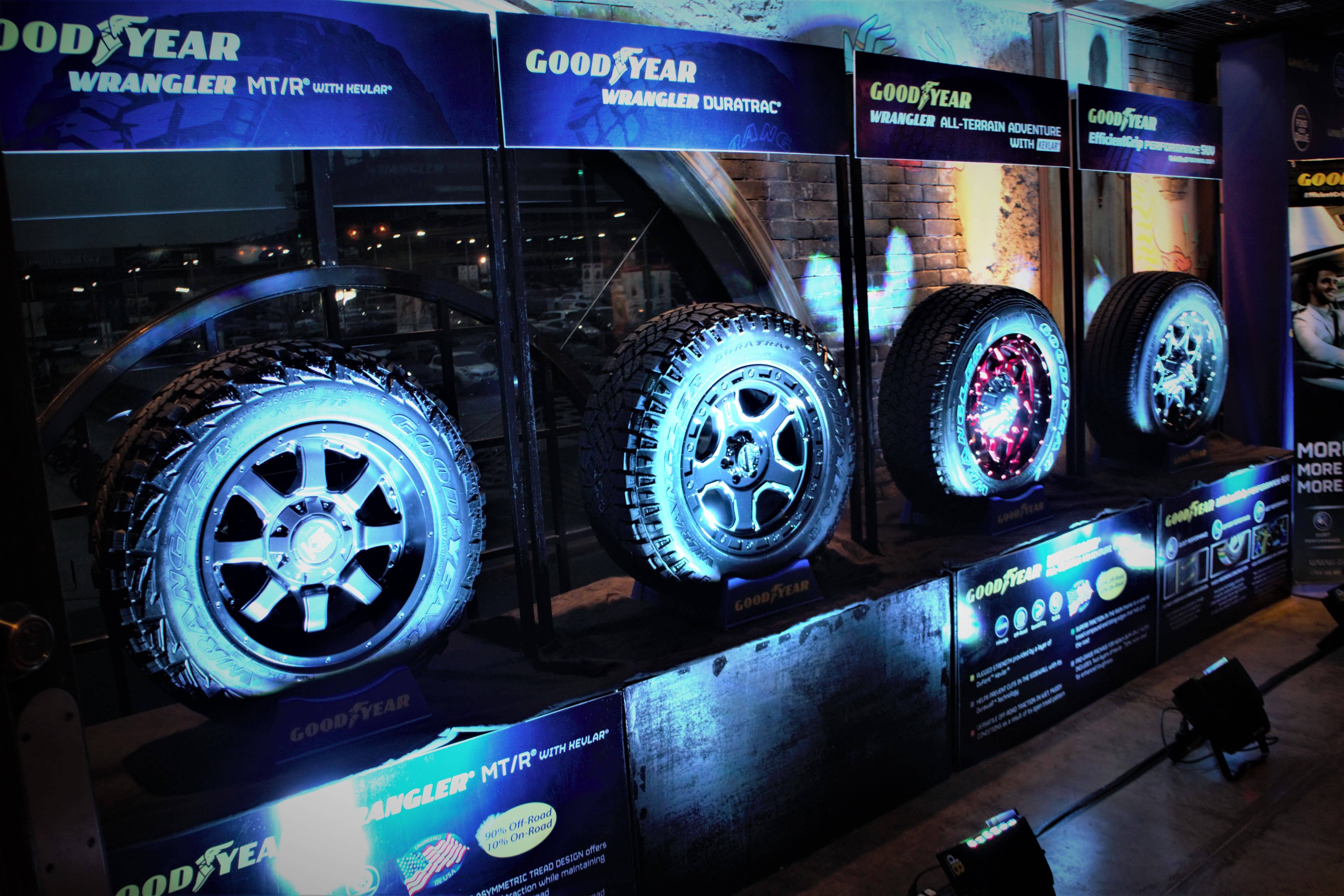 Goodyear Philippines, one of the biggest names in the Philippine tire market, has introduced its latest offerings for SUVs in its bid to cater to the diversity of the people who utilizes such.
During the launch of Goodyear's latest range of SUV tires, Goodyear Philippines Market Director Kenneth Sambajon noted that the SUVs have evolved into the "aspirational" vehicle of most people.
"Goodyear, recognizes the versatility of the SUV, as well as the fact that SUV owners are a diverse group, with complex requirements," he said during the event dubbed as 'Find your Drive, A Goodyear Tire for every SUV Driver.'
The local arm for the globally-renowned brand launched four models of SUV tires: Goodyear EfficientGrip Performance SUV, Wrangler All-Terrain Adventure, Wrangler Duratrac, and Wrangler MT/R with Kevlar.
Designed primarily for premium SUVs, the Goodyear EfficientGrip Performance SUV tire utilizes an array of technologies to deliver premium on-road performance. The QuietTread technology has noise-dampening advanced tread and carcass design for improved noise performances. The FlexContact Technology has a shock absorbing cushion layer compound which lowers tire vibration in order to reduce the impact of road irregularities, providing for a smoother and more comfortable drive.
Aside from that, it is also has excellent Wet Performance with its new innovative polymers with optimized microstructure for increased grip in wet road conditions, along with wider and reinforced shoulder blocks to increase braking performance.
"While SUV characteristics such as high ground clearance and ample cabin and storage space appeal to almost all SUV owners, most SUVs will never be used for off-roading. The popularity of 4x2 SUVs is proof of that. So, for on-road conditions, most SUV owners will need a set of grippy, quiet, and comfortable tires. That is precisely what the new Goodyear Efficient Grip Performance SUV provides," Sambajon said.
Meanwhile, Sambajon said that the new Goodyear Wrangler series was designed for the SUV purists that uses their vehicles for the great outdoors. "It is these customers that we take extra pleasure developing tires for, they challenge us to elevate our game, and that is exactly what our engineers have done with the new Goodyear Wrangler series."
The Wrangler All-Terrain Adventure with Kevlar has a 50% off-road and 50% on-road application. Reinforced with Dupont Kevlar typically reserved for bulletproof vests, this tire is for city dwellers who might decide at a moment's notice to head out to far-flung rural areas.
On the other hand. the Wrangler Duratrac has a 70% off-road and 30% on-road application. With its TractiveGroove technology that offers enhanced traction in deep mud, unique tread block design and rim protector, it is said to be "perfect workhorse tire for rugged off-road terrain that still offers a quieter ride on paved roads."
Further, those who uses their SUVs purely on off-road, they have developed the Wrangler MT/R with Kevlar. The said model is said to be Goodyear's first off-road tire to incorporate DuPont Kevlar on its 3-ply sidewall bringing superb cut and puncture resistance to an area of the tire that demands extra toughness when driving off-road.
"Whether you are a doting parent who likes to take your family on the occasional outing, or an adrenaline junkie who loves the freedom and the adventure of pushing a beast of an SUV to its very limit, Goodyear makes a tire perfect for your SUV and your unique lifestyle," Sambajon claimed.
All the latest offers are available with the Goodyear 5-Year Limited Warranty and Goodyear Worry Free Assurance at all Goodyear Centers nationwide.