Hino Showcases E-Truck Concept FlatFormer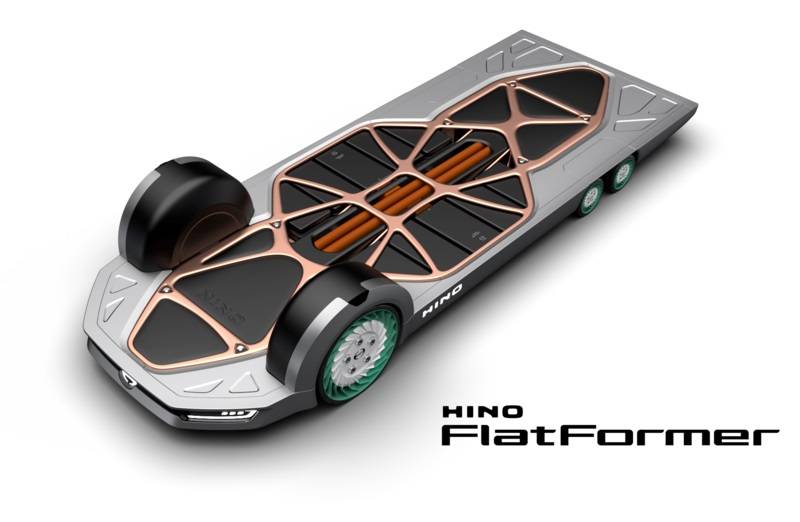 Truckmaker titan Hino Motors Ltd., recently showcased various transport solutions demonstrating its vision of a sustainable future. During its exhibition themed "Transporting Every Happiness" during the 46th Tokyo Motor Show, Hino highlighted the electric truck, the Flatformer.
The said innovative truck platform is said to fit any body style or frame depending on the requirements. According to the local arm of the Japanese truck brand, the 6x6 modular truck platform can be passengers, accommodation, catering, and transport and logistics for convenience stores, medical clinics, recycle management services and beauty salons, among others.
The Truck platform is powered by Li-ion batteries that can provide a 170kW motor output. The FlatFormer eyes to change the concept of mobility by moving not only people but services as well. "With its versatility and optimal utilization of space, FlatFormer will make transporting of people and goods more efficient," the company statement claimed. Hino Motors Philippines President Mitsuharu Tabata said that the Hino FlatFormer was "designed in line with our vision of a prosperous and sustainable society for Filipinos." "With the super versatility of the FlatFormer, companies can address a broad range of customer needs with a single vehicle platform. The FlatFormer is indeed the future of mobility," he added . Aside from the FlatFormer, Hino showcased the Profia Hybrid and Dakar Rally champion. The first is a truck equipped with the world's first AI technology that predicts driving load and performs optimal hybrid control while the Dakar Rally is a 7-ton Hino 500 series race truck.