IIHS Study: Bigger Cars are Still Safer for Teen Drivers (or New Drivers)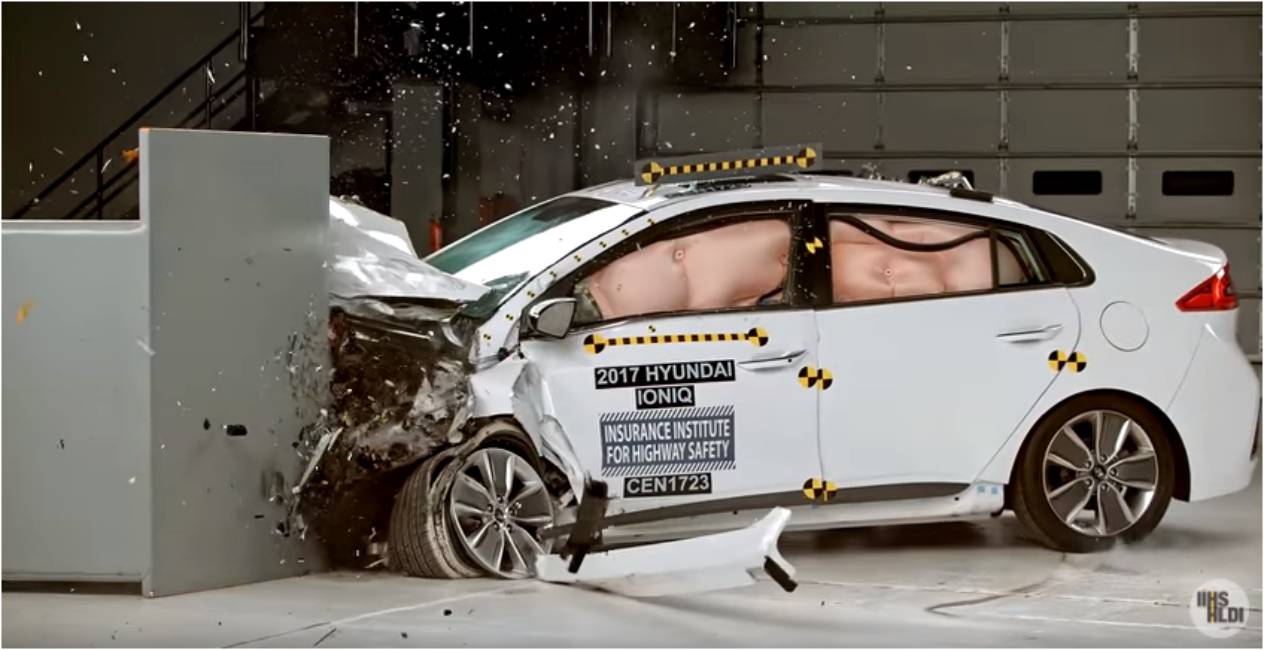 Most teens--or even new drivers--often start their adventure in driving in small, used vehicles. Aside from getting most of them dirt cheap, it wouldn't be too much of a waste in case their car gets smashed somewhere while performing their 36th attempt in parallel parking.
Common sense will tell everyone that taking the "small, used car route" is the best thing to do, and if you're a practical person, you'll probably agree with this setting, right? Well, according to the Insurance Institute for Highway Safety Highway Loss Data Institute (IIHS). In terms of safety, it's a big mistake.
IIHS' recent studies regarding front-to-front crash tests of used small and mini cars when they collided with larger used vehicles (including those with excellent safety ratings), revealed that consumers who opted for the smaller vehicles are choosing a lower level of protection even if they purchased a TOP SAFETY PICK winner.
How the study was conducted
Their study involved two demonstrations: a used 2016 Kia Sorento (midsized SUV) vs a 2018 Kia Forte (small car) for the first test and a used 2015 Toyota Avalon (large car) vs a 2018 Toyota Yaris iA (mini car) for the second test. The results revealed that forces on the driver dummies in the smaller vehicles were "much greater than those in the larger vehicles."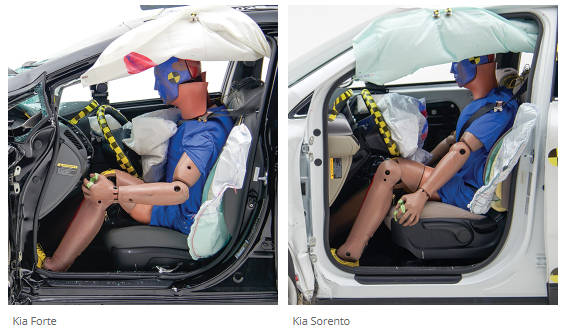 According to the report, the Forte, which weighed 928 pounds less than the Sorento, and the Yaris iA, which weighed 1,033 pounds less than the Avalon, did poorly compared to the larger vehicle in the car-to-barrier tests. It also showed that right leg injuries, and neck and chest injuries were more likely to occur in both vehicles, should they get in a real-world crash of the same severity used in their demonstration.
What's more, the degree of severity that occurs on front and rear tests were "determined in part" on the vehicle's weight than its size.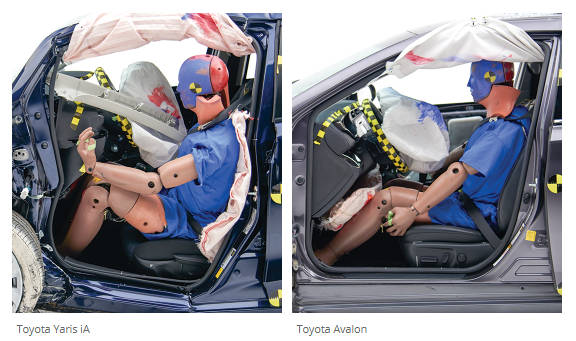 "We know safety is just one of the factors people consider when choosing a vehicle, but we hope parents will give it extra consideration when purchasing a vehicle for a teenager," says Jessica Cicchino, IIHS vice president for research. "Teen drivers are at greater risk, due to immaturity and inexperience behind the wheel."
"Bigger vehicles provide greater protection," Cicchino says. "If you're riding in one of the smallest vehicles on the road, you'll be at a disadvantage in a crash with almost any other vehicle around you."
Top Recommendations
So now that bigger cars are still best for teenagers, what are the top recommendations of IIHS for teen drivers / new drivers? They include the following:
MIDSIZE CARS


Volkswagen Passat 2013 and newer; built after October 2012


Volvo S60 2011 and newer


Subaru Legacy 2013 and newer; built after October 2012


Honda Accord coupe 2013 and newer


Volkswagen Jetta 2015 and newer


Mazda 6 2014 and newer


Honda Accord sedan 2013 and newer


Subaru Outback 2013 and newer; built after August 2012


Toyota Prius v 2015 and newer


Volvo V60 2015 and newer


Audi A3 2015 and newer


BMW 2 series coupe 2015 and newer


LARGE CARS


Volvo S80 2007 and newer


Toyota Avalon 2015 and newer


SMALL SUVS


Mazda CX-5 2014 and newer; built after October 2013


Nissan Rogue 2014 and newer


Subaru Forester 2014 and newer


Honda CR-V 2015 and newer


Ford Escape 2017 and newer


Toyota RAV4 2015 and newer; built after November 2014


Hyundai Tucson 2016 and newer


Mazda CX-3 2016 and newer


Kia Sportage 2017 and newer


MIDSIZE SUVS


Volvo XC90 2005 and newer


Volvo XC60 2013 and newer


Kia Sorento 2016 and newer


Nissan Murano 2015 and newer


Hyundai Santa Fe Sport 2017 and newer


Hyundai Santa Fe 2017 and newer; built after March 2016


MINIVANS


Honda Odyssey 2014 and newer


Kia Sedona 2015 and newer