Local auto industry demonstrates stellar January sales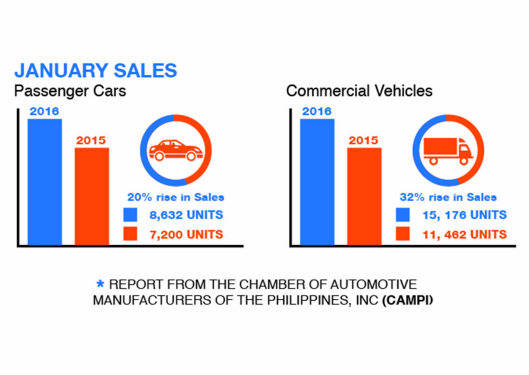 Following the robust sales of the Philippine automotive industry in 2015, manufacturers are off to a great start in 2016 with the majority of sales up by 25-percent compared to January last year.
Based on the combined report from the Chamber of Automotive Manufacturers of the Philippines, Inc. (CAMPI) and Truck Manufacturers Association (TMA), the industry has sold 23,808 units—a 27.6 % increase in comparison to the 18,662 units attained for the same month in the previous year.
The records also showed that all categories posted a stellar performance. Passenger cars (PC) reflected an approximate 20-percent rise in sales, delivering 8,632 units last month as opposed to the 7,200 units in January 2015. The commercial vehicles (CV) segment generated a 32-percent rise—from 11,462 units to 15,176 units sold—on a year-on-year comparison.
Meanwhile, the Asian utility vehicle (AUV) segment gained almost 25 percent, selling 4,780 units in the previous month versus the 3,542 units rolled out in January of last year. Sport utility vehicles (SUVs) likewise experienced an improvement in sales, growing by 29 percent with 9,678 units from 7,483.
Providing additional boost to sales were the 392 Light Duty Trucks and Buses (42-percent rise versus the 275 units in January 2015), along with 156 units under the Category 4 Heavy Duty Trucks and Buses (53-percent jump from the 102 units the same month last year).
The biggest gainer were the Category 5 Heavy Duty Trucks and Buses, exhibiting a 188-percent surge with 170 units rolled out last month, unlike the 59 units sold in the same period last year. CAMPI president Atty. Rommel Gutierrez attributed the strong sales to the "ongoing constructions and developments around the metro."
Furthermore, the CAMPI execs said that they were surprised with the output of sales that had been made. "We estimated a lower to stable sales performance for January since December has just ended.  We will continue to offer products to meet the increasing customer demand," Gutierrez added.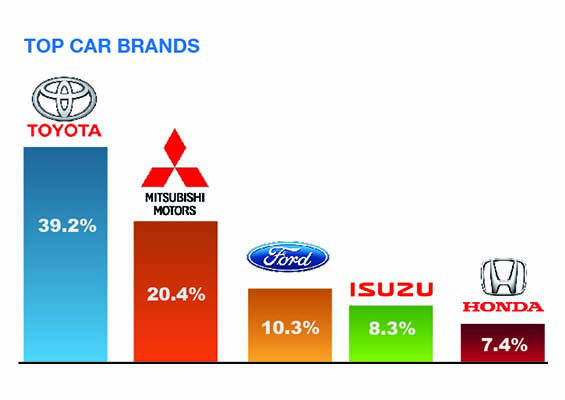 Toyota Motors Philippines Corporation remains the number one car maker with a 39.2-percent market share followed by Mitsubishi Motors Philippines Corporation in the second spot with 20.4 percent. Ford takes third place with a 10.3-percent share. Coming fourth and fifth respectively are Isuzu Philippines Corporation and Honda Cars Philippines with 8.3 and 7.4-percent.
Last December CAMPI enjoyed a 25.1-percent growth as sales reached 26,679 units from 21,320 units in the same period in 2014. The figures led to the group's achievement of its annual target. The overall sale for 2015 was 288,609 units, an almost 30-percent growth over the 234,747 units sold in 2014.