LTFRB Rolls Out Specs, Features of Premium Taxis as Part of Taxi Modernization Program
In May 2019, the Department of Transportation (DOTr) announced that it has created a new set of guidelines for what it calls as Premium Taxis as part of its 'Taxi Modernization Program.' Two months later and the Land Transportation Franchising and Regulatory Board (LTFRB) has issued Memorandum Circular (MC) No. 2019-032 which sets the specifications and features of premium taxis and effectively allows prospective operators to apply for new certificates of public convenience (CPC) to operate the said vehicles.
Under the DOTr's Department Order (DO) No. 2019-007, premium taxis will either be classified as either Silver or Gold. Under the LTFRB's MC, the difference between the two are as follows:
Requirement
Silver Premium Taxi
Gold Premium Taxi
Body Type
Sedan, MPV, Utility Van
Sedan, SUV, Premium Van
Year Model
Based on Date of Manufacture as reflected in the Certificate of Registration, not more than 3 years old upon CPC application
Minimum Specifications
Displacement (cc)
Sedan: 1600
Sedan: 1600
MPV: 2200
SUV: 2395
Utility Van: 2200
Premium Van: 2695
Power Rating (hp)
Sedan: 120
Sedan: 120
MPV: 130
SUV: 140
Utility Van: 130
Premium Van: 160
Leg Room (inch)
Sedan: 35
Sedan: 35
MPV: 35
SUV: 35
Utility Van: 35
Premium Van: 35
Luggage Compartment (liters)
Sedan: 350
Sedan: 350
MPV: 500
SUV: 500
Utility Van: 1000
Premium Van: 1000
Alternative Vehicles
Electric Vehicles: With at least 100-kilowatt output
Hybrid Vehicles: With at least 1800cc-rated engine displacement
Exterior Color
Black with Silver Markings
Black with Gold Markings
Passenger Capacity
Sedan: 4
Sedan/SUV: 4
MPV: 6
Premium Van: 7, with pilot seats
Utility Van: 7
Emission Requirement
At least Euro 4-compliant
Ventilation
Air-conditioned
Under the MC, the safety feature requirement for the vehicles, regardless of classification, are front-facing seats with seat belts for all passengers and drivers, airbags for both the driver and front-seat passenger, and clear tempered glass for the windows.
As for the modern taxi features, again regardless of classification, these are free internet for the passengers, on-board navigation system or mobile-based application, dashboard and in-cabin cameras "with continuous recording of the past 24 hours of operation," and payment mode of either in cash basis or automatic fare collection "through cashless cards" like a debit or credit card or virtual wallet.
For its operations, both premium taxi classes are to provide door-to-door service and have no fixed route.
For the rates, for the Silver Premium Taxi, it's a flag down of PHP50 with a per-minute rate of PHP2.50, and a per-kilometer rate of PHP17.50, whereas for Gold Premium Taxi, the rates are PHP60, PHP3, and PHP20.50, respectively.
For interested operators, their garage must have sufficient space for all their units--with a minimum of 30 units per applicant--plus additional space of at least 30 percent of the total space requirement.
All drivers, meanwhile, are salaried, shall have the benefits mandated by the Labor Code, must have completed the Technical Education and Skills Development Authority (TESDA) National Certification II training requirement for Premium Taxi Drivers, and wear a chauffeur uniform prescribed by the operator and approved by the LTFRB.
Lastly, all vehicles must have body marking as set by the LTFRB, must have a maximum age limit of seven years from the year model as reflected in the CR, equipped with taxi meters accredited by the agency, and subject to service key performance indicators like accident threshold, traffic rule violations reported by the Philippine National Police-Highway Patrol Group, and customer feedback from frequent customers.
As for the number of premium taxi units sought by the LTFRB, it's a total of 4,850--broken down to 950 for the Silver and 2,150 for the Gold, with 1,700 Silver units and 1,300 Gold units allotted for Metro Manila alone, for a total of 3,050 units. The rest will be distributed as follows:
Baguio--200 units total;
Iloilo and Bacolod--300;
Cebu, Lapu-Lapu, and Mandaue--500;
Iligan and Cagayan de Oro--350; and
Davao--450
So, what do you think?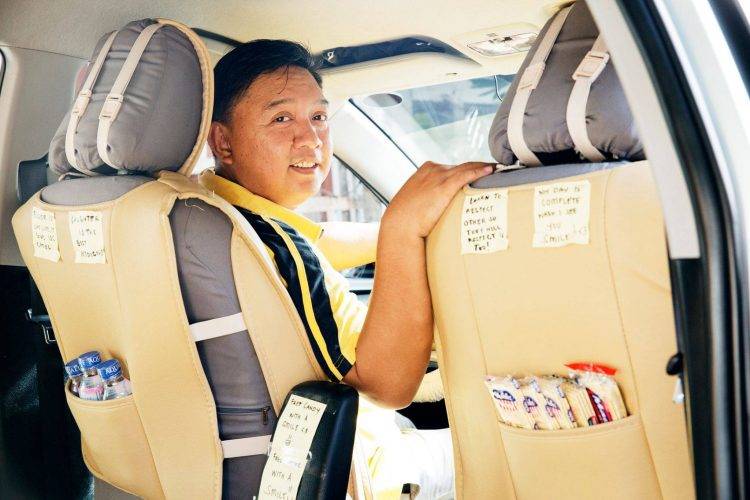 From GrabPH's Facebook page