Marc Marquez Bags 4th Straight MotoGP Title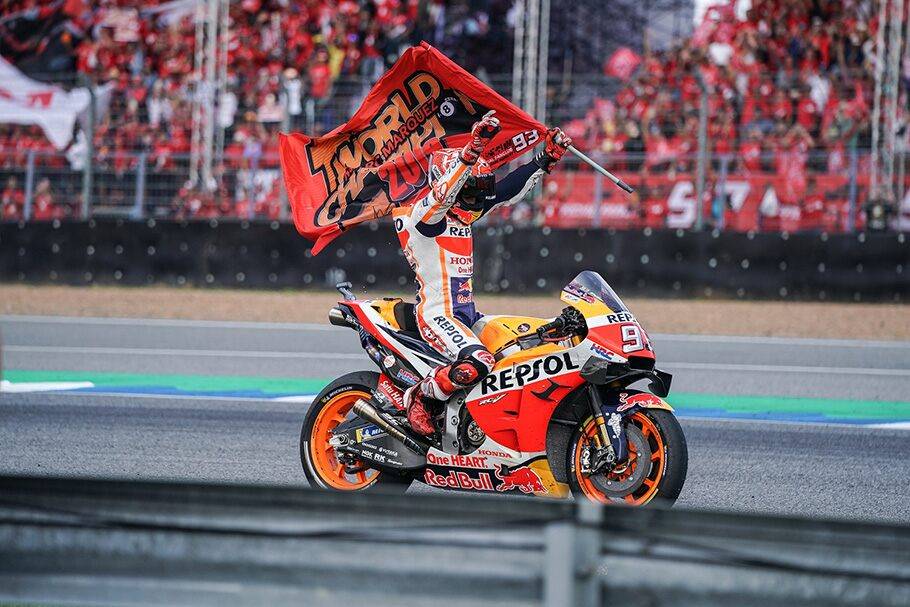 Marc Marquez of Repsol Honda Team recently bagged his fourth straight premier class title by winning the 2019 FIM MotoGP World Champion at Round 15, the Thailand Grand Prix.
Marquez's latest win earned him his sixth MotoGP Championship in his career.
On board the Honda RC213V factory bike, Marquez had a solid start to his fourth consecutive title this season, finishing second in the opening round and winning Round 2.
Despite missing out on the podium at the following Grand Prix of the Americas, he went on to win eight rounds, and finish second in another four, finishing on the podium and amassing points in all but one round to-date. Marquez secured the championship title once again with four of the 19 rounds remaining.
Marquez was the youngest MotoGP victor when he debuted in 2013, when he joined Honda's HRC factory team Repsol Honda Team.
Immediately after that year, he won the first ten rounds and became champion once again with a total of 13 wins.
Although he missed out on yet another championship title in 2015, he had his revenge in 2016, clinching his third title. In his MotoGP career to-date, Marquez has been on pole position a record-setting 61 times, and has won 53 Grands Prix (4th in the history of MotoGP).
Marquez expressed pride over his newest win with Honda backing him up.
"It is a great feeling to be World Champion with Honda again. 2019 has been one of my most consistent seasons. We fought hard when we had to and all of the team and Honda have done such an incredible job to bring us to this level," he said.
"Celebrating Honda Racing's 60th anniversary with the MotoGP title it a great honor and I am pleased I could do this for Honda. I want to thank everyone who has been involved in this season and the fans who always support us," Marquez added.
Meanwhile, HRC President Yoshishige Nomura was elated over the recent achievement.
"Marc did a magnificent job once again to win his sixth MotoGP title on Honda's 60th anniversary of World Grand Prix racing. I wholeheartedly salute his dauntless riding that mesmerizes his fans, supported by his persistent training and mature attitude towards racing. I'm grateful for all the support in winning the championship he had from the team staff, the many sponsors who support our racing activities, and MotoGP fans worldwide," he noted.
From Honda News Global