Mercedes-Benz Introduces PHEV GLC 300 e and GLE 350 de SUVs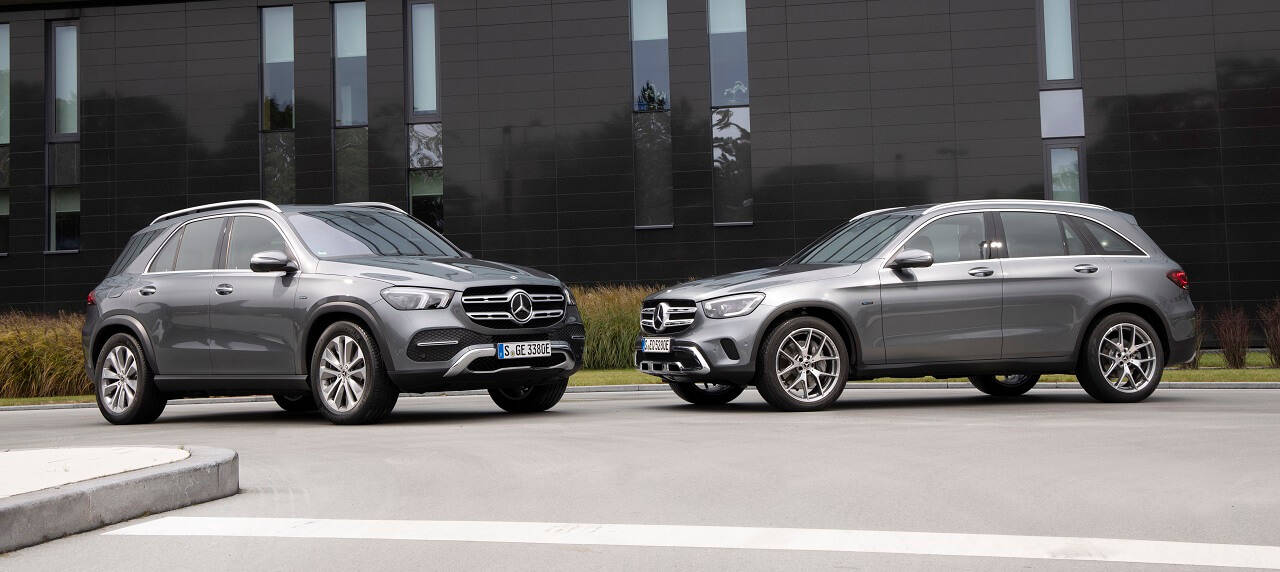 Mercedes-Benz announces the addition of plug-in hybrid electric vehicle (PHEV) versions of two of the more popular SUVs in its lineup—the GLC 300 e 4matic and the GLE 350 de 4matic. The cars offer electric-only ranges of 46 kms and 106 kms, respectively, with with CO2 emissions at just 54 g/km for the former and 29 g/km for the latter.
The GLC 300 e 4matic features a 2.0-liter four-cylinder gasoline engine paired with a 13.5 kWh battery. The gas engine alone can produce 155 hp and 350 Nm, but with the help of the electric motor, which adds 122 hp and 700 Nm, the car's overall output reaches 277 hp and 1,050 Nm.
©mercedes-benz-media.co.uk
Shifting is handled by a 9G-Tronic Plus nine-speed automatic transmission, and buyers have four GLC 300 e models to choose from including the AMG Line, AMG Line Premium, AMG Line Premium Plus, and AMG Line Ultimate.
A 7.4kWh on-board charger allows the battery to be speedily charged using a 7.4kW chargepoint in under two hours.
Prices start from GBP 49,687 (approx. PHP 3.3 million) for the GLC 300 e AMG Line, and GBP 52,562 (PHP 3.5 million) for the GLC 300 e coupe.
As for the GLE 350 de 4matic, prices start from GBP 61,360 (PHP 4.07 million) for the AMG Line equipment line. AMG Line Premium will cost GBP 64,860 (PHP 4.31 million), and AMG Line Premium Plus is available from GBP 68,360 (PHP 4.54 million).
©mercedes-benz-media.co.uk
Under the GLE 350 de's bonnet lies a 2.0-liter diesel engine that yields 194 hp and 400 Nm. The 31.2 kWh battery adds an additional 136 hp and 440 Nm to the car's overall output for a combined 330 hp and 840 Nm of torque.
A 7.4kW combined on-board charger is standard, allowing users to charge the battery from 10 percent to full capacity in 3.25 hours.
©mercedes-benz-media.co.uk
Both the GLC and GLE come with Mercedes me connect online service, which is completely free of charge for three years. The app – which is available in the Philippines for both Apple and Android devices—provides useful information in real time such as live traffic conditions, nearby available parking spaces, and local searches for restaurants and hotels, among others.
Both SUVs are readily available in initial auto markets, with other markets, such as the Philippines, soon to follow.
©mercedes-benz-media.co.uk