MMDA Relaunches Children's Road Safety Park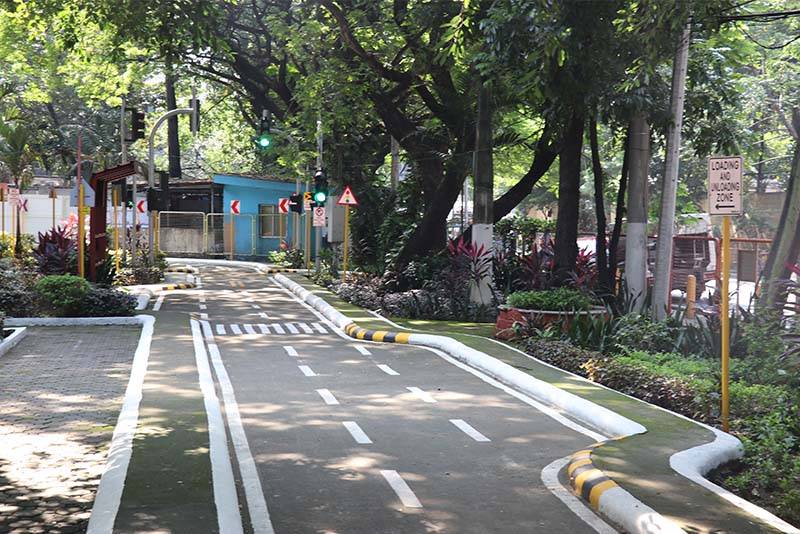 The Metropolitan Manila Development Authority (MMDA) has relaunched the Children's Road Safety Park in Adriatico, Manila in a bid to promote to children a deeper understanding of safety on the road and traffic discipline.
To make the place more conducive to learning the basics of traffic rules and signages, the MMDA led by its Chairman, Danilo Lim, together with Oishi (Liwayway Marketing Corporation) and the Federation of Filipino-Chinese Chamber of Commerce and Industry, Inc. (FFCCCI) unveiled the three-pavilion structure designed by Architect Jan Michael de Olazo aimed at giving shade to children during the road safety lectures inside the park.
Lim stressed the importance of starting the kids young in learning and obeying traffic rules and regulations which leads to road safety.
"This is a generational approach to address some of our societal ills especially traffic problems. When kids become aware of road safety and discipline at a very young age, there are bigger chances that they can internalize what we teach them here and will carry the habit of self-discipline until they've been grown up," Lim said.
"We are looking forward to have modular road safety park which we can transfer from one city to another to cater to more kids," he added.
Officials from Oishi (Liwayway Marketing Corporation) and the FFCCCI shared the same aspirations as the MMDA as they agree that having an ideal venue and proper education about road safety to kids, especially if it's fun and interactive, will inspire them more to become better citizens.
Lim also said that the agency is coordinating with the Department of Education to include road safety in the department's curriculum for schools to further promote awareness and knowledge impartation among children.
The three-pavilion structure called 'Project Silong' was inspired by things children most commonly use like papers and pick-up sticks.
"The paper-inspired roofing of the canopies symbolizes writing dreams during childhood while the 'sticks' supporting the roofing depicts finding the right moves in life," de Olazo said.
Patterned after Singapore's Road Safety Community, the 4600-square meter Children's Road Safety Park, which was built in 2012, has miniature infrastructures like a pedestrian crossing, intersection, road signs, and replicas of building establishments like school, hospital, and church. It is the first road safety park in the Philippines.
The park is open to the public for free from Monday to Sunday except Wednesday from 9 AM to 5 PM. Fifteen persons below are accepted as walk-in visitors. Visitors that exceed 15 persons, like for a school field trip, can write a letter addressed to the MMDA Chairman and request to visit the park.