New Bronco 2- and 4-door models elicit nostalgia, excitement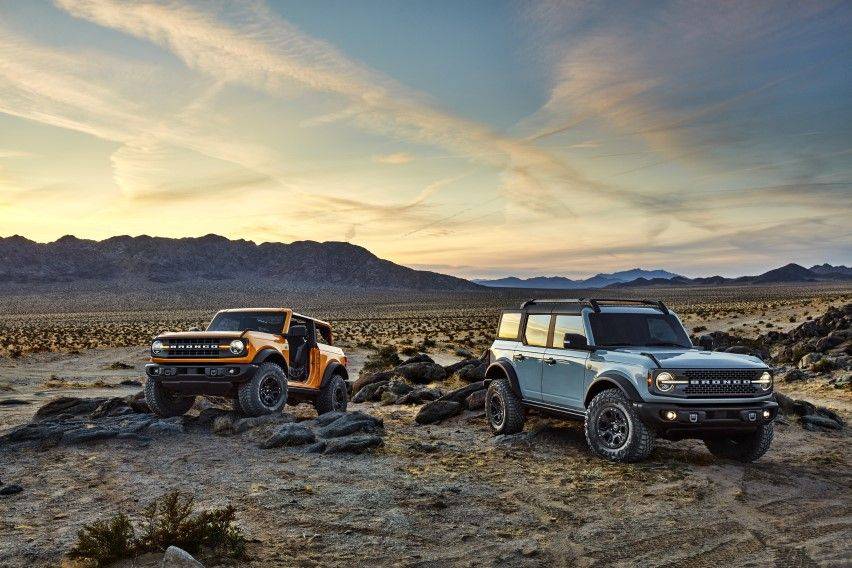 The classic two-door and first-ever four-door trims of Ford's new Bronco sub-brand are finally here, and they look ready to rumble.
Engineered with Built Wild Extreme Durability Testing, Capability and Innovative Design principles, the two classic-themed Bronco variants look convincingly able to deliver the 'thrilling 4x4 capability' that the Blue Oval has promised.
The two vehicles come with two powertrain options—one is a 2.7-liter EcoBoost V6 good for 310hp and 542Nm, and the other a 2.3-liter EcoBoost 4-cylinder that delivers 270hp and 420 Nm. The transmission system options come in a pair as well, available for both vehicles—a 7-speed manual transmission or a 10-speed automatic transmission.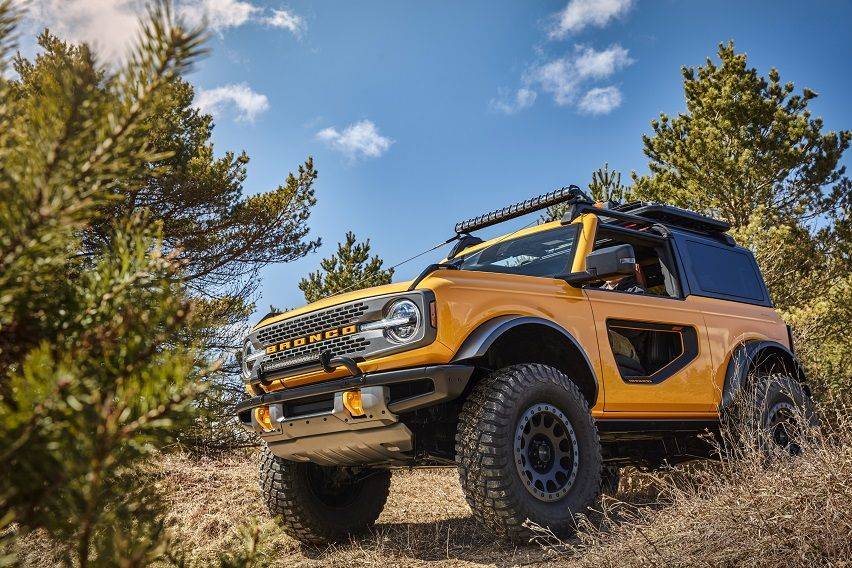 Major highlights for the Bronco line are its best-in-class specs such as a 94.75:1 crawl ratio, ground clearance, suspension travel and water fording capabilities, plus breakover and departure angles.
There are also seven trims to choose from, and we expect some to be immediately endearing to true-blue off-road enthusiasts.
Series range begins with the bare-bones Base Bronco for those who want to customize their own. Meanwhile, mid-rangers Big Bend, Black Diamond and Outer Banks provide potential buyers with a variety of options and colors. Finally, range-toppers Wildtrak and Badlands will satiate those looking for more extreme off-road adventuring.
A limited-production First Edition was offered at launch, but immediately sold out.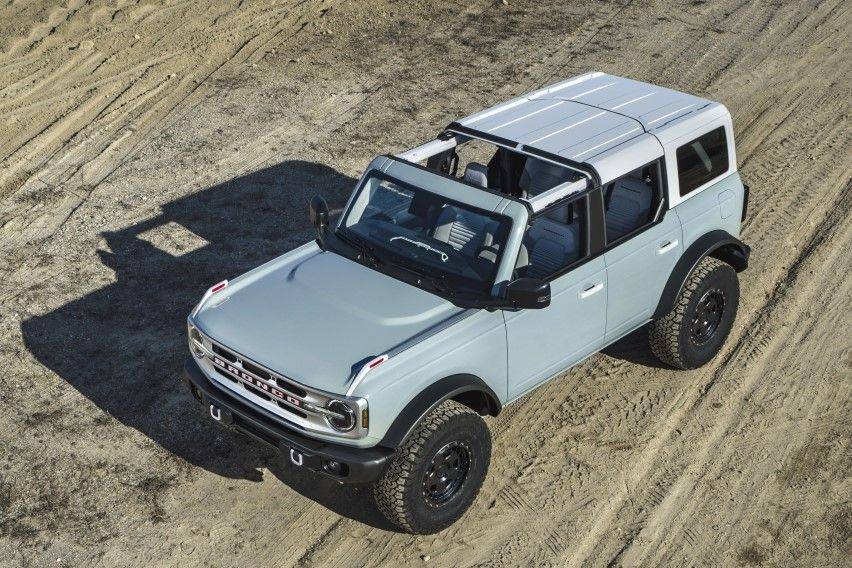 All Bronco 2-door and 4-door variants come with detachable roof and doors for those who want some genuinely rugged open-air driving. Certain trim levels will also have 35-inch off-road tires as standard.
While the boxy exterior may suggest that the Bronco lives in the past, there's plenty of nifty gadgetry to prove otherwise. The onboard infotainment system makes sure you never get lost with topographic trail maps, while a 360-degree camera allows you to prepare for any terranean challenges looking to spoil your fun. These digital systems have been outdoor-proofed, so you never have to worry about them getting wet.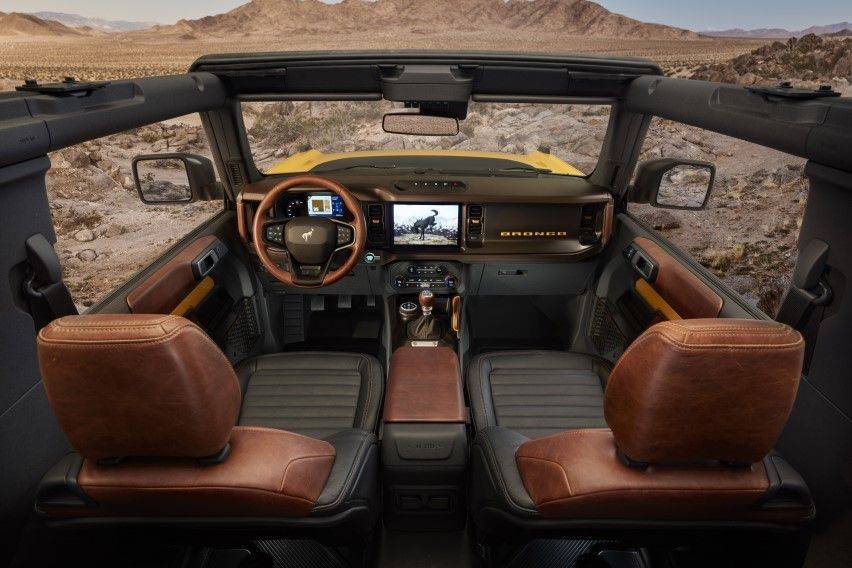 The two- and four-door Broncos start at USD29,995 (PHP 1.5 million before taxes and fees) and will arrive at North American dealerships starting second quarter of next year. The Bronco Sport, their more conventional sibling, is priced slightly cheaper at USD26,660 (PHP1.3 million), arriving ahead of the others later this year.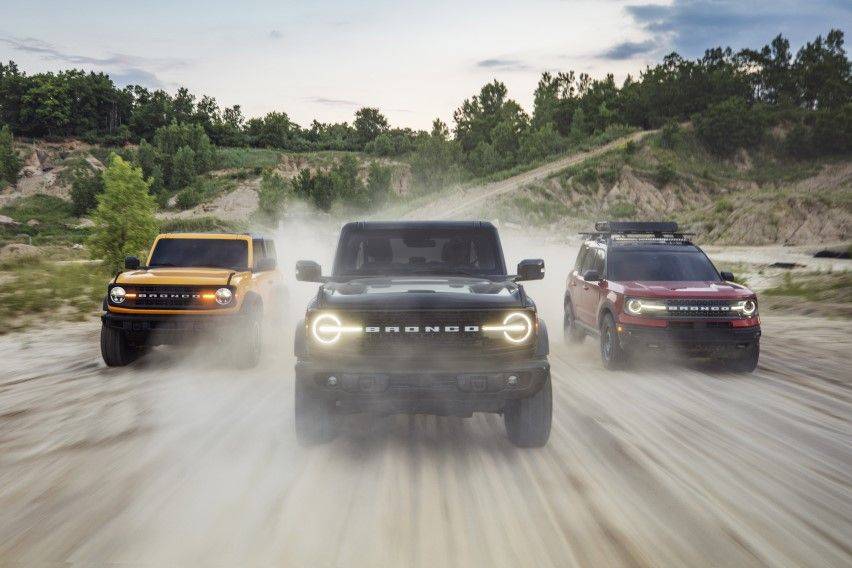 Aside from the starting prices and standard specs stated here, Ford didn't release any more info on the Bronco at this time, but we can expect these to be announced as sales of the vehicles commence.
As we have many off-road enthusiasts of our own, here's hoping Ford PH decides to bring these nostalgia-inducing SUVs here.
Photo/s from Ford
Also read:
VW, Ford forge alliance that threaten to reshape automotive landscape