Nissan, DOT ink partnership to bolster local tourism
The local arm of Japanese carmaker Nissan has forged partnership with the Department of Tourism (DOT), with the goal to promote responsible land travel to boost the country's local tourism, amid the threat of the dreaded Covid-19 pandemic.
Last week, Nissan Philippines President, Managing Director Atsushi Najima and Tourism Secretary Bernadette Puyat officially signed the memorandum that covers the Safe Trips campaign.
Based on the agreement, Nissan and DOT will develop "educational and promotional content for social media and publicity" on how to travel to local tourists spots in a safe and responsible manner.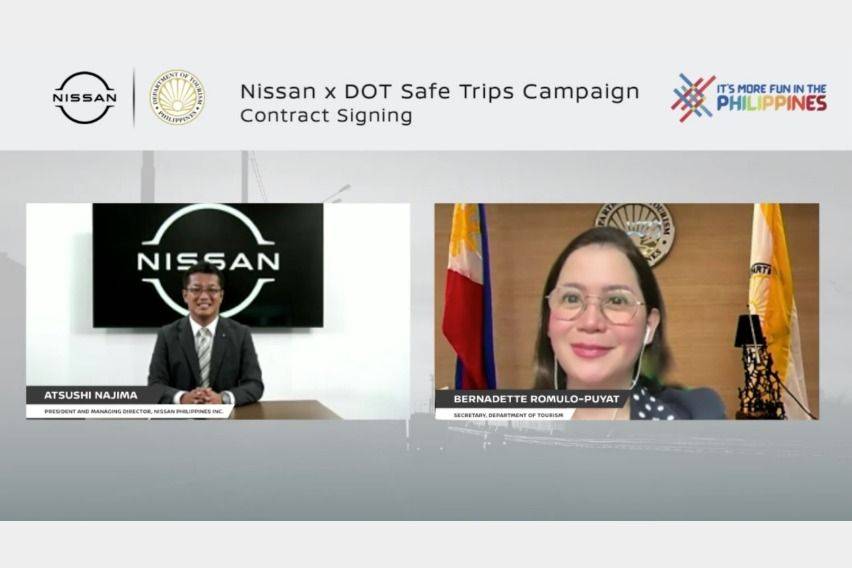 The tourism materials that the partnership will produce includes tips for land travel in the new normal, social distancing guides, health protocols for visiting specific destinations, and updates on the latest spots that have reopened for visitors.
The Tourism secretary noted the timely launching of such initiative as many provinces have already opened to local tourists.
"The DOT is committed to reviving the country's tourism industry from the harsh impacts of the pandemic. We thank Nissan Philippines for being a partner in tourism recovery by promoting health and safety protocols for road trips. It is a timely effort as we have reopened Baguio City and Ilocos Norte to Luzon residents, both of which can be accessed by land travel," she said.
"We hope that this campaign will encourage all Filipinos to practice safe and responsible travel as they return to local tourist spots and enjoy the beauty of our country," Puyat added.
For their part, Najima expressed their commitment on the project.
"Nissan's vision is to enrich people's lives by making their journeys safe, smart, and fun. We want to promote safe and responsible travels with our innovative and dependable vehicles, so that our customers can enjoy adventures with family and friends. Tourism has become a passion for Nissan in the Philippines over the years, which is why we are truly excited to partner with the Department of Tourism to promote the tourism sector towards its recovery," he explained.
"We thank Secretary Bernadette Romulo-Puyat for taking on the challenge to revive the tourism sector. Your daring spirit to overcome the odds through perseverance and passion are values that Nissan shares and admires," Najima noted.
Photos from Nissan Philippines
Also read:
Nissan PH premiers virtual showroom for Asia & Oceania region