NLEX Corp. Eyes Completion of SFEX Capacity Expansion Project by 3Q in 2020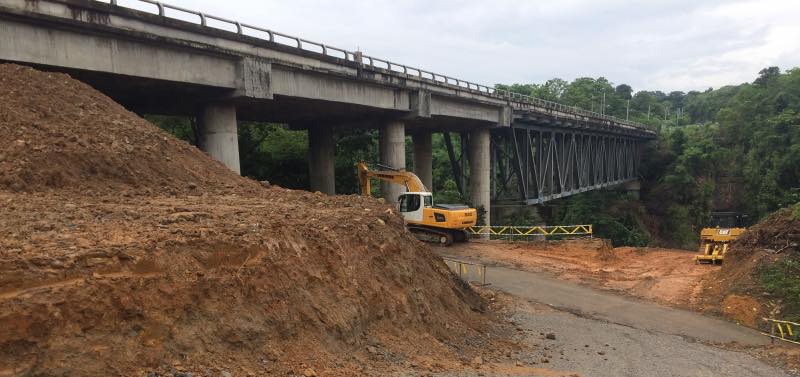 In one year's time, the capacity expansion of the 8.2-kilometer Subic Freeport Expressway (SFEX) is eyed to be completed.
The project, amounting PHP1.6 billion, is targeted to be finished by September 2020. It is said to improve traffic safety and easing travel time to and from the Subic Bay Freeport Zone.
To signal the start the said project, NLEX Corporation President and General Manager J. Luigi Bautista, Subic Bay Metropolitan Authority (SBMA) Chairman and Administrator Wilma Eisma, Zambales 1st District Representative Jeffrey Konghun, Board Member Reinhard Jeresano, Hermosa, Bataan Mayor Antonio Joseph Inton, and Toll Regulatory Board (TRB) Executive Director Abraham Sales led the groundbreaking ceremonies.
The project would include the construction of two additional expressway lanes, two new bridges at Jadjad and Argonaut, and a new tunnel.
Such improvements will add one lane each to both directions while the new bridges and a tunnel will be constructed parallel to the existing ones. The new tunnel resembles a horseshoe that will provide structural stability against earth pressure.
From Facebook.com/NLEXexpressways
Aside from that, the project will include the installation of expressway-standard LED lights as part of the tollway company's efforts to improve motorists' visibility when driving at night; the raising of Maritan Highway-Rizal Highway-Tipo Road junction; and the enhancement of the drainage system to help alleviate flooding in the area.
"One of the key drivers of economic growth is a network of high-quality roads. The NLEX Corporation through NLEX, SCTEX, and the soon-to-be expanded SFEX not only intends to accelerate development, but also hopes to encourage travel convenience and road safety," Bautista said.
The SFEX Capacity Expansion is seen to enhance accessibility and promote travel efficiency on this key road that connects Bataan and Zambales. It is also expected to boost Subic's competitiveness in trade and tourism industries.
"The project will help sustain Subic's position as a globally competitive trade and tourism hub," Eisma said.
She also said that the project "will complement SBMA's infrastructure development program and promotion of Subic as an ideal shipping gateway for businesses in Central and North Luzon."
Konghun expressed beliefs that the improvements in the road network will significantly benefit the province of Zambales.
"Because of the smoother and easier travel that this project will bring, our province will be more viable for local and foreign investments," Konghun noted.
Following the groundbreaking ceremony, a ceremonial tree planting was also held to signify NLEX Corporation's commitment to plant more trees in its bid to replace those affected by the ongoing road project.
"Environmental awareness has always been part of our sustainable development strategy that is why we will conduct tree planting activities in the coming months to help reduce carbon emissions and contribute to cleaner air and healthier ecology along the SFEX," Bautista explained.