NLEX Philippine Arena Interchange now open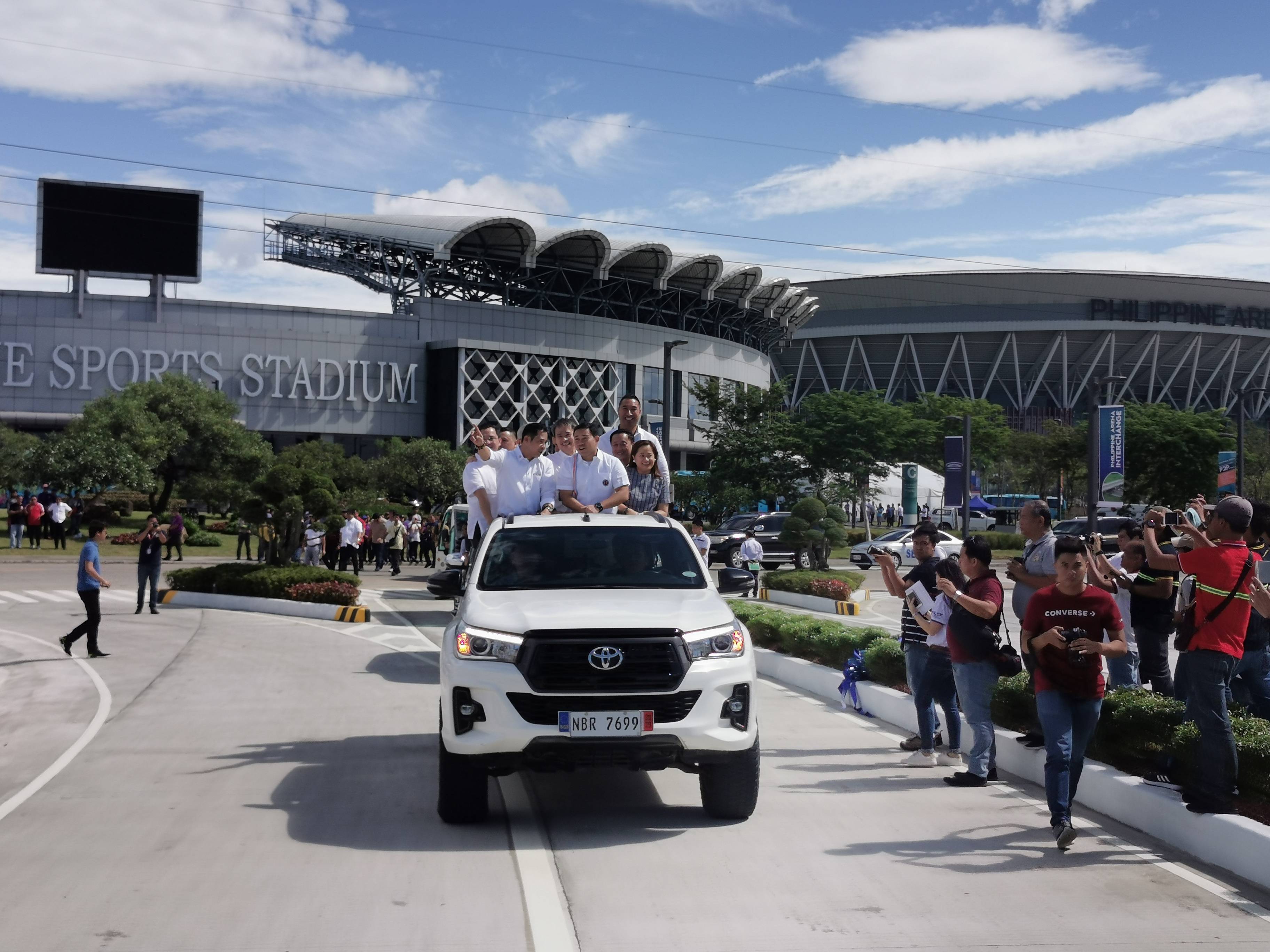 In time for the upcoming hosting of the country in the Southeast Asian Games slated November 30-December 11, the new NLEX Philippine Arena Interchange has just been opened to the public.
Aside from the upcoming biennial meet, traveling to the eastern portion of Bulacan, particularly in Bocaue, Sta. Maria, Pandi, Norzagaray, Angat, and other nearby towns is expected to be faster.
Leading the inaugural drive-thru of the new interchange was led by Department of Public Works and Highways (DPWH) Secretary Mark Villar, Senator Joel Villanueva, Bulacan Governor Daniel Fernando, Bocaue Mayor Eleonor Villanueva, Stakeholder Management Atty. Romulo Quimbo Jr., among others.
Initially, the section from Philippine Arena to the southbound side of NLEX will open on November 29, while the southbound section (from north of NLEX) going to the Philippine Arena will open on November 30 only for the SEA Games Opening Ceremony to give way to the remaining works of the interchange project.
The Philippine Arena Interchange has an 80-lineal meter bridge which connects Bocaue Municipal Hall, NLEX, Ciudad de Victoria, and Bocaue-Sta. Maria Bypass Road. It also has a northbound entry and exit toll plaza and soon, a southbound toll plaza for better accessibility.
"The Philippine Arena Interchange is just one of our priority projects in Bulacan to help ease mounting traffic along Governor F. Halili Road in Bocaue-Sta.Maria and address the usual heavy traffic situation at the Bocaue Interchange," Villar said.
"We also expect this new road to further accelerate trade and commerce within the province," he added.
Eventually, a 1.91-kilometer road from MacArthur Highway to Bocaue Municipal will be improved and a 1.3-kilometer road from the Philippine Arena to the existing Patubig Road in Marilao, Bulacan will be constructed.
"We are excited with this project that will further improve the roads leading to the Philippine Arena, especially now that we are hosting the 30th Southeast Asian Games Opening Ceremony," Villar noted.
For his part, NLEX Corporation President and General Manager Luigi Bautista affirmed that "NLEX is keen on supporting the government's infrastructure plan as it also provides travel convenience for motorists using the expressway system and opens up opportunities for local communities."
From Mark Villar's Facebook page
Meanwhile, construction is also underway for the southbound entry as well as northbound entry and exit toll plazas that will form the Tambubong Interchange. This new road will reduce travel time and provide another access for motorists coming from NLEX going to eastern parts of Bulacan and vice versa.