Outstanding Women in the Automotive Industry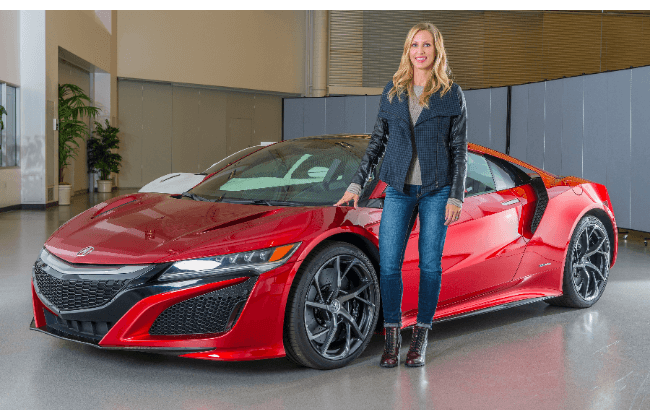 At first glance, the automotive industry is a man's world. The first ever drivers were men, thus cementing the status of the industry as a male-dominated trade.
However, 200 years later, times have changed drastically. For the past few decades, women have been slowly but surely infiltrating occupations that used to be traditionally male, such as computer programming, military, and of course, in the world of cars. There are more women in the car industry than most of us realize, and today, we recognize some of these women and their outstanding works that continue to contribute to define mobility as we know it.
Michelle Christensen
Michelle Christensen, a passionate artist and the daughter of a car enthusiast, is currently the lead designer for Acura, Honda's luxury vehicle division. Since 2005, Christensen has been designing cars for the Japanese automotive brand, and on 2016, took on the role as lead designer for the resurrection of the iconic Acura NSX.
"I'm a car geek. I grew up in a big car family, going to drag races as a kid and working on my dad's hot rod," says Christensen.
On 2010, Michelle Christensen received the Woman on Top award from Marie Claire magazine for her outstanding contributions to the industry, and for making history as Acura's first female exterior car designer.
Diane Allen
Born in Los Angeles, Diane Allen's contributions to Nissan significantly impacted the brand's comeback. Allen designed two of Nissan's most quintessential vehicles: the 350Z and the Nissan Titan.
"If you don't have the 'I'm going to fight my way through' kind of personality, you won't make it. I've fought for 10 years just to get a little respect," shares Allen.
Now an exterior designer at Nissan and a proud mother of two, Diane Allen has been listed under Automotive News' list of 100 Leading Women in the North American Auto Industry for four times.
La Shirl Turner
Turner, a Detroit native, grew up around cars. With a passion for fashion design and an eye for great color, Turner's unique outlook on modern cars shows through her works. One of her latest projects is the 2015 Jeep Renegade, a stunning and colorful vehicle inside and out.
La Shirl Turner currently heads the Advanced Color Materials team for Fiat Chrysler Automotives. The team is responsible for all of the vehicle's color and materials, from the exterior paint to the interior trim and textured accents.
"It makes me sad that more women don't realize what an exciting job automotive design can be. If you're the kid who doodles in your math book, you should think about automotive design," she shares.
Alexandra "Sandy" McGill
Sandy McGill is responsible for a lot of the colors you see on the road every day. As BMW's lead designer, McGill's passion for design and her attention to detail really stands out in her works.
Among her most notable projects include the Rolls Royce Phantom, Gulfstream G550, and the BMW MINI concept car.
"When I got to Munich [with BMW> in 1991, there were only two women in my design group, now there are many more," shares McGill. "And it's culturally diverse, with men and women from Central America, the Middle East, all over Asia, and Americans. It's also very competitive, so this profession is not for the weak of heart."
Susan Lampinen
Lampinen's passion for inclusivity and equality is as intense as her love for cars.
"I want to make sure there's a seat at the table for a man, a woman, a 62-year-old, a 25-year-old, a Hispanic, an Asian, I want a fashion design background, a product design background, and interior designer, a transportation designer. I think that is what makes for good design."
Today, Susan is responsible for having a hand in designing all the cars in Ford's current lineup. Her advocacy to get more types of people in the industry means there will be more ideas bouncing off of each other, more cultures to appreciate, and a more equal workforce.
Tisha Johnson
Johnson's portfolio as a car designer is extensive, with a slew of awards on her trophy case. One of those awards is the prestigious Design Grand Prize for her work with Volvo for the opulent interiors of the S90 sedan and the V90 estate, as well as the innovative designs on the Excellence cars. She is also part of the design team that created the 360c autonomous concept car.
"I had a string of clerical and retail jobs, but then, a friend at work encouraged me to pursue my love of design. I realize now that women need to know that automotive design is an available profession." Johnson is currently the Senior Director of Design at Volvo.
Also Read
Here are 5 of the Most Iconic Film Cars
Car Articles From Zigwheels
News
Article Feature
Advisory Stories
Road Test