Porsche unveils Taycan all-electric 'Star Wars style'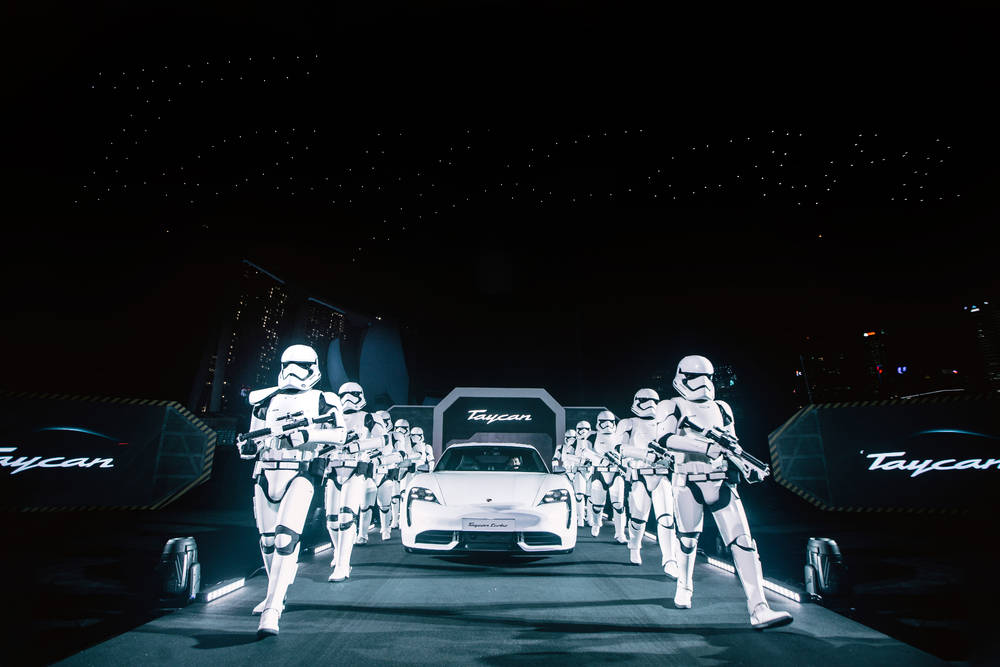 Following its debut in LA Motor Show, Porsche premierly unveiled the new all-electric Taycan in Singapore for the Asia-Pacific region.

Themed as 'Soul, electrified,' the launch was done side by side with Star Wars, to highlight the features of the latest Porsche model.




Arthur Willmann, Managing Director of Porsche Asia Pacific, claimed that the Taycan links the Porsche's heritage to the future.

"It is a fascinating sports car with exciting driving dynamics, performance and technology – and like every Porsche ever built, it comes with a soul. Something you will feel immediately, once you get behind the steering wheel," he said.

With that, Matthias Becker, Vice President Region Overseas and Emerging Markets of Porsche AG, noted the coming in of the Taycan to the region.

"Asia Pacific is an important sales region for Porsche – with a continuously growing customer and fan base. With the Taycan, we are entering a new era and this spirit fits perfectly with the iconic Star Wars brand and the joint event here in Singapore," Becker explained.

Michael Mauer, Vice President Style Porsche at Porsche AG, shared the design philosophy behind the vehicle.

"Designing the Taycan was one of the most exciting tasks, because the only certainty was that it had to be recognisable as a Porsche at first glance. And by pursuing the strategy of making it the sportiest in the segment, we have defined a new architecture for purely electric vehicles. Just like what the 911 has achieved, my vision is that the Taycan will become an icon of this new era, a synonym for a purely electric sports car," he said during the event.




As part of the unprecedented collaboration, the design teams at Porsche and Lucasfilm collaborated to design a fantasy starship in support of the upcoming Star Wars film, the final episode of the Skywalker saga.

Mauer, together with Doug Chiang, VP Executive Creative Director, Lucasfilm, explained the design process and presented design sketches of the spacecraft highlighting the combined Porsche and Star Wars design DNA.

"Although one brand is placed in a fantasy universe and one in the real world, it's interesting that both are defined very much by their iconic design principle. The basic challenge of the design brief was to design a starship that would both be true to the Star Wars universe and Porsche design DNA," Chiang said.




Being the first all-electric sports car, the Taycan, marks the beginning of a new chapter for Porsche as the company expands its product range in the field of electromobility.

The flagship Turbo S version of the Taycan can generate up to 761 horsepower (hp) overboost power in combination with Launch Control, and the Taycan Turbo up to 680 hp.