SMC finishes Skyway 3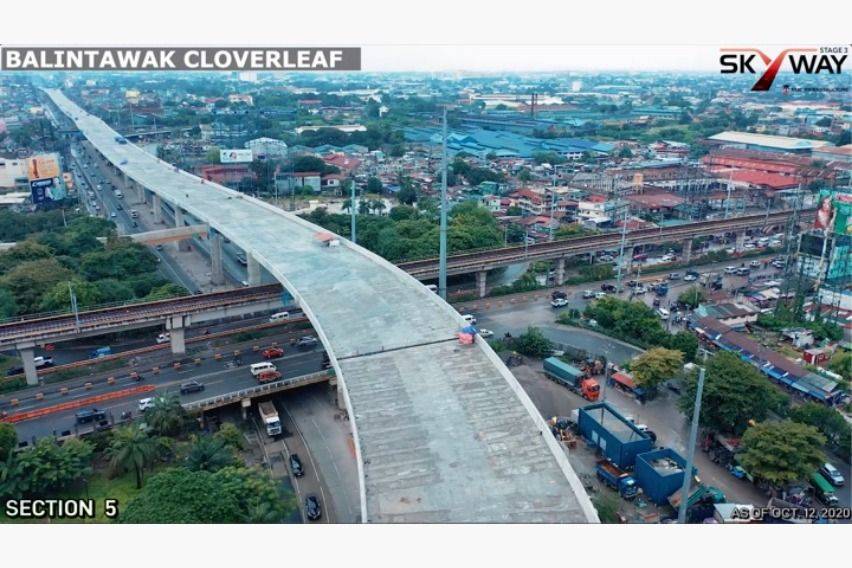 The leadership of San Miguel Corporation (SMC) has announced the completion of the 17.93-km stretch of the Skyway 3 project.
SMC president and Chief Operating Officer Ramon Ang made the pronouncement that the link between the North and South Luzon has been finished over the weekend, weeks before its October 31 schedule.
"I'm happy to announce that the whole structure of Skyway 3 is now complete. With this, Skyway 2 in Buendia is now officially extended all the way to the North Luzon Expressway. After many challenges this project faced in previous years, the dream of connecting north and south and providing an alternative to EDSA is now a reality," Ang was quoted as saying.
Upon completion, the projected travel time going from SLEX to NLEX will now take less than half an hour from the usual three hours or more before. Also they claimed that Magallanes to Balintawak will only take about 15 minutes, Balintawak to NAIA also only 15 minutes, and Valenzuela to Makati in just 10 minutes.
However, he said that the infrastructure cannot be opened just yet as finishing works has to be done late following the continuous rains.
"We're very excited to open Skyway 3 to the public. We just have to wait for the weather to improve so we can make sure that the asphalt will cure properly. That and a few more finishing touches are all that's needed, and then we can open, soon," he explained.
Further, Ang said that they had had been doubling its efforts to finish major infrastructure projects with the least delays possible since middle of May, when restrictions were eased.
In July, SMC completed the last section of the Tarlac-Pangasinan-La Union Expressway (TPLEX) to Rosario, La Union, officially opening the entire stretch of the TPLEX to motorists.
Aside from Skyway 3, they are also eyeing to accomplish by end of this year the northbound section of the Skyway Extension that would lanes and connects South Luzon Expressway to Skyway near Susanna Heights and the Muntinlupa-Cavite Expressway.
Ang has vowed to push through with all its major infrastructure projects despite the economic slowdown due to the pandemic, in order to generate jobs and help the economy recover.
Photo/s from San Miguel Corporation
Also read:
SMC: P1.1 Million Worth of Free Use on Tollways
SMC banks on SLEX TR5, Pasig River Expressway as next game-changers
SMC resumes work on Skyway extension, devises new traffic scheme