Spotting the differences between the Toyota Veloz and Toyota Avanza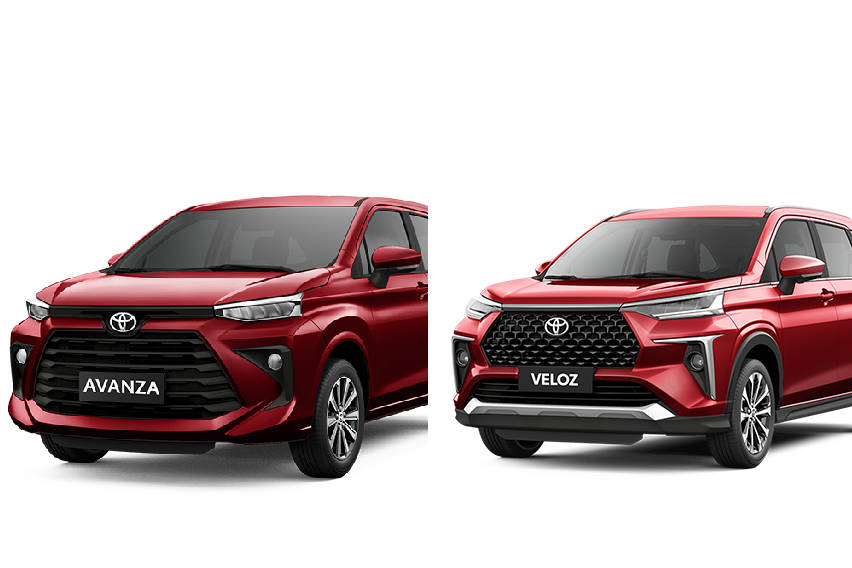 Just last week, Toyota Motor Philippines (TMP) unveiled the Toyota Veloz through a simultaneous nationwide launch in cooperation with its 72-strong dealership network. The event marked not only the arrival of a new subcompact SUV in the Philippines but also the emergence of the Toyota Avanza's range-topping model into its own nameplate.
KEY TAKEAWAYS
What are some of the differences between the Veloz and Avanza?
The Veloz is larger than the Avanza with larger wheels and a more upscale exterior and interior.
How many variants does the Veloz have?
The Toyota Veloz has two variants priced at P1,185,000 and P1,240,000.
That said, many Toyota fans wonder just how much was changed from the top-variant MPV now that it's touted as the brand's newest SUV. Join us as we spot the difference between the Toyota Veloz and Toyota Avanza.
Exterior
At a glance, the Toyota Veloz appears to have a more premium look than the Avanza. While both vehicles sport a modern-looking grille, the former features a more elegant and stylish front end while the latter has a more utilitarian appeal.
The Toyota Veloz also has noticeable exterior chrome trims which add a certain level of sophistication to the looks of the newly-launched subcompact SUV. In addition, it also comes with black claddings on the wheel arches, a PH-specific model feature and is something that the Avanza lacks.
Those paying attention to wheel sizes would note that the Toyota Veloz rides on larger 17-inch wheels while the Avanza wears a set of either 15 or 16-inch wheels.
In terms of size, the top-of-the-line Toyota Veloz measures 4,475 x 1,775 x 1,700 (L x W x H) while the range-topping Toyota Avanza is at 4,397 x 1,730 x 1,700 (L x W x H).
Interior
The cabin of the Toyota Veloz, thanks to its larger overall dimensions, is more spacious than the Avanza. Here, would-be owners can find fabric and synthetic leather-wrapped seats, a leather steering wheel, a center console with ambient lighting, as well as second and third-row seats with long sofa mode.
Its clean dashboard houses a seven-inch TFT instrument cluster and either an eight-inch or a nine-inch infotainment system with Apple CarPlay and Android Auto compatibility. The interior comes with six speakers, a wireless charger, and various accessory outlets.
Meanwhile, the Toyota Avanza — after its recent refresh — does offer decent interior space. Albeit smaller than the Veloz, it still rooms respectable amenities such as a 4.2-inch TFT multi-information display and either a 6.75-inch or an eight-inch display audio.
With a cabin that leans more on durability and longevity, the Toyota Avanza features fabric seats, a urethane steering wheel, a urethane shift knob, and several USB outlets.
Engine
The Toyota Avanza comes with either a 1.3-liter or a 1.5-liter engine. The power plant is mated to either a five-speed manual transmission or a CVT. The former makes around 96 horses while the latter makes around 104.
On the other hand, the Toyota Veloz is only optioned with a 1.5-liter gasoline engine mated to a CVT. The powertrain setup allows the Veloz to put out 140 horses.
Safety
In terms of safety, the Toyota Avanza is equipped with standard features such as ABS, vehicle stability control, and hill start assist control. Higher trims in the model range get a rear camera and rear sonars while range-topping models get blind-spot monitoring, rear cross-traffic alert, and additional airbags.
The Toyota Veloz builds upon these safety features with its top-tier variant getting a pre-collision system, automatic high beam, and lane departure alert. Its rear camera also features a panoramic view monitor which allows drivers to better see the surroundings when moving in or out of a parking spot.
Pricing and variant
The Toyota Avanza, now that the Veloz was separated from the nameplate, is now offered in four variants: 1.3 J MT, 1.3 E MT, 1.3 E CVT, and 1.5 G CVT. They are priced at P813,000, P928,000, P984,000, and P1,039,000 respectively.
On the other hand, the Toyota Veloz is offered in two variants: 1.5 G CVT and 1.5 V CVT. They are priced at P1,185,000 and P1,240,000, respectively.
Photos from Toyota
Also read:
Toyota PH confirms all-new Veloz arrival
Read All
Featured Articles
Compare & Recommended
Toyota Rush

₱983,000 - ₱1.176 Million

Gasoline
SUV
1496 cc
5-Speed Manual, 4-Speed Automatic
14 kmpl

Rush Price

Toyota Rush

₱983,000 - ₱1.176 Million

Gasoline
SUV
1496 cc
5-Speed Manual, 4-Speed Automatic
14 kmpl

Rush Price

Toyota Rush

₱983,000 - ₱1.176 Million

Gasoline
SUV
1496 cc
5-Speed Manual, 4-Speed Automatic
14 kmpl

Rush Price

Toyota Rush

₱983,000 - ₱1.176 Million

Gasoline
SUV
1496 cc
5-Speed Manual, 4-Speed Automatic
14 kmpl

Rush Price

Toyota Rush

₱983,000 - ₱1.176 Million

Gasoline
SUV
1496 cc
5-Speed Manual, 4-Speed Automatic
14 kmpl

Rush Price

Toyota Rush

₱983,000 - ₱1.176 Million

Gasoline
SUV
1496 cc
5-Speed Manual, 4-Speed Automatic
14 kmpl

Rush Price