SsangYong Completes Best Stage in Dakar Rally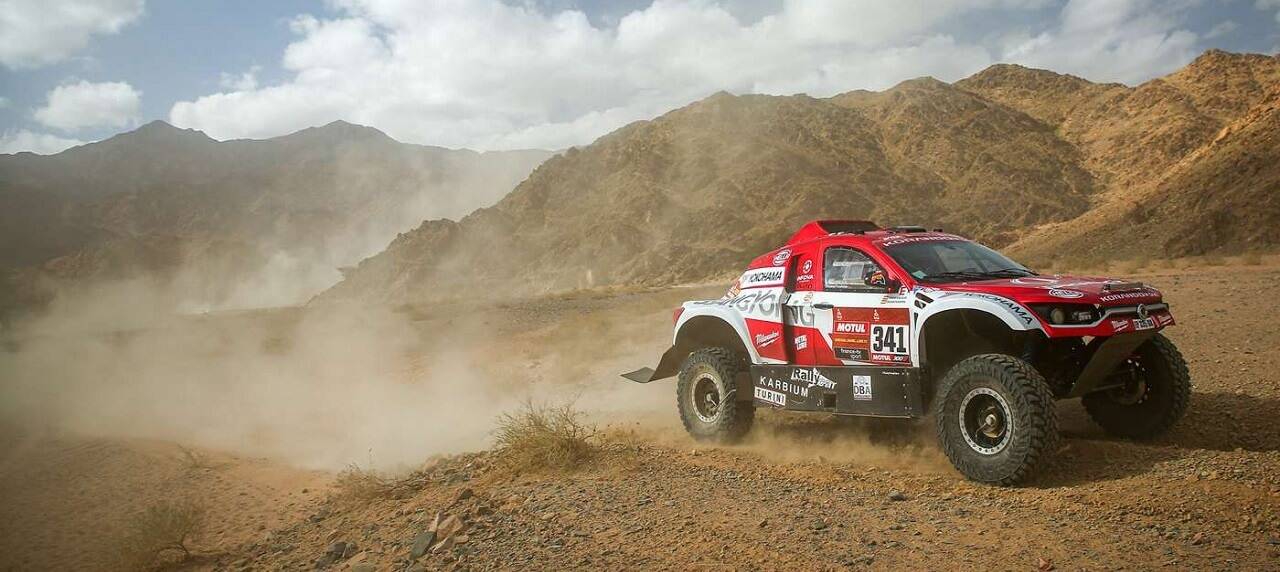 Korean car brand SsangYong is firing on all cylinders as it completed the grueling fifth stage of this year's Dakar Rally. SsangYong's entry, a Korando DKR, finished a stage in the 29th position for the second day in a row, helping the team retain the 24th spot overall. With the good showing, the Ssangyong Motorsport team only needs to make up for four spots to enter into the top 20.
©media.ssangyonggb.co.uk

The Korando DKR is being commandeered by two Spanish professional drivers, the Madrid-born Oscar Fuertes and his Galician co-driver Diego Vallejo. The Spanish duo praised their Korando DKR's performance in the first special in this Saudi edition made up of many kilometers of sand and dunes. "It's been a very tough stage and we've done it very well," Fuentes said. "The Korando DKR is really daring." "We took it to the limit at full throttle, every second, bump after bump, and the car didn't complain at all, not even a bit," he added. "Today we've raced a hell of a stage." Five hours and two minutes was all the time that the SsangYong Motorsport duo needed complete Stage 5's 353 km-long trek, slightly over one hour behind the stage winner, Carlos Sainz. The problem-free trip puts SsangYong in a tight fight against a group of drivers to enter into the top 20.
©media.ssangyonggb.co.uk

The Korando DKR retains the fifth position in the T1.3 category (gasoline two-wheel drive modified vehicle), and its drivers are the third best-classified Spaniards in the race, only behind Sainz and Fernando Alonso. Fuertes and Vallejo have already clocked in a total of 23 hours, 47 minutes and 39 seconds in the first five stages of the rally, an average of almost five hours' racing a day.
©media.ssangyonggb.co.uk

"We're having a lot of fun, basically because the Korando DKR is awesome. The truth is we're exhausted, because it's been many hours and you feel tiredness building up from the previous days," assesses the Madrid-born driver. "However, after such a great stage, we're very happy." The locally sold Korando is powered by a choice of 1.5-liter turbo gasoline (163 hp and 280 Nm) or 1.6-liter diesel (136 hp and 324 Nm). The vehicle, a 2020 model, comes in three different trims: the Korando 1.5T Sport (gasoline), the Korando 1.6D Sport (diesel), and the Korando 1.6D Premium (diesel). Pricing for the vehicle is as follows:
| | |
| --- | --- |
| Ssangyong Korando 1.5T Sport | PHP 1,290,000 |
| Ssangyong Korando 1.6D Sport | PHP 1,578,000 |
| Ssangyong Korando 1.6D Premium | PHP 1,770,000 |