Team HPI youngster Jakob Sablaya's heart is in motorsports
Many stories were already written about Jakob Sablaya. For one, the 16-year-old boy from Antipolo already won numerous awards locally and is competing under Honda Philippines Inc. (HPI). But amid the success and victories lie the passion, hard work, dedication that the young rider is putting in.
KEY TAKEAWAYS
How old is Jakob Sablaya?
He is 16 years old.
What Honda motorcycles is Sablaya using in the races?
He uses the Supra GTR150 and the CBR150.
While many kids his age would prefer gadgets or online games, Sablaya was already fond of the two-wheeedl vehicles that his father used to compete with in motorbike events that developed his love for motorcycles starting at the young age of six.
His first shot at competitive events was in 2018, when he joined the Honda Pilipinas Dream Cup (HPDC) — a program designed to discover young riders with exemplary skills in motor racing.
"With Jakob's outstanding determination, discipline, and grit, it wasn't surprising that he won in two consecutive years," HPI MC Planning Department Manager Hervic Villa said.
Villa also noted Sablaya's passion and love for the sport that made the latter reach where he is now.
"While Honda ensures to provide an ideal race bike, rigid training, and supportive team, it's the rider's character that will truly stand the test of time. Hard work is always a crucial step in becoming an excellent racer," Villa noted.
Sablaya recalled how his love for the sport grew further.
"Nakikita ko po ang daddy ko na kumakarera nung bata ako at lagi po akong kasama sa lahat ng races nya. Habang tumatagal, napansin po nila na sinusuot ko yung boots, gloves, at helmet nya 'pag nasa karera na kami (When I was younger, I saw my daddy joining races and I was always with him. As time went on, they noticed that I was wearing his boots, gloves, and helmet whenever we were in the races)," he recalled.
According to Sablaya, 2019 was the start of riding career after being a part of the Asia Talent Cup Selection and represented the country in Malaysia. But as for him, being a part of the HPDC readied him for the competition.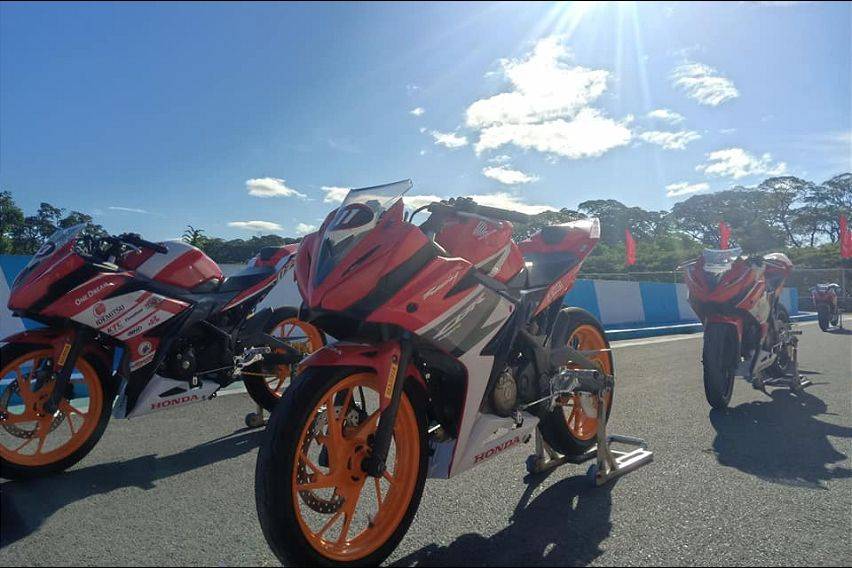 Further, Sablaya continues to hone his skills by establishing consistent practice routines, with the guidance and support of his HPI family.
"I am so thankful to be a part of the HPI Team kasi lagi sila naka suporta sa akin (they are always there to support me) physically, emotionally, financially, and spiritually. They help me pursue my dreams sa sports na napili ko (on the sport that I have chosen), and they give me a lot of motivation too," he shared.
Currently, Sablaya uses the Honda CBR150R and Supra GTR 150 for his races and is very impressed with the model's built-to-performance qualities. "Yung Supra GTR150, sobrang smooth at lakas ng takbo kahit naka stock lang yung bike (The Supra GTR150 is very smooth and powerful even if it is unmodified)," he affirmed.
Meanwhile, the CBR150, Sablaya mentioned, is a step up in terms of speed and handling. "Sobrang sarap gamitin dahil naka slipper clutch na sya, at yung shock din nya, walang hassle sa mga likuan (It's so nice to use because it's on slipper clutch, and its suspension gives no hassle when attacking curves)."
Further, HPI Motorsports adviser Hitoshi Ito also affirmed that the models "fit the Filipino lifestyle, possess superbly built all-around character, and are highly-powerful to deliver on the road."
"The Supra GTR150 and CBR150 are two popular bikes of Honda. Customers do love the speed, handling, and reliable performance. As you'd expect from both of these models, they're also one of the most fuel-efficient road partners, and guaranteed to provide the joy of mobility. With its steadfast handling and impressive features, racers like Jakob can surely expect performance at their best. Moreover, while HPI continuously commits to support and hone more potential talents, consumers can look forward to more products that's built on quality," Ito noted.
In a statement, HPI said that the brand's "Power of Dreams" philosophy is "rooted to its core values of creating advanced technology products."
"And just like Sablaya and other young hopefuls who dream of becoming one of the most sought-after racers one day, Honda is also committed to bring to life an experience that will take them there, one ride and journey at a time," HPI added.
Photos from Honda Philippines, Inc.
Also read:
Sablaya bags two championship titles in Motul Carrera Grande 2021
Jakob Sablaya Runs Away with 2018 Petron National Motorcycle Championship
Sablaya Maintains Overall Lead in Honda Pilipinas Dream Cup 2019