The Hennessey Venom F5 Engine is a 1,800+ HP Monster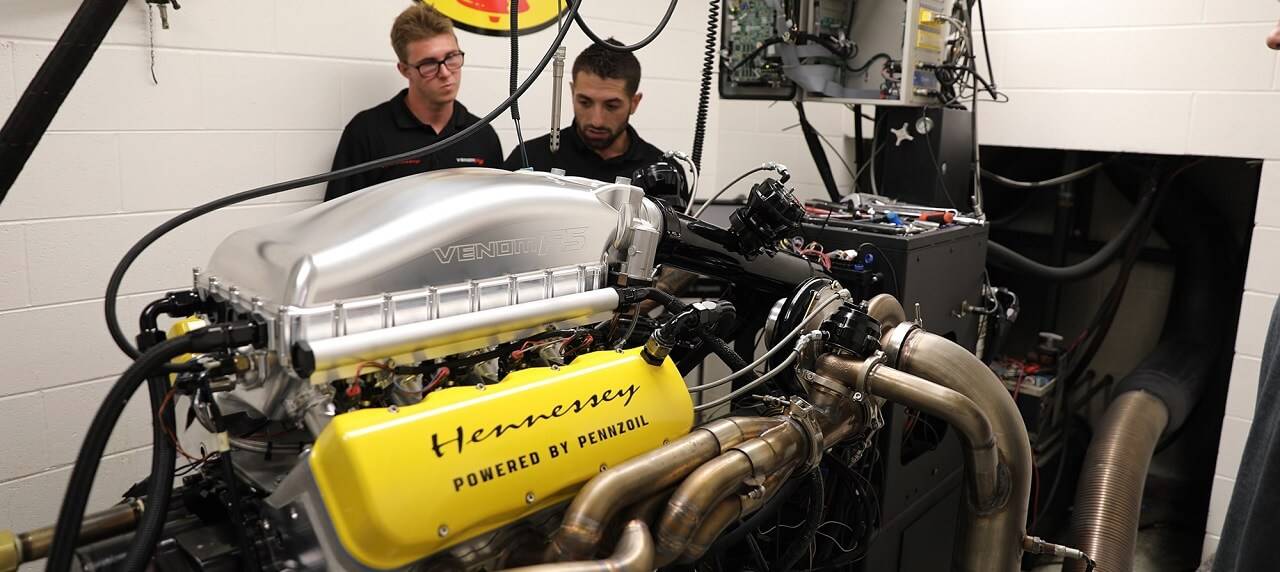 It seems that a 1,600-hp engine is not enough for the Venom F5, Hennessey's upcoming high-performance sports car, and so the small-sca;e American carmaker ups the ante with a twin-turbocharged 6.6-liter V8 that would produce 1,817 hp and 1,617 Nm of torque.
Perhaps Hennessey felt they needed to upgrade its in-development car after Bugatti's own broke the 300-mile-per-hour barrier (482.80 kph) recently. The brand certainly needed to make some improvements if they really want to lay stake on the claim "to be the absolute fastest road car on earth."
With every component built with painstaking attention to detail, the crankshaft connecting rods, pistons are made from lightweight yet heavy-duty materials. Billeted parts include the aluminum intake manifold, steel hydraulic roller camshaft, dry sump oil system, and stainless steel shaft-mounted rocker arms.
The engine block makes the shift from aluminum to forged steel. Displacement dropped from 7.6 to 6.6 liters. It also has a name this time around. Check out this quote from company founder and CEO, John Hennessey:
"We exceeded our target horsepower number. Actually, we blew our target number out of the water by delivering over 1,800 hp… Give it the full throttle and it's the most furious engine that we have ever built. Thus, we gave our F5 engine a special name: 'Fury.'"
The distinctive manifold design wedges the intercooler between the plenum and cylinder heads to lower the temperature of the inlet air from the turbochargers as it heads toward the combustion chamber. The result? Greater power efficiency and air density, which ultimately helps the engine attain its insane power numbers.
"This is a very important milestone in the building of our all new Venom F5," said Hennessey. "With over 1800 bhp and a curb weight of less than 3000 lbs (1360 kgs), the Venom F5 will offer the best power-to weight-ratio on the market."
"We plan to begin testing our first car later this year," Hennessey closed.
The company will build 24 units of the Venom F5, each with a price of about USD1.6 million (PHP83.2 million). Hennessey also has a roadster variant in the pipeline.