Watch F1's Hamilton, MotoGP's Rossi Trade Rides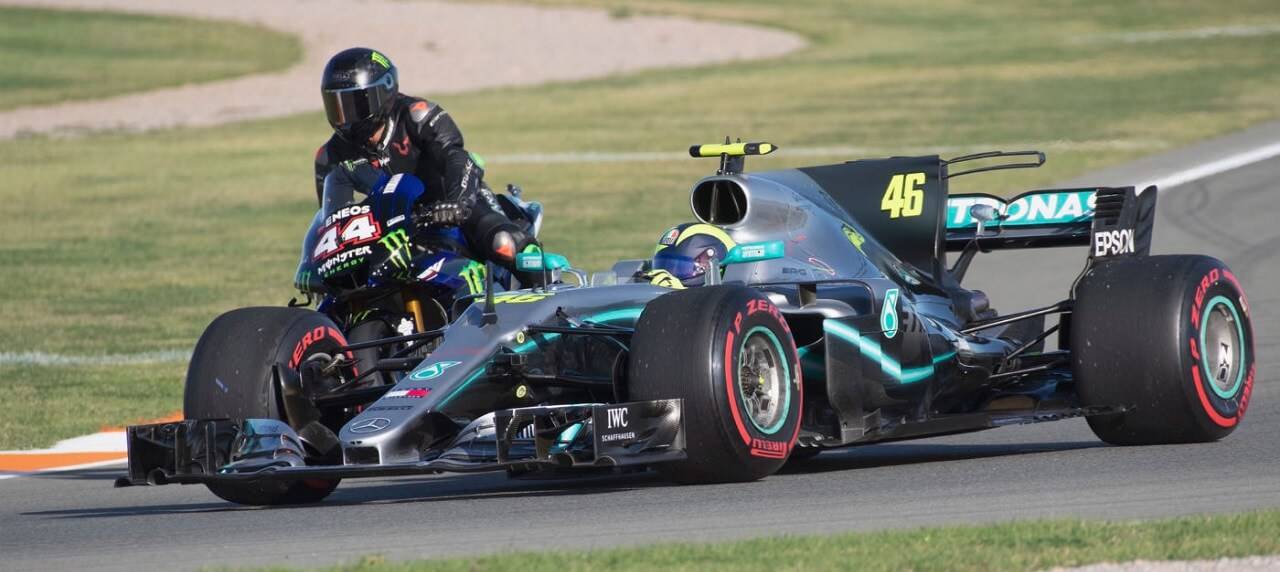 No matter how successful you are in your chosen field, the grass always seems greener on the other side of the fence. And so F1's Lewis Hamilton and MotoGP's Valentino Rossi put their curiosities to rest by climbing each other's fences and trading their favored rides for one another.
Hamilton rode the 2019 Yamaha YZR-M1 that Rossi used in Valencia in November during the MotoGP's season finale. Meanwhile, Rossi drove Hamilton's signature 2017 Mercedes W08, the same car that one both the Chinese and Abu Dhabi Grand Prix of 2017 for the British race car driver.
Considering that both Hamilton and Rossi are two of the most successful pilots in their respective fields, it is only fitting that they be the ones to do the swap. Monster Energy, the energy drink maker and Yamaha title sponsor, were the ones responsible for making the exchange happen.
Hamilton has dabbled with racing bikes in the past, having rode a tried out a Yamaha YZF-R1, the same bike used in the World Superbike Championship by the Yamaha Crescent team last year.
Rossi on the other hand, last tried driving an F1 car almost a decade ago at Barcelona in 2010. That time, Rossi drove a Ferrari F2008, the one that Scuderia Ferrari used to compete in the 2008 Formula One season with Finnish Kimi Räikkönen and Brazilian Felipe Massa.
"I have tried an F1 car before, but much has changed since then," Rossi said, as quoted by Motorsport.com. "Sincerely, I was impressed with the car and its handling, as well as with the Mercedes-AMG Petronas Motorsport team, who were great to work with. They were very welcoming and made it easy for me to get familiar with the car.
Rossi said that he "really enjoyed" the swap with Lewis. "I think he had loads of fun too, demonstrated by how reluctant he was to stop riding," said Rossi about his swap buddy.
"I sincerely hope we will get to have many more experiences like this in the future," Rossi said.
As for Hamilton, he said that "it's so awesome to see a legend like Valentino in the car."
"I'm excited for him, for discovering the car for the first time," Hamilton said further, adding that seeing Rossi drive his F1 reminded him of his own first time in an F1 car.