What Philippine Mountain Roads Could Caltex with Techron Try Next?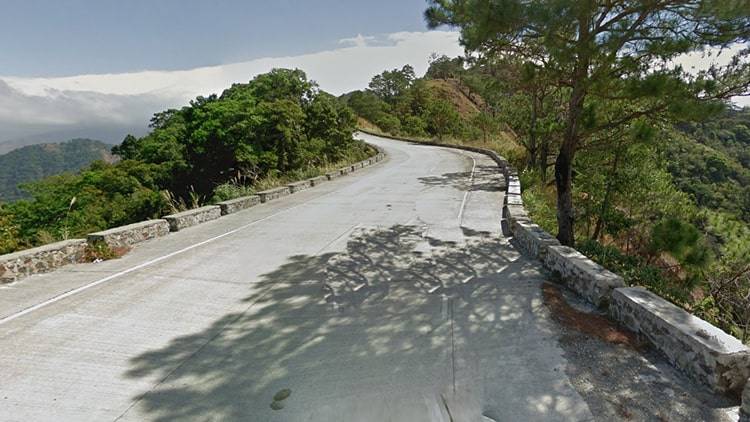 Caltex recently achieved an amazing feat when it powered racecar driver Natasha Chang's record-breaking ascent on Thailand's Doi Chang Mountain with its Caltex with Techron fuel, effectively securing the title 'Fastest Ascent of Doi Chang Mountain Road by Using a 28-Year Old Car' as certified by Guinness World Records. That's not to say the Philippines doesn't have challenging roads for Caltex to conquer. On the contrary, the country has its own fair share for driving enthusiasts who just have to scratch that 'need for speed' itch. If you feel like setting your own world record anytime soon, check out the seven examples below.
Mount Santo Tomas
From Google Maps
The scenic Mount Santo Tomas is a stratovolcano in the province of Benguet near Baguio. It has an elevation of 7,296-ft above sea level, so if you really want to push your car to its limits, then this is the challenge you're looking for. Though the steep climb is practically guaranteed to do a number on your fuel economy, the way Caltex with Techron keeps your engine clean ensures your car's engine functions at optimum, and delivers maximum power to your wheels.

Kennon Road
From Google Maps
Known for supernatural sightings as it is for its sinewy landslide-prone and unlit sections, the 41.2-km Kennon Road in Baguio is easily the most intriguing, if not the riskiest option, on this list. Nevertheless, its 5,500-ft above sea level elevation can make all the risks seem worthwhile. If you're driving on Kennon Road in the evening and the eeriness of the locale starts to get to you, there's the friendly vibe of Caltex Upper Session Road to drive back the darkness.

Tagaytay-Talisay Road
From Google Maps
Though it's only 11.7-kms long, this snaking road that links Tagaytay and Talisay is just as fearsome as the lengthier roads on this list. Carved out of the mountains by the United States Army in 1945, the road's asphalted surface is what makes this relatively short-but-sweet thoroughfare tricky to maneuver. Make sure to gas up at the Caltex station on Aguinaldo Highway in Tagaytay to give your car the optimum performance it needs to take on this southern road's testy path.

Halsema Highway
From Google Maps
Located within the Cordillera Central range in northern Luzon, the 150-km Halsema Highway runs the length of Baguio's outskirts to the municipality of Bontoc and on to Tabuk and Tuguegarao. Measuring 7,400-ft above sea level at its highest point, the exhilarating mountainside landscape makes the drive a joy to behold, but it's also what makes this road treacherous. Some of the drop-offs here measure a sheer thousand feet and more, and certain sections don't have any safety guard rails installed. Now that's challenging. Fortunately, when it comes to reliable engine performance, you'll have less to worry about, because Caltex with Techron keeps your engine protected for a confident and comfortable drive.

Malabrigo-Laiya Road
From Google Maps
Batangas's Malabrigo-Laiya Road is the only coastal road on this list. It's 23.8-kms long, and it's riddled with narrow twists and turns. If that's not enough to pique your interest, the road is also partly unpaved. In fact, you'll have a hard time calling it a road because it's basically just a long strip of dirt. Good thing Caltex with Techron keeps your engine clean, because driving on this road isn't going to.

Bongabon-Baler Road
From Google Maps
If you're more of a 4x4 junkie, the stiff and rough trail that is the Bongabon-Baler Road will likely be your favorite. To say that the road is punishing is an understatement--it's an 85.3-km stretch of narrow, steep, muddy, rocky, uneven terrain that gets impassable by normal cars whenever a storm hits. It even has a river that needs crossing. Suffice to say, you're going to need a vehicle with tall wheels and high ground clearance if you want to take on the Bongabon-Baler Road. Likewise, you don't want your engine conking out on you while you're bouncing and tumbling on this expanse. Keep your engine humming happily by putting Caltex fuel in your tank.

Ilocos Norte-Apayao Road
From Google Maps
If a scenic, PG-rated excursion is more your thing, you'll enjoy the lovely view and fresh air of the Ilocos Norte-Apayao Road. Located between the boundary of Manalpac in Solsona town and Butao in Calanasan, Apayao, the 64.24-km new highway, which just opened last year, boasts of a view deck at the top, offering a picturesque sight of the landscape amid a sea of clouds. The site has been attracting a lot of visitors and tourists, we at CARMUDI even found it impossible to resist. If you plan on going there, Caltex with Techron ensures you'll enjoy optimized fuel efficiency throughout your trip.
Have you picked which road to conquer yet? Whichever you choose, trust Caltex with Techron to fuel your ride in the best possible way. Now powered with Clean & Glide Technology, Caltex with Techron contains an innovative formula scientifically proven to help your engine stay clean and protected throughout your drive. Learn more of Caltex's products and services ranging from Techron fuels, lubricants, fuel oils and more at www.caltex.com/techron.