Audi E-Tron
E-TRON is available in 1 variants and 3 colors and comes with a choice of Automatic transmissions. Audi E-TRON 2022 tough competitors are: Land Rover Defender 130 2023, Audi Q7, BMW X7, Land Rover Range Rover Velar and Land Rover Defender 110.
Key specifications & features of the Audi e-tron. View engine specs, dimensions, safety and technology features in detail below
features

Anti-Lock Braking System
Child Safety Locks
Driver Airbag
Passenger Airbag
Side Airbag-Front
Audi E-TRON 2022 Price Philippines
Checkout 2022 E-TRON price list, variants, EMI's and available promos.
Audi E-TRON Latest Updates
The new Audi E-Tron adapts the MLB Evo platform to a large extent and features an electric motor on each axle, where the rear motor is a bit powerful than the front. Apart from a magnificent look, the E-Tron has a plethora of creature comforts like keyless entry, 360-degree camera, LED headlights, and adaptive air suspension to name a few. Audi E-Tron is available in multiple variants – e-tron 55 (402hp up to 405km of range), e-tron 50 (309hp, up to 314km of range) and tri-motor e-tron S (496hp, 359km range). As for the prices, this all-electric SUV from Audi is available from Php 4.4 Million.
Audi E-TRON Pros & Cons
Get the better insights of Audi E-TRON, Read our expert opinion and helps to buy or not
Things We Like in Audi E-TRON
State-of-the-art Side Mirrors
Heap of High-Tech Features
Powerful engine performance
Things We Don't Like in Audi E-TRON
Slightly higher sticker price 
Conventional styling
Mile ranges
Audi E-TRON Colors and Images
All
Colors
Exterior
Interior
Audi E-Tron Review
Audi E-TRON Overview

Coming in hot is the first full-electrical model from the four rings brand, the Audi e-Tron. This sporty and high-tech looking car fuses the typical space and comfort of a luxury class automobile as well as a full range of iconic features that will definitely sweep you off your feet.

It goes head to head with the Tesla Model X and Jaguar I-Pace but this car got some great edge in terms of styling and recognizability. The car may look like a conventional 5-seater SUV but it is way way better than that. Given its exterior designs and groundbreaking battery performance, Audi e-Tron also offers an innovative and futuristic interior design that can challenge the status quo of electric vehicles.

The Audi e-Tron is available in three variants which are the e-Tron 55 with 402 bhp and up to 252 miles of range, the cheaper e-Tron 50 with 309 bhp and up to 195 miles of range, and lastly the tri-motor e-Tron with a whopping 496 bhp and 223 miles of range. You've got three amazing colors of choice including Antigua Blue, Galaxy Blue and Siam Beige.

Audi E-TRON Interior

Pop the doors open and you'll see a highly innovative design of the cabin. The accents of high-voltage orange, multiple touchscreen displays and the edgy shapes in the cockpit make this car very futuristic-looking.

The optional panoramic glass roof lets you have an added experience of seeing what's above while enjoying the ride. Your passengers on the rear seats will benefit from the bright and friendly atmosphere. The optional Air Quality package with ioniser and scent ensures first-class air quality. The air quality sensor pays attention to your health so that when harmful gases enter the interior, it activates the recirculation system. Apart from this, the very low overall noise level will simply make you feel relaxed while on a trip.

Another highlight of this car's interior is the useful luggage carrier that can store up to 660 litres which makes this car a definite must-have for long-hauls and out of town vacations. With folded seats, the maximum load capacity is more than twice as large. The tailgate can optionally be opened by moving your foot. You can also find tools and mobile charging cables in the storage compartment under the front hood.

As for the technology, this car has the standard Audi virtual cockpit with the top infotainment system MMI navigation plus which are connected to a heap of driving assistant features. The car also has some features that can be activated remotely through the myAudi app and it also has a route planner to help you plan your navigation on your next journey including all the necessary charging stops so you wouldn't have to worry about your car draining out during the trip.

Spacious, high-tech, and comfy, those are definitely the words to describe the Audi e-Tron interior.

Audi E-TRON Exterior

The e-Tron has ample size for a conventional SUV and various exterior features that are not very hard not to notice.

Looking at the styling, you'll notice various chisels all over the car and are even more highlighted by the sparkling color schemes. The Matrix LED headlight on the front not only gives the electric SUV more authority and sets new standards in design and technology, but also makes your journey easier. A control unit switches individual diodes on and off and thus takes intelligent consideration for oncoming traffic. Meanwhile the LED light strip and dynamic flashing light at the rear adds to the futuristic vibes of the car.

Yearning for more? The e-Tron has more to offer! The virtual exterior mirrors are the forefront of this innovation. The flat support reduces the vehicle width by 15 centimetres compared to a conventional exterior mirror and thus also the air resistance and the wind noise level. A small camera projects the images digitally into high-contrast 7-inch OLED displays inside. In particular, at dusk and at night, you can see rear-end vehicles with razor-sharp clarity, despite headlamp reflections. The Audi e-tron is the first production model in which the virtual exterior mirror is used.

Worried about the charging? Good thing that Audi made it easy for you. With just one click of a button, the charging dock will automatically show up and you've got one for both sides, so charging outdoors will never be a problem.

Audi E-TRON Ride & Handling

Going through the suspension system that makes the riding a bliss, the Audi e-Tron is equipped with a five-link front axle, tubular anti-roll bar, and air spring suspension for both front and rear axles.

When it comes to steering, the car uses Electromechanical progressive steering with speed-dependent power assistance with a turning radius of 12.2 m. 

The new electric Quattro drive permanently and fully variably regulates the ideal distribution of drive torques between the two axles. And within a split second. You'll particularly feel the benefits during off-road trips in the country. But even when driving on the road, you can rely on the services of the Quattro drive. Even in slippery complications such as when under-steering or oversteering occur and a reaction would be required of you, the technology jumps for you and gets driving as smooth as you wanted it to be.

Audi E-TRON Engine & Fuel Consumption

Literally powering the Audi e-Tron are the two lithium-ion batteries with 95kWh stored energy that would offer it an estimated range of over 400 kilometers and a top speed of around 200 kmph. You definitely need to experience for yourself the starting performance of the Audi e-Tron with a combined power consumption of 26.2-22.6 kWh/100 km (WLTP); 24.6-23.7 kWh/100 km (NEDC). It has an electrical torque output of 561 Nm and an output boost of 664 Nm.

Whether you accelerate from a standstill or overtake on the motorway - the power of a maximum of 300 kilowatts unfolds immediately. Even in reverse, you will feel a high level of torque. Optimum traction ensures a new generation of the Quattro drive, which can be switched on when needed. Thus, it will give you full control over the vehicle.

This powerhouse is mated with a two-stage planetary gearbox with a single gear and sends power to all 19-inch wheels.

Audi E-TRON Braking & Safety

The braking system of the e-Tron is composed of a dual-circuit brake system with a diagonal split that is equipped with various safety features such as Anti-Lock Braking System, Electronic Stability Control, Electronic Brakeforce Distribution, brake booster, and hydraulic brake assist.

In addition, the driving assistant features of this car are also superb. The central driver assistance control unit in the Audi e-tron is multi-talented. Depending on the equipment, it is fed with data by up to five radar sensors, six cameras, twelve ultrasonic sensors and a laser scanner, and from these permanently computes a comprehensive image of the environment. Connected driver assistance systems ensure that you are relaxed and stress-free. In fact, the adaptive driving assistant supports you using information from the sensor set when accelerating and braking, while maintaining speed and distance as well as in traffic jams. Your Audi e-Tron can pre-sense front identifies impending collisions and even performs full braking in an emergency.

Among the other standard safety features were the airbags, Child Safety Locks, Vehicle Stability Control System, Rear Seat Belts, Parking and Crash Sensors, Front and Side Impact Beams, Traction Control, and Engine Check Warning.

Audi E-TRON Verdict

You will definitely notice that while this looks like a conventional Audi type of vehicle, it was generally built to catch the attention of regular SUV buyers to take the big leap on going EV. The iconic features were nicely done and well-executed. Meanwhile, the technology infused into this car is so superb that it can really make you think of spending on this car. This is definitely an ideal car for a small family and for those who want to help the environment by reducing harmful gas emissions. This car could be the future of electric cars, if not, well at least Audi did their very best for this one.
Audi E-TRON News
Audi e-tron badge arrives in PH
Audi Philippines has officially started marketing locally its electric vehicle (EV) badge after announcing the arrival of the e-tron. The...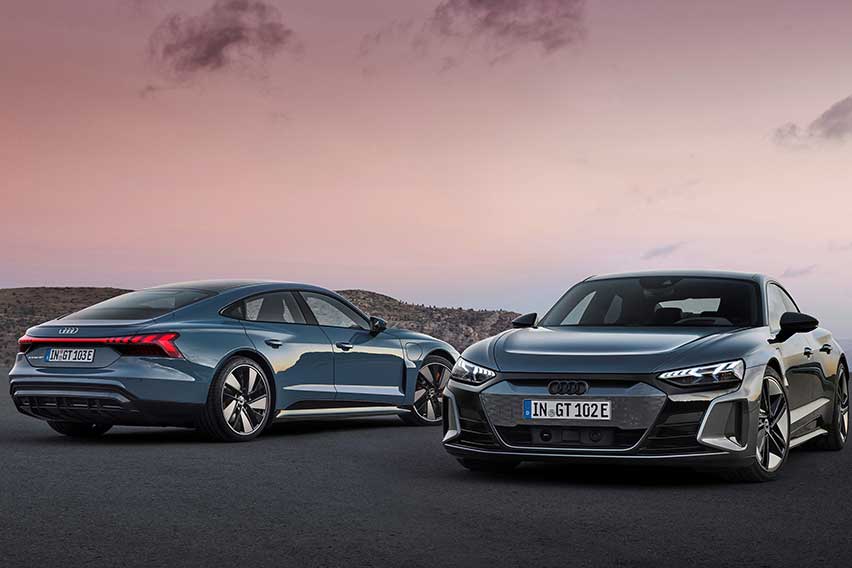 Automotive News
FAQs on Audi E-TRON
Answers to most common frequently asked questions (FAQs) on Audi E-Tron
What is the Audi E-TRON 2022 Price Philippines?

The Audi E-TRON Price Philippines starts from 0 and goes upto 0.

What is the length of Audi E-Tron?

The length of Audi E-Tron is 4901 mm, while the width is 2043 mm.

What is the Top Speed of Audi E-Tron?

The top speed of Audi E-Tron is 200 kmph.

Which are the tough competitors of Audi E-Tron 2022 in Philippines?

What are the Key Specifications of Audi E-Tron Philippines?

The Key Specifications of Audi E-Tron Philippines is Anti-Lock Braking System, Child Safety Locks, Driver Airbag, Passenger Airbag and Side Airbag-Front.

What are the safety features available in Audi E-Tron?

The safety features of Audi E-Tron are: Anti-Lock Braking System, Child Safety Locks, Driver Airbag, Passenger Airbag, Side Airbag-Front, Rear Seat Belts, Seat Belt Warning, Brake Assist, Crash Sensor, Door Ajar Warning, Side Impact Beams, Front Impact Beams, Traction Control, Vehicle Stability Control System, Ebd, Parking Sensors and Rear Camera.

What are the security features available in Audi E-Tron?

The security features of Audi E-Tron are: Engine Immobilizer, Anti-Theft Alarm, Anti Theft Device, Power Door Locks and Central Locking.