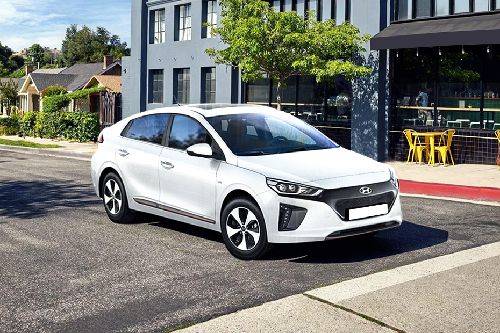 Hyundai Ioniq EV Latest Updates
Hyundai recently revealed the 2022 version of the all-electric Ioniq. The car has a larger battery pack with a claimed mileage of more than 250km. The current version of the Hyundai Ioniq is equipped with a permanent magnet synchronous motor, powered by a 28kWh, 360V lithium-ion battery. The powertrain outputs 418 PS maximum power and 295 Nm peak torque. Major features of the car include Hyundai's SmartSense driver assistance system, Hyundai Ioniq, dual 12-inch touchscreen units for infotainment and instrument panel, all-through flat floor, sliding controls, automatic climate control, multifunction steering wheel, keyless entry, parking sensors, and rear camera. The Hyundai all-electric Ioniq is priced at ₱2.05 million.
Read Less
Hyundai Ioniq Electric Pros & Cons
Get the better insights of Hyundai Ioniq EV, Read our expert opinion and helps to buy or not
Things We Like in Hyundai Ioniq Electric
Modern Exterior design
Eco-friendly
Fully digital instrument cluster
Apple Car Play and Android Auto compatible
Read Less
Things We Don't Like in Hyundai Ioniq Electric
Infrastructures to support EVs are not yet established
Read Less
Hyundai Ioniq Electric 2022 Colors and Images
Hyundai Ioniq EV Overview

The race towards electrification of vehicles is a developing trend among automakers that is yet to gain full traction on our country and the Southeast Asian region. However, it is through these electric vehicles (EVs) that most car companies see the future of mobility and for good reasons. The call for a shift towards clean, sustainable energy is louder than ever. And to respond with the growing trends, automakers like Hyundai have poured their resources in R & D to explore and create a fleet of eco-friendly vehicles. One of these such projects is the Hyundai IONIQ EV which is one of the front liners and few options locally for those who are ready to shift to EVs.

Hyundai Ioniq EV Interior

Slide inside the cabin and this Hyundai vehicle maintain its futuristic vibe. The fully digital instrument cluster is the backdrop for the multi-function steering wheel. The center console has a multimedia information system equipped with a navigation system and is Apple Car Play and Android Auto compatible. In place of the gearbox is the gear push buttons. There is also a wireless charging system and rear vents for the back passenger on the end side. Upholstery can be a choice of textured leather, woven fabric, or a combination of both.

Hyundai Ioniq EV Exterior

The Hyundai IONIQ is sleek yet simple but boasts of a modern appeal that quickly catches the eye. The front grille for one is designed with a futuristic identity without compromising good aerodynamics. It is flanked by taillights with LED daytime running lamps. On the sides are curves and creases that provide visual impact and aerodynamic functions. At the rear is a curvy windshield that flows seamlessly to the trunk lid. A mid spoiler and air dam add a sporty vibe to the vehicle. On top is a sunroof and a shark fin antenna. This EV rides on a set of 16-inch alloy wheels and measures 4,470 mm long, 1,820 mm wide, 1,450 mm tall, and has a wheelbase of 2,700 mm. It comes in seven color options: Polar White, Fluidic Metal, Electric Shadow, Phantom Black, Iron Gray, Intense Blue, and Fiery Red.

Hyundai Ioniq EV Ride & Handling

When it comes to engine performance, the motor is responsive and can deliver instant power to the vehicle. The lack of a transmission means less noise when shifting gear and minimal vibration as compared to a traditional car engine. However, the EV is not as springy so you have to dig a bit deeper on the acceleration pedal to get your desired response. The motor-driven power steering makes the handling of the IONIQ very responsive. Meanwhile, the suspension system is handled by a combination of MacPherson Strut at the front and torsion beam at the rear, couple that with ample head, shoulder, and legroom gives a relaxed, cushioned ride. 

Hyundai Ioniq EV Engine & Fuel Consumption

Unlike traditional mills, the IONIQ's mechanism begins with an Electric Power Control Unit (EPCU). The EPCU is like the brain of the vehicle, it controls the whole electric systems from regulating the current flow, converting voltage supply, to controlling the vehicle. Then there's the actual mill. Hyundai IONIQ fully electric vehicle is powered by a permanent magnet synchronous motor that can deliver a maximum output of 100 kW or 120 PS and 295 Nm of maximum torque. The electric engine is partnered to an electronic drive by wire gear shift button that eliminates the traditional mechanisms of transmission. Instead of a shift stick, you'll find a push-button mechanism with drive, park, reverse, and neutral function. The park and park release are also push-button type. For familiar tactility, there's a handgrip on the gearbox so the whole thing does not feel alien or awkward. The lithium-ion polymer battery has a capacity of 28 kWh with a power output of 98 kW and 360 voltage. All IONIQ cars are equipped with an in-cable control box (ICCB) charging cable neatly stowed away in the trunk. The cable is designed to connect to a standard wall socket using household AC so owners can practically recharge their cars anywhere for convenience. Charging time varies. For regular home or office wall sockets, it can take from five up to 14 hours, but public fast chargers can finish the job in 20 – 30 minutes. When it comes to driving range, a fully-charged IONIQ can clock in 170 miles or 274 km in one full charge. According to EPA, the IONIQ EV can do 145 MPGe in the city and 121 MPGe on the highway which is more efficient than most EV competitors.

Hyundai Ioniq EV Braking & Safety

When it comes to safety and driver-assist feature, this Hyundai electric vehicle is adequately equipped. It has six airbags to protect all passengers, smart key with push start button, cruise control, engine immobilizer, rear parking assist system, and rear camera. For stopping power, the IONIQ is equipped with disc brakes at the front and rear and is supplemented with an electronic parking brake and anti-lock braking system.

Hyundai Ioniq EV Verdict

The Hyundai IONIC EV is an environmentally friendly ride that we should see more on the street. The price point is reasonable for a sedan and is more cost-efficient in the long run than traditional vehicles. The only downside at the moment is the necessary infrastructure to encourage motorists to choose EVs although the ICCB charging cable does allow the driver to go around it by looking for available wall sockets.
Find Second Hand Hyundai Ioniq EV By City
I am looking to buy a second hand Hyundai Ioniq EV in
FAQs on Hyundai Ioniq EV
Answers to most common frequently asked questions (FAQs) on Hyundai Ioniq EV
What is the Hyundai Ioniq EV 2022 Price Philippines?

The Hyundai Ioniq EV Price Philippines starts from 0 and goes upto 0.