5th Grader Nicolas Joseph's Lofty Goal: Become Toyota Top Brass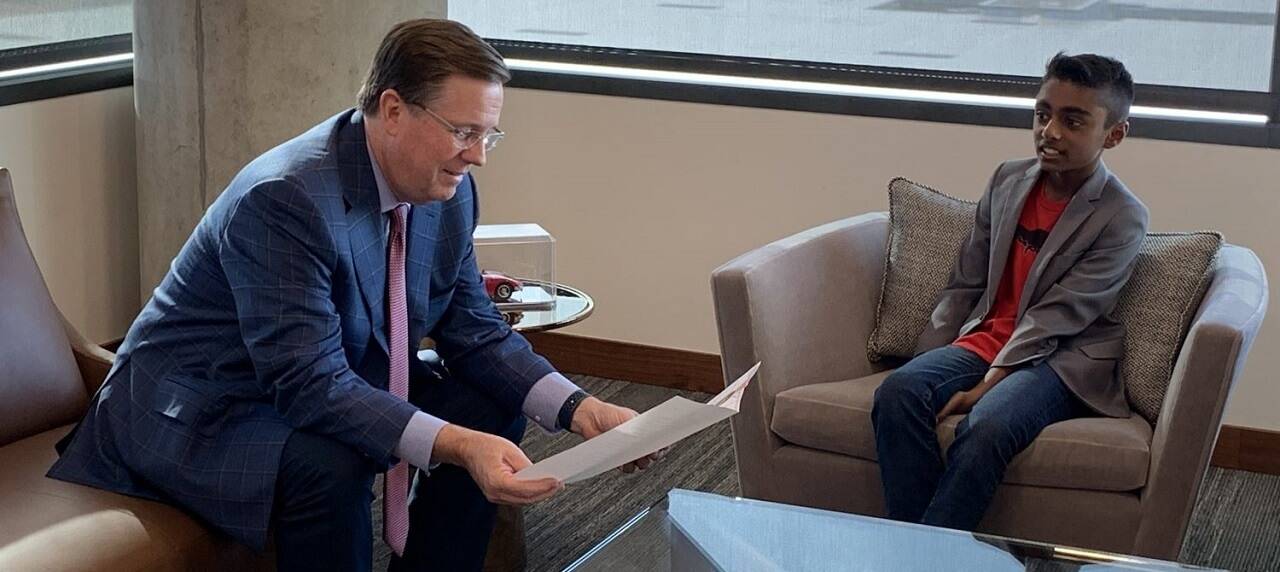 Looking back at your childhood, what did you want to be growing up? A doctor? Lawyer? Policeman or fireman? Or did you strive for something more ambitious, like say, the head of a major global automotive company? If you think that such a goal was too much for a kid to dream about, one young fifth grader in the States certainly didn't.
In a writing assignment for his school, Nicolas Joseph penned that he wants to become president of Toyota for one day.
The reason? Toyota is the maker of his favorite car, the Supra, which has recently been resurrected after a 17-year hiatus.
When Toyota got word of Nicolas's dream, they wasted no time flying him into Toyota Motor North America (TMNA) head office and hear him out. Lucky for the kid, TMNA's CEO Jim Lentz is retiring in April, so he wouldn't have to wait for long to fill the vacant space very soon.
But of course, before that happens, the little kid needs to prove his mettle.
Nicolas sat down with Lentz to discuss his objectives for the company. Needless to say, they were as grand as his career goals—first and foremost, Nicolas wants to develop flying cars. Then, he wants to redesign the Toyota HQ's office space.
And these weren't the only things on the young kid's mind. So the two proceeded to discuss business strategy, with Lentz imparting the boy with some words of wisdom at the meeting's conclusion: Work hard and be honest.
As for Nicolas's favorite ride, the latest version of the Toyota Supra has got a 3.0-liter, twin-scroll turbo straight-six engine married to an 8-speed automatic transmission—a pairing that produces 335 hp and 495 Nm of torque. With a projected 0 to 100 kph sprint time of 4.2 seconds, the fifth-generation Supra is the quickest Toyota-branded production vehicle to date.
Not only that, it's a strict two-seater with a low center of gravity that gives the car exquisite cornering abilities and an ideal 50/50 weight distribution on the front and back. And the car is drop dead gorgeous on top of it all.
If we were back in fifth grade, the Toyota Supra would probably be our favorite car as well.
Also read: Know What's Inside the PH-Spec Toyota GR Supra
2020 Toyota GR Supra Goes on Sale This July