Cadillac to Debut 2021 Escalade SUV in Spike Lee Short Film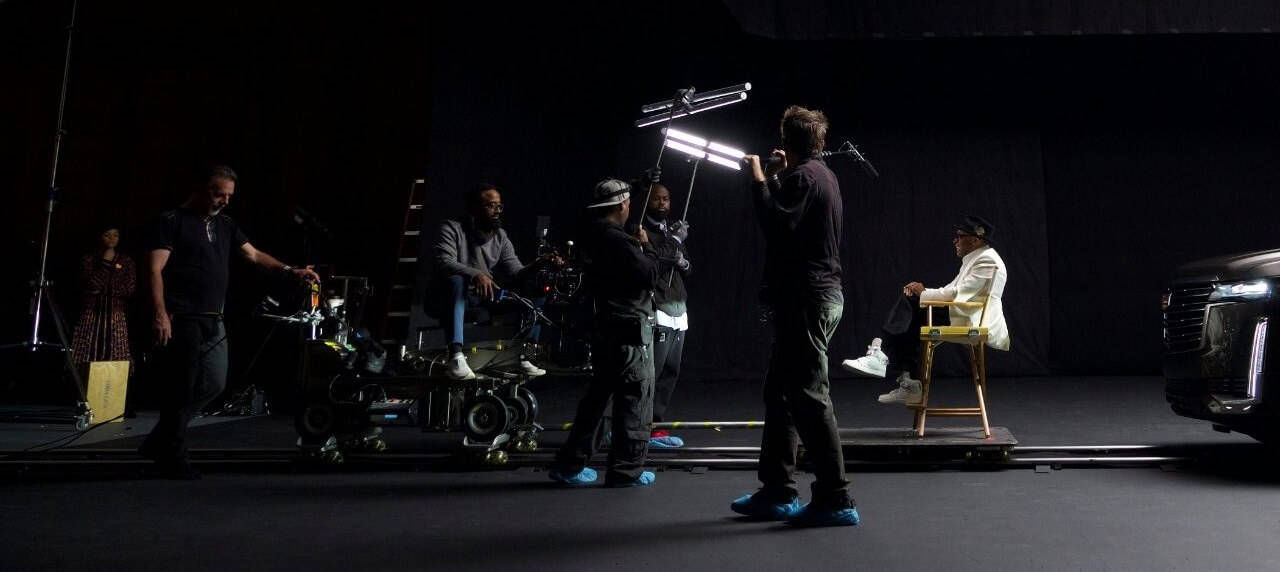 American luxury icon Cadillac is debuting the new 2021 Cadillac Escalade next month in a major way—the next-gen full-size luxury SUV is starring in a short film directed by gritty film auteur Spike Lee.
The short film, titled 'Anthem,' was filmed using Lee's famed 'Double-Dolly' technique, which elevates a scene's sense of motion, in turn drawing viewers closer to the sight. "The film captures the presence, innovation and movement of the next-generation Escalade, with reverence for its more than two decades as a cultural icon," according to Cadillac.
While no teaser video has been released, Cadillac gave a glimpse of what went on behind the shooting of the film via photos take on the set. Aside from showing Lee on the director's chair, the shared images also revealed the fifth generation Escalade's façade, which reveals a massive chrome-tinged grille sandwiched by two narrow slit-style headlights. This marks a huge difference from the vertical headlights of the current version, although upright LED daytime runners make sure the new look isn't that much of a departure.
©media.cadillac.com
Cadillac does afford a few juicy info about their latest SUV, among them the industry-first curved OLED screen technology, which offers bold imagery, perfect blacks and the largest color range of any automotive display in production today, thanks to its having twice the pixel density of a 4K television and over 38 total diagonal inches of vibrant resolution.
"I'm honored to be part of the next generation of the Escalade, which embodies style, luxury and prestige conveyed without pretension," Lee said, whose reputation as a respectable filmmaker is evidenced by remarkable achievements such as Jungle Fever, Malcolm X, and She Hate Me.
"As one of the greatest storytellers and most creative filmmakers of his time, Spike Lee's unique perspective is the perfect conduit for sharing the passion and spirit of the 2021 Escalade," said Steve Carlisle, Cadillac president. "It is an icon reimagined."
Presently, the Cadillac has exceeded 800,000 units sold in the US and approximately 900,000 units sold worldwide. Some of its innovations include the first full LED headlamps (2009), first LED high-beam headlamps and taillamps with total internal reflection (2015), and first front-center airbag in a luxury SUV (2015). Cadillac also launched the first full-size luxury SUV hybrid, which offered a 50-percent improvement in EPA city fuel economy (2009).
©media.cadillac.com