Cleanfuel Brings Another Full-Service Station in Benguet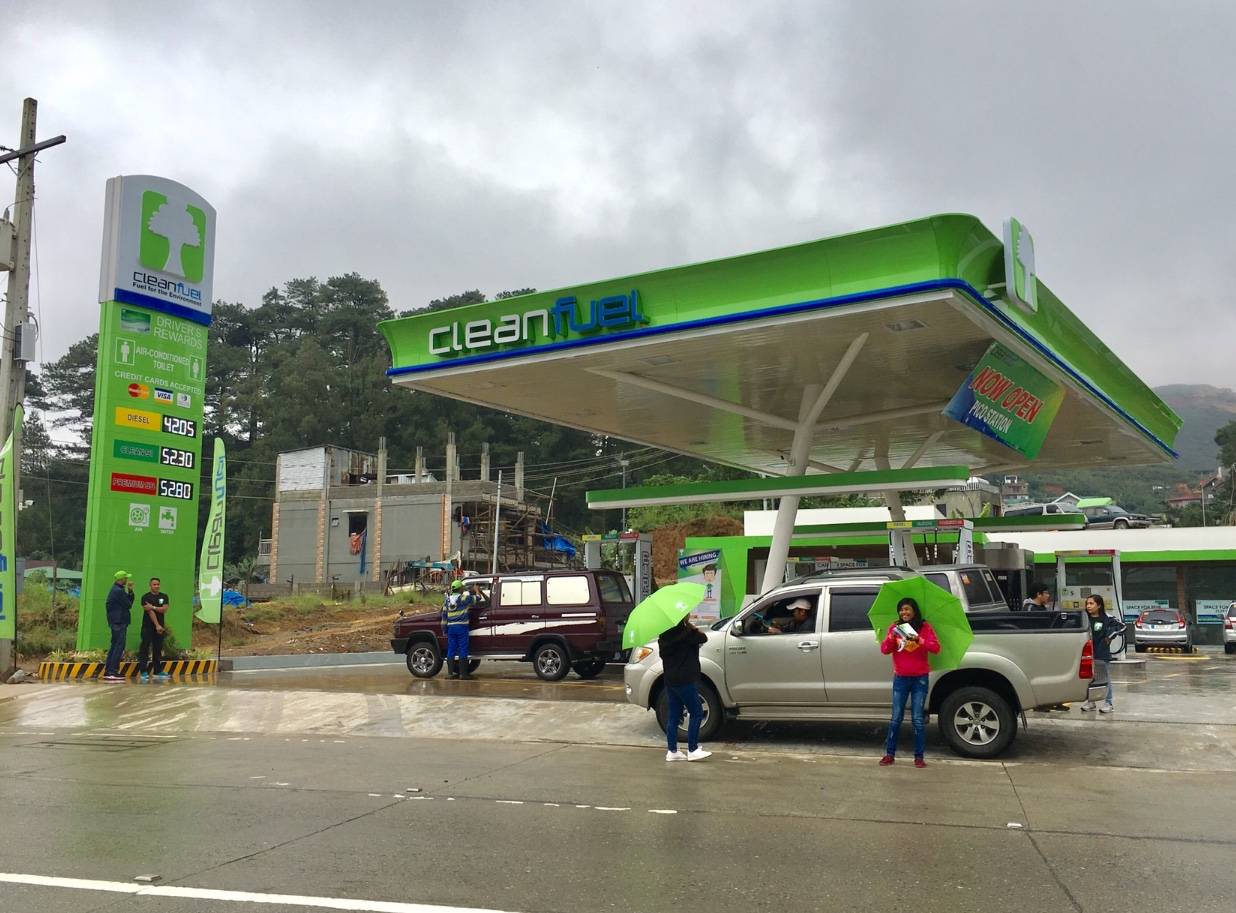 Independent oil company Cleanfuel is on a roll in putting up stations in the north as it opened its second station in the highlands up northern Luzon in Benguet.
Following the opening in San Pablo, Laguna, Cleanfuel inaugurated its latest station in Pico Road in La Trinidad, Benguet.
With a total area of 1,380-square meters, the new station is the second Cleanfuel full-service fuel station in La Trinidad, which is considered as a major business hub in the Cordillera region.
The said station has three rentable commercial spaces and clean and spacious air-conditioned restrooms.
Services offered include fuel-ups, air and water services, credit card payments, and a customer rewards program, which allows customers to collect points and redeem prizes 24/7.
Aside from strawberries, Benguet is also recognized as a land of fascinating caves and mystical lakes, and a place where vegetables flourish and cacti-flowers bloom. In terms of economy, La Trinidad continues to expand its commerce and industry with agriculture, tourism, and mining serving as major contributors to the economy.
Cleanfuel President Bong Suntay expressed his confidence on the robust economic growth of La Trinidad and the continuous development of the city.
"The steady growth of La Trinidad for the past years is a positive indicator of the stability of the region's economy. We are optimistic that with the robust agriculture and construction sectors in the area, two of the largest recipients of the 'Build, Build, Build' program of the current administration, the City of La Trinidad will further become an economic hub, transitioning the bustling vegetable producing-city into one of trading and production," he said.
"We are excited to see the continual expansion of businesses in the city [especially in Pico>, and as a result, we view this as an opportunity to provide motorists convenient access to our high quality and affordable fuels," added Suntay.
Cleanfuel Pico station is strategically located at the heart of Pico Road in La Trinidad, where it covers the southern lowlands of the Cordillera region.
The latest station will provide access to over 30,000 registered vehicles and 16 Barangays with a population of over 130,000 in La Trinidad in Benguet. Pico is considered as one of the most populated areas with over 25,000 living in the city.
"Theres no better feeling than to see another Cleanfuel station successfully being built in the area that offers plenty of opportunities to grow the business. Its really a blessing for us to witness how our brand grows further in the Northern region. Currently, we have two in Baguio City in Bokawkan and Magsaysay Avenue, and now two in La Trinidad, Benguet," shared Suntay.
"We're grateful for what is happening to Cleanfuel right now. We're not only a brand that provides 'Quality Fuel for Less' but we've become part of every motorists' lives in bringing them closer to their destination and their home," he explained.
On the day of the opening, motorists gassing up will automatically get a FREE VIP Rewards card from which they can earn points and redeem exciting prizes. Aside from the VIP Rewards card, motorists also get FREE Cleanfuel merchandise items such as Dri-fit Shirts, Towels, Sun Visors, Energy Drink, and many more.
The new station is expected to strengthen Cleanfuel's retail presence in the area, offering customers their line of products such as Clean91, Premium 95 and Euro-4 diesel. Aside from the station opening, the company also revealed its plans to invest in the retail lubricant business where it hopes to expand its portfolio.
"2019 is really an exciting year for us. You've seen us racing both in four-wheel and motocross segments, and now it's time to reveal that we shall be in the lubes business soon. It's not a surprise actually. Soon, you'll see a new engine oil product in all our stations," said Suntay.
"Our advantage is that its really cheaper compared to its competitors, plus the brand certainly speaks for itself," Suntay concluded.