Ford Ranger – Top Features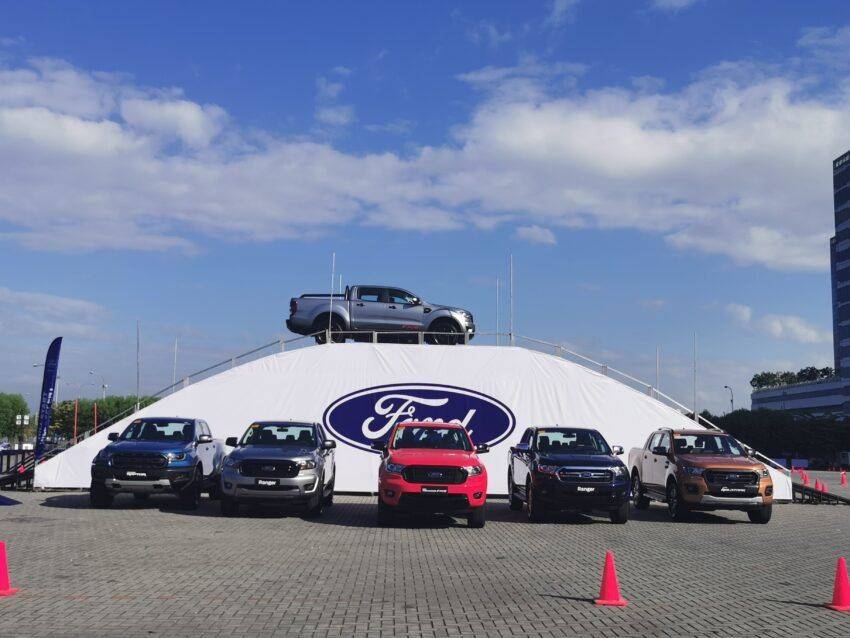 Ford Ranger's success in the local automotive market is rooted in our love affair with purposefully-built utility vehicles. The mid-size pickup truck donning the Blue Oval emblem has been one of the best-selling trucks on the market and has proven itself to be a reliable vehicle built with form and function in mind.
2020 Ranger Lineup

Sales are expected to increase as Ford reinforced its line of pickup trucks with the re-launch of the Ford Ranger FX4 accompanied by slightly refreshed variants from the Ford Ranger family giving these trucks the features centered on technology and utility. In this article, we'll talk about the best features this light-duty pickup truck has to offer. Engine Options All right, we go straight into what's beating under the hood.
The current-generation Ford Ranger is offered in eight variants with three engine options. This leaves more than enough room for customization and personalization in terms of looks and performance. The lower XLS and XLT trim levels are outfitted with Ford's 2.2L TDCi engine while the higher Wildtrak variants sport Ford's 2.0L Single-Turbo and 2.0L Bi-Turbo diesel engines. You can expect nothing but next-level performance from these diesel engines with the 2.2L TDCi engine putting down 160 horsepower, the 2.0L Single-Turbo a solid 180 buff horses, and the 2.0L Bi-Turbo a whopping 213 horses on steroids. Depending on your needs, Ford has the right Ranger to offer. Autonomous Emergency Braking (AEB) Ford's pre-collision assist with AEB is a useful feature especially here in the Philippines. Drive around town and prepare to play patintero with pedestrians crossing the busy streets of the Metro with smartphones in hand paying very little to no attention to passing vehicles. Motorcycles swerving in and out of lanes just wanting to be ahead of the traffic can also be a pain, especially when driving in roads packed with vehicles during rush hours.
From Ford Philippines Website

Ford's AEB technology detects potential collision with the use of a suite of cameras and sensors. According to Ford, their pre-collision assist feature can help "reduce the severity, and in some cases eliminate, frontal collision." Should you fail to act upon a potential collision accordingly, Ford Ranger's on-board computer may either increase brake sensitivity or apply the brakes automatically. While there's still no substitute for situational awareness, it's still good to know you have Ford Ranger's advanced technology to back you up. Lane Keeping System We're glad to see this feature somewhat becoming an industry standard in most high-end vehicles. Ford's lane keeping system reads the road markings using a camera designed and engineered to scan road lanes on both sides of the Ford Ranger. Should you veer away from your lane, the on-board computer will warn you with subtle vibrations on the steering wheel. What's more, Ford's lane keeping system can detect repeated instances of swerving and sends warning messages in your message center to remind you to pull over. Although Ford's lane keeping system will not control steering, it will apply steering torque to help guide you back if you don't immediately take action and return to your lane. Active Park Assist Cramped parking areas are the worst; not only do you run into the danger of scratching your own paint but also the risk of bumping other vehicles. It's not that Ford Ranger's large and beefy frame minds rubbing elbows with other parked vehicles, but, it's a hassle nonetheless. Ford Ranger's active park assist uses ultrasonic sensors located front and back as well as on the side of the vehicle to help you search for a suitable parking area and help you steer into your slot. Just take your hands off the wheel and the active park assist will steer the vehicle to safety with the use of Ford's electric power-assisted steering (EPAS) and its advanced sensors allowing you to brag about how intelligent your pickup truck is and not letting your nieces and nephews riding at the back know how bad you suck at parallel parking. Because of the breadth of the Ford Ranger, your active park assist will scan for a proper area so you won't have to squeeze through the door, with your beer belly tucked in, when getting in and out of your truck.