Car Comparison: Ford Ranger FX4 AT vs Toyota Hilux 2.8G DSL 4x4 A/T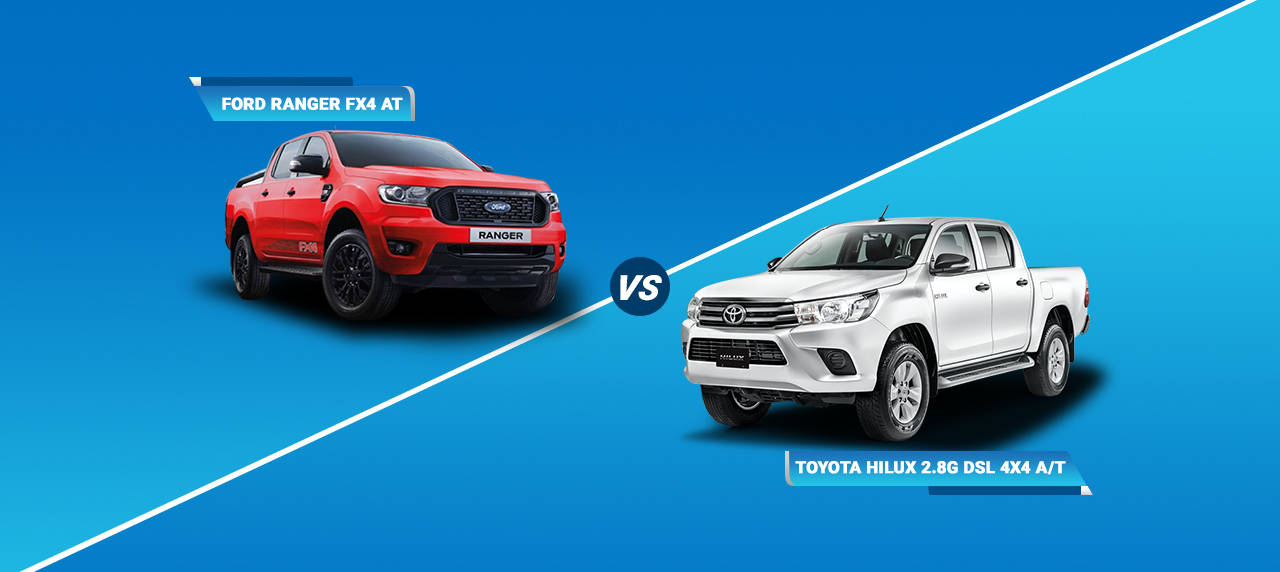 Ford Philippines reinforced its line of PPVs with the recent re-launch of the Ford Ranger FX4 AT. Alas! Its arrival was not met without challenge.

Once hailed as the king of the hill in the PPV platform, the Toyota Hilux 2.8G DSL 4x4 A/T proves that it's one of the pickup trucks to beat. Today, we'll pit both light-duty trucks to see which amongst the two makes for the better mid-size pickup truck.

One's a returning true-blue American patriot looking to take the local PPV market by storm, while the other aims to reclaim a lost title and hold fast to its deep-rooted ideals.

The return of the Ford Ranger FX4 was a highly-anticipated event in the local automotive landscape. Not only because it was a solid mid-size pickup truck but also because it offered a befitting compromise between luxury and utility.

The Toyota Hilux 2.8G DSL 4x4 A/T, on the other hand, has always been a mainstay in the local mid-size pickup truck segment being a hardy and reliable workhorse suited for almost any task.

To check out how our contenders stack up against each other, let's look at our tale of the tape.

Dimensions




The Ford Ranger FX4 AT comes out as the taller and beefier mid-size pickup truck between the two with slightly significant numbers in terms of length, width, height, and wheelbase giving the returning FX4 AT a more robust frame. While the Blue Oval's FX4 AT offers a more dominating road presence, the Toyota Hilux 2.8G DSL 4x4 A/T offers better ground clearance making it the better pickup truck to brave uneven roads outside the Metro.

Exterior

The Ford Ranger FX4 AT is outfitted with blacked-out exterior features like black step boards, black 18-inch alloy wheels, black tubular roll bars, black rear bumpers, and a black tail lamp amongst others. However, the most striking blacked-out feature the FX4 has to offer is its blacked-out dual-bar grille. It's coupled with a black skid plate and a blacked-out chin reminiscent of Ford's Wildtrak trim levels.

While Ford's FX4 AT has some serious swag, the Toyota Hilux 2.8G DSL 4x4 A/T proves that it's got some pogi points of its own. The tough and rugged exterior it donned from the previous generations is still present even in the latest-generation Toyota Hilux 2.8G DSL 4x4 A/T model. The 17-inch allow wheels give this mid-size pickup truck the stance it deserves. It's outfitted with front fog lights, power adjustable mirrors, power antenna, outside steppers, and outside rearview mirror turn indicator.

Interior

The blacked-out theme of the Ford FX4 AT extends to its interior layout. The seats are lined with black leather, the dash, the side panels, as well as the shift boot sports the same blacked-out finish. You'll find no shortage of black accents inside the Ford FX4 AT.

On the other hand, the Toyota Hilux 2.8G DSL 4x4 A/T is outfitted with relatively dark undertones with subtle chrome trims. Being more of a workhorse than an actual luxury vehicle, its interior features are geared towards utility with cup holders at the front and back, accessory power outlets, front power windows, air conditioning, and automatic climate control.

Engine




More of a work-oriented pickup truck, the Toyota Hilux 2.8G DSL 4x4 A/T offers a more powerful diesel engine with better engine displacement and can achieve better power at 174 buff horses and 450 Nm of torque. Moreover, Toyota Hilux 2.8G DSL 4x4 A/T's transmission offers and Electronically Controlled Transmission (ECT) via Toyota's Gate Type Sequential technology.

Both pickup trucks share a similar fuel tank capacity at 80 liters.

Safety

Both trucks offer the standard safety feature loadout. The Ford Ranger FX4 AT comes packages with the standard suite of airbags (without curtain airbags though), ABS and EBD, as well as cruise control, and rear parking sensors.

The Toyota Hilux 2.8G DSL 4x4 A/T also offers a complete set of airbags with curtain airbags, ABS and EBD, stability control, and an immobilizer.




Price

The Ford Ranger FX4 AT costs P1.316 million a tad lower than the Toyota Hilux 2.8G DSL 4x4 A/T's P 1.636 million price tag.

With a heftier price tag, the Toyota Hilux 2.8G DSL 4x4 A/T comes with a few solid features. However, the Ford Ranger FX4 offers better value for your money with the slew of amenities it comes packaged with as well as the selection of the materials used in both its interior and exterior finish.

Conclusion

The Toyota Hilux 2.8G DSL 4x4 A/T is priced a bit steeper compared to other vehicles in this segment, proving the Ford Ranger FX4 AT to be more value-laden.

On one hand, you've got a good-looking mid-size pickup truck, on the other, you have a capable light-duty pickup vehicle. Knowing the strong points these vehicles have to offer will help you decide which amongst these trucks are better suited for your preference.



Also read: Toyota Hilux Continues to Lead PH Pickup Segment
CAR COMPARISON: 2018 Toyota Hilux vs 2018 Isuzu D-Max
Ford Ranger FX4 - All You Need to Know
Ford PH Brings Refreshed Ranger Lineup