2020 Nissan 370Z: The three variants in detail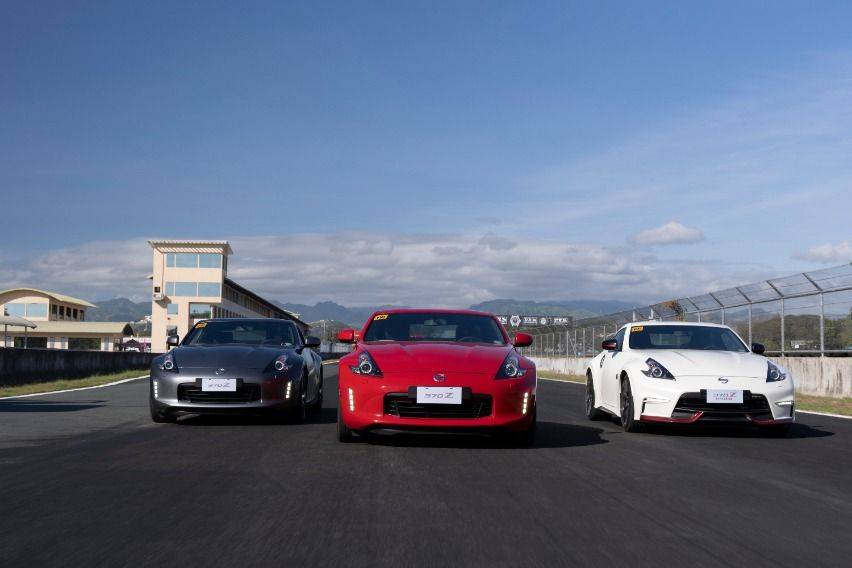 Nissan is about to replace the 370Z soon. Representing the seventh generation of the Z-car that began with the 1969 Datsun 240Z, the new Z Proto is said to be the Japanese car manufacturer's way of "signaling the company's intent to launch a new generation of the legendary Z sports car." This tells you that the 370Z available locally is among the last of the bunch.

With the legendary 3.7-liter VQ V6 engine, the 370Z manages to fly off with three different variants. The six-speed manual transmission enjoys an EXEDY clutch and SynchroRev Match technology for reduced pedal effort and enhanced precision and control, while the paddle-shifted 7-speed automatic with manual mode gives drivers efficient shifting and improved fuel efficiency. The addition of driver-selectable modes help deliver a more customized driving experience.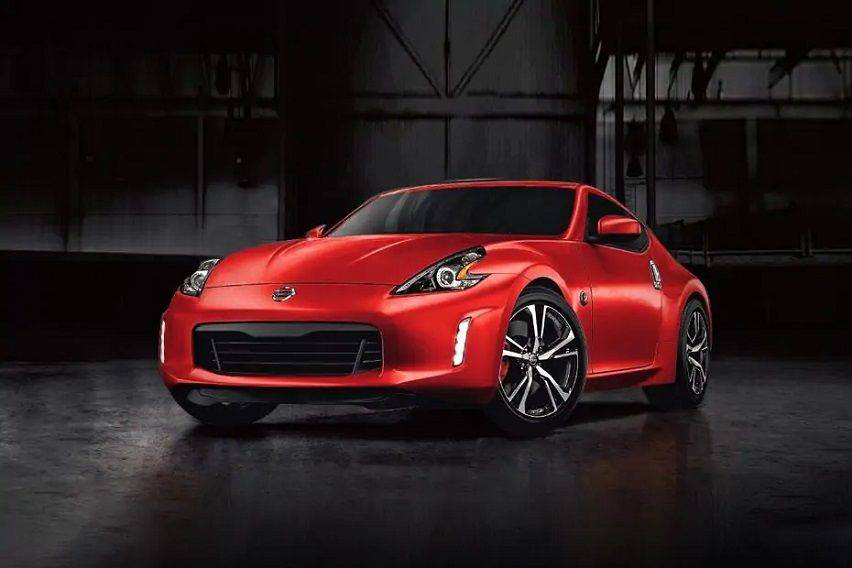 Suffice to say, this could be your last chance to own an iconic coupe, so if you're interested, here's a breakdown of the features of the three Nissan 370Z trims available locally.


Dimensions (mm): 4265 x 1845 x 1315


Wheelbase (mm): 2550


Trunk Capacity (liters): 239


Fuel Tank Capacity (liters): 72


POWERTRAIN


Engine Type: 3.7-liter, DOHC, 24-valve V6 (VQ37


Fuel Type: Gasoline (95 RON)


Max power (hp / RPM): 332 @ 7000


Max torque (Nm / RPM): 363 @ 5200


Transmission type: -Speed Manual with SynchroRev


Drive Train Type: Rear Wheel Drive


Drive Shaft: Carbon Fiber Composite


Front Suspension: Double Wishbone Aluminum Alloy with Aluminum Subframe


Rear Suspension: Multi-link Aluminum Alloy


Stabilizer Bars: With


Front / Rear Brakes: 4-Piston 14-inch Ventilated Disc


Rear Brakes: 2-Piston 13.8-inch Ventilated Disc


Wheels: 245 / 40 R 19 (Front) / 275 35 R 19 (Rear)


EXTERIOR


Bi-Xenon HID Projector Type Headlamps (Auto Leveling, Auto On/Off with Washer)


LED Daytime Running Lamps (DRL)


LED Tail Lamps


Rear Fog Lamp


Power Adjustable and Power Folding Door Mirror (Body Color)


Rear Spoiler


Dual Exhaust


Variable Intermittent Front Wiper


19-inch Forged-Alloy Wheels by RAYS


INTERIOR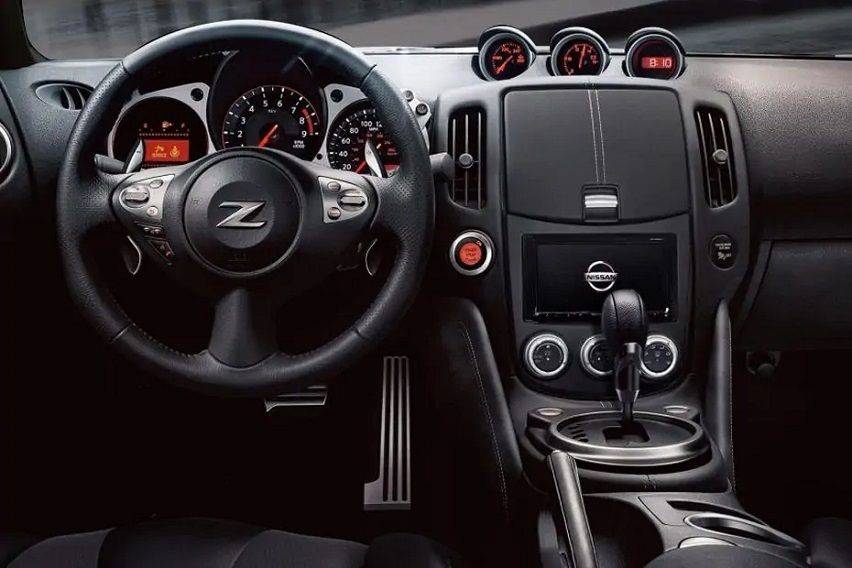 Power Adjustable Sports Seats with Manual Height and Lumbar Adjustment (Leather)


3-Spoke Steering Wheel (Leather) with Audio, Hands-Free Telephone Controls and Cruise Control


Aluminum Sports Pedals


Keyless Entry System with Intelligent Key and Engine Push Start-Stop System


One-Touch Auto-Up / Down Windows


8-Speaker Bose Sound System (Including Subwoofer)


SAFETY


Driver, Passenger, Side and Side Curtain Airbags


Anti-lock Braking System (ABS)


Vehicle Dynamic Control (VDC)


Traction Control System (TCS)


SPECIFICATIONS


Dimensions (mm): 4265 x 1845 x 1315


Wheelbase (mm): 2550


Trunk Capacity (liters): 235


Fuel Tank Capacity (liters): 72


POWERTRAIN


Engine Type: 3.7-liter, DOHC, 24-valve V6 (VQ37)


Fuel Type: Gasoline (95 RON)


Max power (hp / RPM): 332 @ 7000


Max torque (Nm / RPM): 363 @ 5200


Transmission type: 7-Speed Automatic with Manual Mode and Paddle Shifters


Drive Train Type: Rear Wheel Drive


Drive Shaft: Carbon Fiber Composite


Front Suspension: Double Wishbone Aluminum Alloy with Aluminum Subframe


Rear Suspension: Multi-link Aluminum Alloy


Stabilizer Bars: With


Front / Rear Brakes: 4-Piston 14-inch Ventilated Disc


Rear Brakes: 2-Piston 13.8-inch Ventilated Disc


Wheels: 245 / 40 R 19 (Front) / 275 35 R 19 (Rear)


EXTERIOR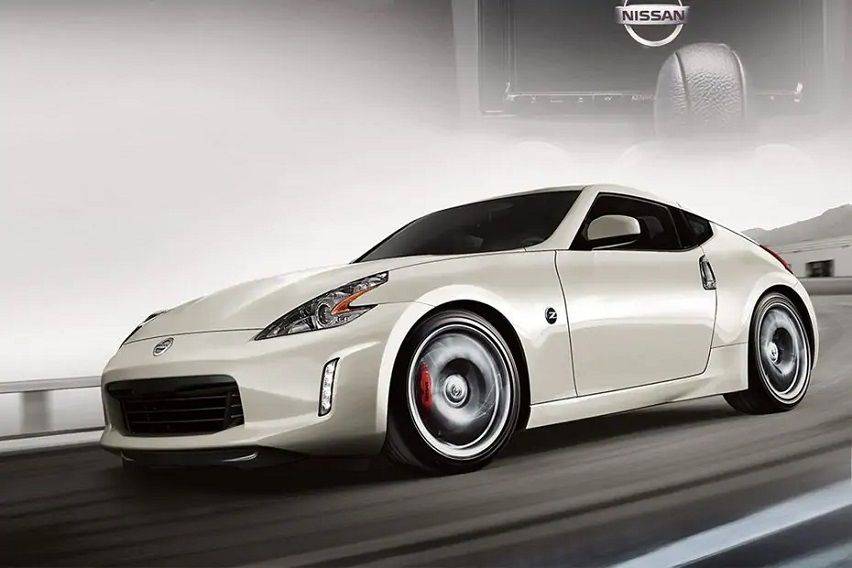 Bi-Xenon HID Projector Type Headlamps (Auto Leveling, Auto On/Off with Washer)


LED Daytime Running Lamps (DRL)


LED Tail Lamps


Rear Fog Lamp


Power Adjustable and Power Folding Door Mirror (Body Color)


Rear Spoiler


Dual Exhaust


Variable Intermittent Front Wiper


19-inch Forged-Alloy Wheels by RAYS


INTERIOR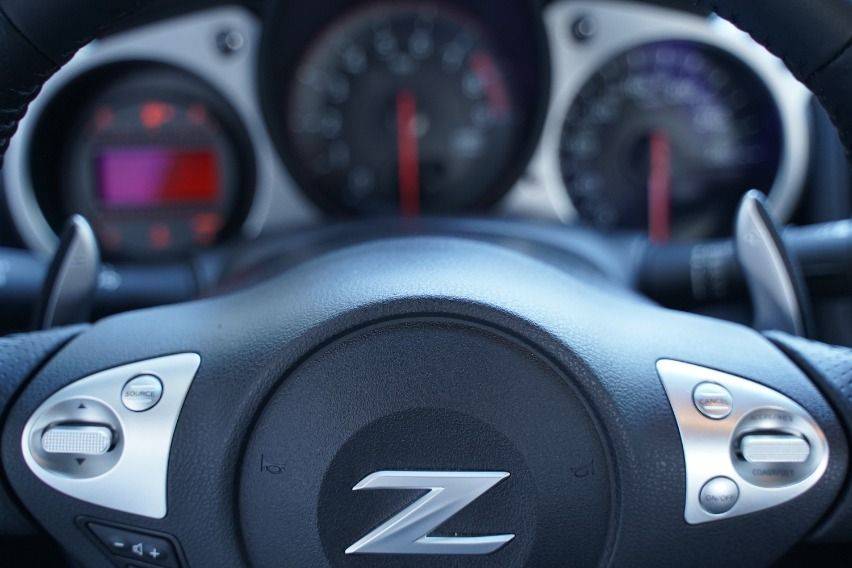 Power Adjustable Sports Seats with Manual Height and Lumbar Adjustment (Leather)


3-Spoke Steering Wheel (Leather) with Audio, Hands-Free Telephone Controls and Cruise Control


Aluminum Sports Pedals


Keyless Entry System with Intelligent Key and Engine Push Start-Stop System


One-Touch Auto-Up / Down Windows


8-Speaker Bose Sound System (Including Subwoofer)


SAFETY


Driver, Passenger, Side and Side Curtain Airbags


Anti-lock Braking System (ABS)


Vehicle Dynamic Control (VDC)


Traction Control System (TCS)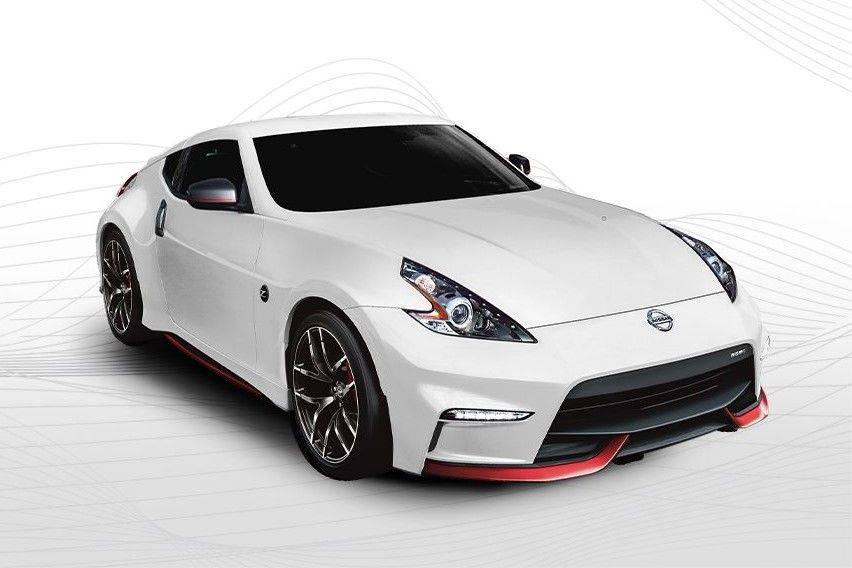 Dimensions (mm): 4330 x 1870 x 1315


Wheelbase (mm): 2550


Trunk Capacity (liters): 235


Fuel Tank Capacity (liters): 72


POWERTRAIN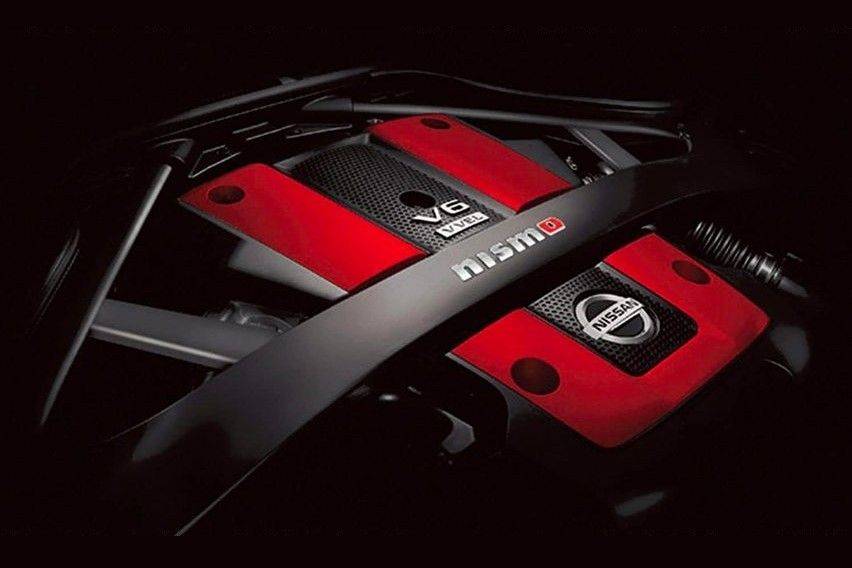 Engine Type: 3.7-liter, DOHC, 24-valve V6 (VQ37)


Fuel Type: Gasoline (95 RON)


Max power (hp / RPM): 350 @ 7400


Max torque (Nm / RPM): 371 @ 5200


Transmission type: 7-Speed Automatic with Manual Mode and Paddle Shifters


Drive Train Type: Rear Wheel Drive


Drive Shaft: Carbon Fiber Composite


Front Suspension: Double Wishbone Aluminum Alloy with Aluminum Subframe


Rear Suspension: Multi-link Aluminum Alloy


Suspension Type: NISMO-Tuned with Increased Spring and Damping Rates


Stabilizer Bars: NISMO


Front / Rear Brakes: 4-Piston 14-inch Ventilated Disc


Rear Brakes: 2-Piston 13.8-inch Ventilated Disc


Wheels: 245 / 40 R 19 (Front) / 275 35 R 19 (Rear)


EXTERIOR


NISMO-Design Front and Rear Bumper


NISMO-Design Side Skirt


NISMO-Design Rear Spoiler


NISMO Exhaust


Bi-Xenon HID Projector Type Headlamps (Auto Leveling, Auto On/Off with Washer)


LED Daytime Running Lamps (DRL)


LED Tail Lamps


Rear Fog Lamp


Power Adjustable and Power Folding Door Mirror (Body Color)


Variable Intermittent Front Wiper


19-inch NISMO Forged-Alloy Wheels by RAYS


INTERIOR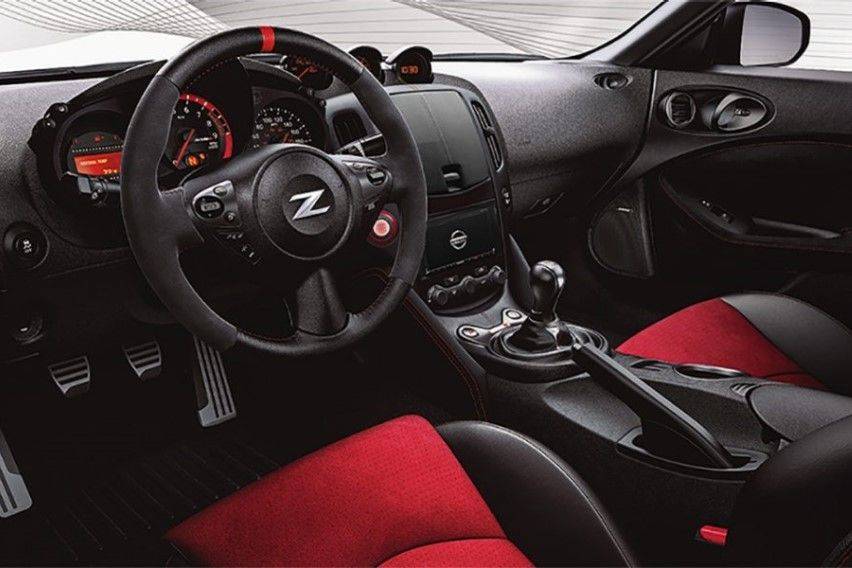 NISMO Recaro Bucket Seats (Leather with Alcantara Inserts)


NISMO 3-Spoke Steering Wheel (Leather and Alcantara Wrapped)


NISMO Interior Badge


NISMO-Design Meter


Aluminum Sports Pedals


Keyless Entry System with Intelligent Key and Engine Push Start-Stop System


One-Touch Auto-Up / Down Windows


8-Speaker Bose Sound System (Including Subwoofer)


SAFETY


Driver, Passenger, Side and Side Curtain Airbags


Anti-lock Braking System (ABS)


Vehicle Dynamic Control (VDC)


Traction Control System (TCS)


Photos from Nissan