Ford releases DIY Scrappy Filtration room air filter to fight virus spread
Ford isn't only extending safety in cars with its headlights and self-driving tech, but also people's safety against COVID-19.
Ford aims to fight COVID-19 with an air filtration kit called Scrappy Filtration co-developed with Lasko, a metal product manufacturer. Ford has distributed the air filter kit in the US.
The kit can assembled at home or in school, and the science behind it is backed up by extensive research, which will also appear in a prominent scientific journal, Ford says.
The Blue Oval and Lasko are donating 20,000 pieces of these kits to underserved communities. With a user-friendly design, the kit can be used by others who want reduce COVID-19 risk in rooms and other enclosed spaces.
Alongside the Ford Fund, the company's philanthropic arm, Ford has shipped most of the 20,000 planned units to organization and communities, including schools in Los Angeles, New York City, and throughout Southeast Michigan.
Scrappy Filtration can be made from a cardboard base, a 20-inch Lasko box fan, and an air filter with a standard minimum efficiency reporting value of 13.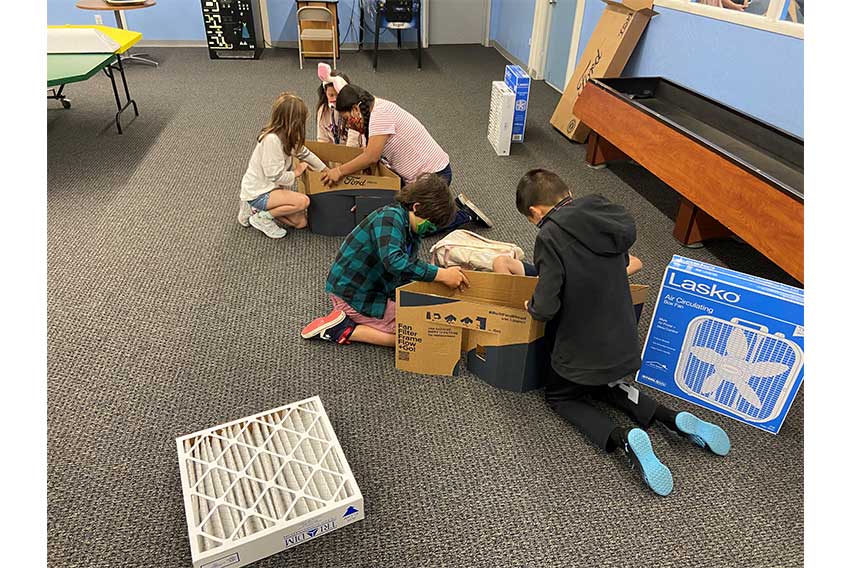 The air filter is placed inside the folded cardboard base, with the fan placed on top. The fan spins on its highest setting for maximum filtration, dispersing clean air downward as it pulls unfiltered air from above, Ford explains.
Scrappy Filtration is intended to help a room's existing filtration system, to further reduce the risk of COVID-19 virus particles from floating in the room. The kit is based on Ford research as well as scientific studies by academic and government agencies.
"We wanted to help underserved communities reduce the risk of airborne COVID-19 in poorly ventilated areas, and it's great to not only develop something that can meet that goal, but has the data to back it up," Dr. Cynthia Flanigan, director for vehicle research and technology at Ford expresses.
"We engaged with technical leads from University of Minnesota, as well as other scientists doing research in this space, such as Well Living Lab to make sure our research was rock-solid," she adds.
The aforementioned article, titled "Airborne Transmission of COVID-19 and Mitigation Using Box Fan Air Cleaners in a Poorly Ventilated Classroom," was published this week in the prominent scientific journal "Physics of Fluids," Ford says.
The article cites an investigation using air flow analysis to determine if a low-cost box fan air cleaner can mitigate the risk of airborne transmission of COVID-19 in a classroom equipped with a single horizontal unit ventilator.
The study found that box fan air cleaners like the Scrappy Filtration can "serve as an effective low-cost alternative for mitigating airborne transmission risks in poorly ventilated spaces."
A doctor who also participated in the research adds: "Portable air purifiers may be beneficial as one component of a layered approach of precautions, such as distancing, handwashing and mask-wearing, to protect individuals from respiratory virus transmission."
Ford also offers a downloadable template for the cardboard frame people can use to assemble their own Scrappy Filtration unit incorporating their own box fan and filter.
Photos from Ford
Also read:
Electric Ford F-150 Lightning to premiere worldwide May 19