Isuzu PH Powers BFP Modernization program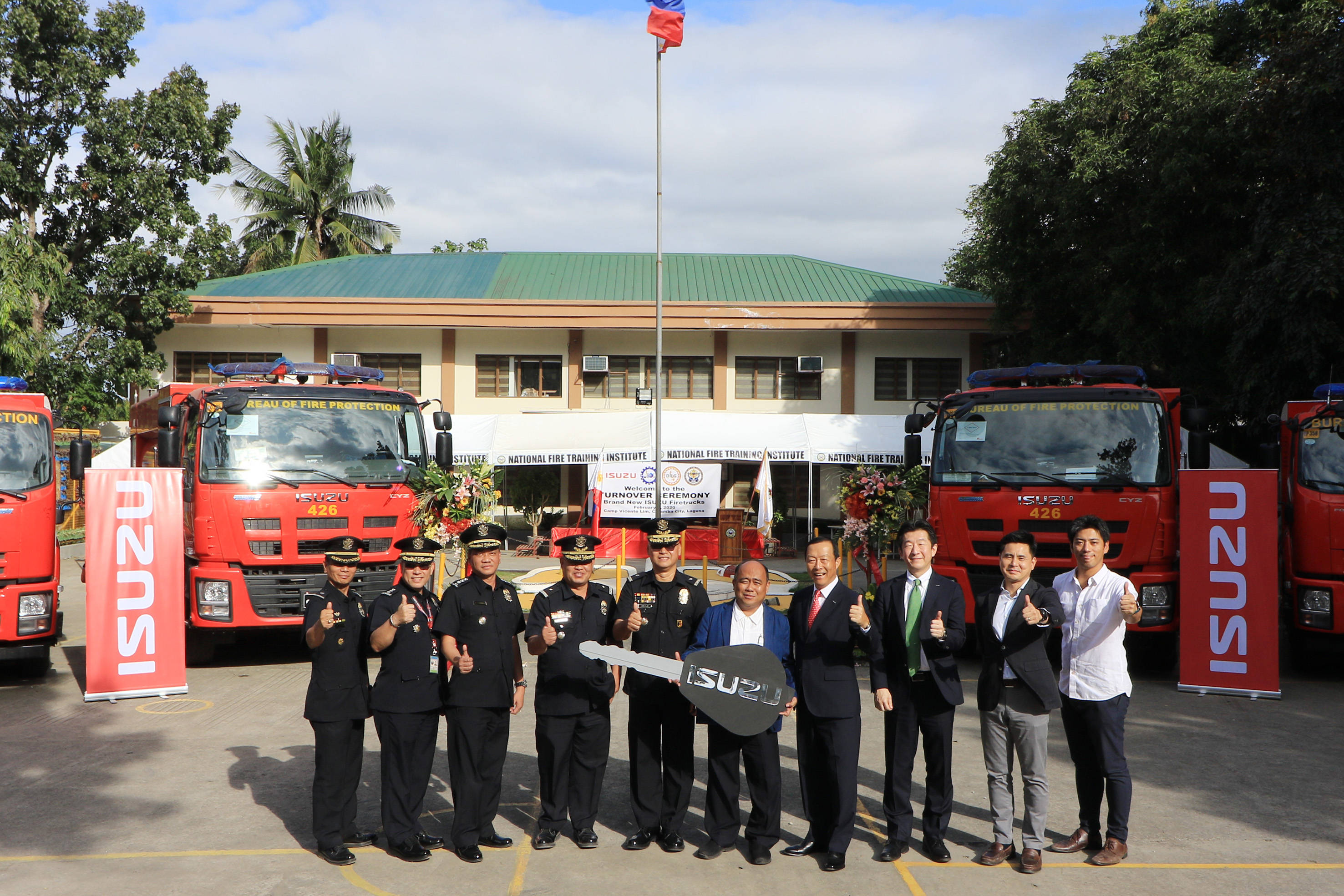 Isuzu Philippines Corporation (IPC), the country's leading manufacturer and distributor of brand-new trucks is powering the government's efforts anew with its initial delivery of 74 units of firetrucks to the Bureau of Fire Protection (BFP).

In a formal ceremony held on February 11 at the grounds of Camp Emilio Aguinaldo, BFP Chief Jose Embang Jr. and its officers led the presentation of the brand-new fire trucks to President Rodrigo Roa Duterte.

The delivery of the units will be utilized as part of the thrust of the government's Fire Prevention Modernization Program.

In his speech, Duterte said, "I hope that with these fire trucks, the BFP will be more capable and effective in ensuring the safety of our community and industry. I am confident that with the BFP's leadership, we can further boost people's confidence in their government and create an environment where our people can live and work in peace."
Present during the event, were IPC President Hajime Koso and Isuzu Motors Limited, Japan (IML) General Manager Koichi Ito to personally deliver the units.
"IPC, and the Isuzu brand in general, has always been on a mission to contribute to the society by providing the most durable, reliable trucks—may it be for building bridges, airports, and this time in protecting the community against fire. With the recent country situation—the big fire in the metro, ashfall and cleaning operations in CALABARZON and of course the upcoming Fire Prevention Month, we feel that these trucks may be in the right timing, as BFP now more than ever needs to continue to protect and serve the country against fire and other calamities," Koso said.
Ito, for his part, said, "Isuzu has always been supportive of providing the best vehicles to the society. In Japan in particular, you will see a lot of private and government trucks produced by Isuzu, like these fire trucks and just recently high-performance ambulances for the recent virus prevention, which is why we are very happy that the Philippines is doing the same."
"It is very humbling that the BFP has put in their confidence in our brand and in return we promise to never let them down. As our client, we will provide to bureau not just quality product but full customer service," Ito added.
The initial 74 Isuzu fire trucks are part of the 250 units in total of brand-new trucks that the BFP procured and will be distributed to different regions nationwide.
This will bolster the government's Fire Protection Modernization Program, which aims to hire more firefighters, provide intensive trainings, and acquire modern fire truck and equipment to upkeep their operations.
SSUPT Jerry Candido, BFP Director for Logistics, expressed pride in the bureau's acquisition of brand-new units.
"Basically, there are three main components we look for in a fire truck; its platform - engine & chassis, water tank, and fire pump. When we saw that the engine & chassis brand of this truck was Isuzu, our first comment was "Wow, that's a quality truck!"
The first batch of delivery includes, 54 units of Isuzu FVR34 trucks with body and equipment built by Hanseo, which is a 16-ton truck that has a capacity to carry 1,000 gallons perfect for medium to heavy operations, powered by the 6HK1TCL engine that can produce around 237 horsepower and 706 Nm torque.
While the remaining 20 units of Isuzu CYZ52 trucks, were installed with body and equipment by Nanomedics, that can carry a total 2,500 gallons, powered by 6WG1TCN direct injection common rail engine that can deliver maximum 414 hp, 1,863 Nm, and is EURO-V compliant.
As the number truck brand in country, IPC gave assurance that the BFP will have full support wherever the trucks may be deployed in the country. Present in 43 locations nationwide, IPC offers excellent after sales support and guaranteed parts availability.
IPC also extends its service via its "Mobile Medic" which are built on light-duty trucks fully equipped to provide complete service that the company dispatches for PMS, rescue or repowering services specially to far-flung areas.