Ready for duty: Foton presents the Harabas TM300 line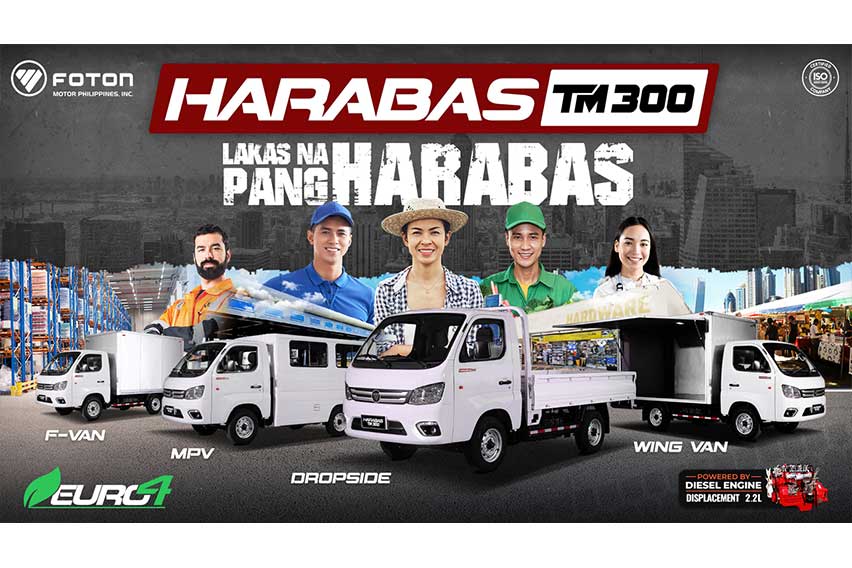 Moving cargo, delivering essential goods, transporting passengers, purveying a concept store, and any logistics operation: These are some of the work that Foton said its newest offering, the TM300, is ready for.
Foton Motor Philippines, Inc. (FMPI), the local distributor of trucks from Chinese brand Foton, added that the TM300 packs a durable body and frame that make it capable of such jobs. Its rigid frame structure and a fully-reinforced steel plate chassis can carry loads of up to 1.1 tons.
The TM300 can be configured in an array of customizable bodies, a Dropside, an F-Van, a Ref Van, or an MPV.
The truck is powered by a Euro 4-compliant 2.2-liter turbocharged four-cylinder diesel engine, which generates 87hp at 3,200rpm and a maximum torque of 220Nm at 2,000rpm.
"Strong from both outside and within, the Harabas TM300 has the strength to shoulder tough logistics needs every day," said FMPI Rommel Sytin.
"We are gladly presenting it to our hardworking fellow Filipinos who are finding ways to innovate and succeed during this prolonged pandemic."
Equipped with a strong steel flatbed, Foton said the TM300 Dropside can hold 100 kilograms of goods. This can allow the truck to work for Lipat Bahay (moving) services, glass and steel manufacturing, LPG deliveries, rice delivery truck, and cargo mover for local government units, Foton cited.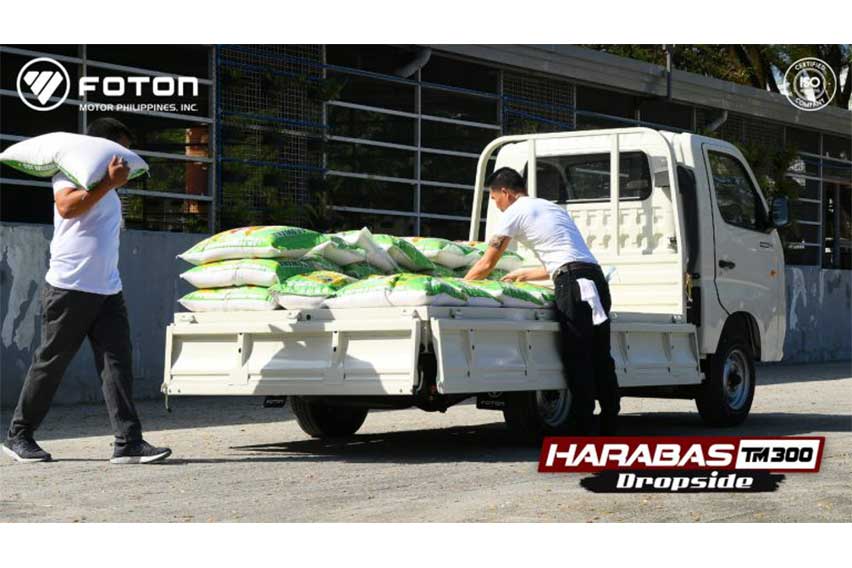 Boasting a wide interior in its closed-van storage, Foton claimed the TM300 F-Van is suitable as a vegetable and fruit truck, or a delivery truck for any service that requires a secure and durable logistics vehicle. Enhanced accessibility and security is provided by its side door which is secured by mechanical locks.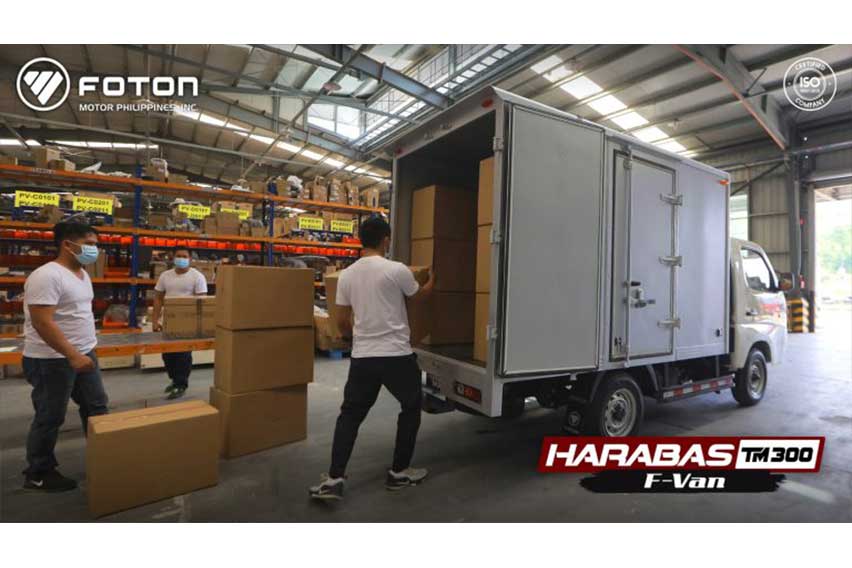 The TM300 MPV, meanwhile, comes with cargo-convertible seats in its cabin, which can be accessed through its two doors mounted rearward. Foton has touted this as a multi-service vehicle with its 16-seater capacity, either as a company shuttle or as transportation for authorities.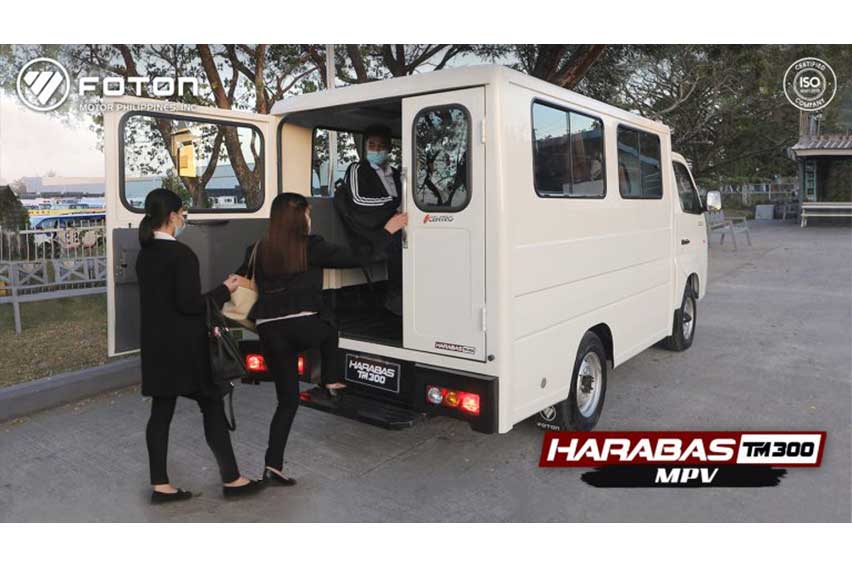 Lastly, the TM300 Wing Van offers a solution to any business with its three swing-up doors mounted on each side of its cargo hold.
The Wing Van can act as mobile store. With one or all the doors swinging upward, the business owner can install a booth inside the cabin from where they can transact with customers outside. The swing-up doors can also serve as an awning when it rains, Foton said.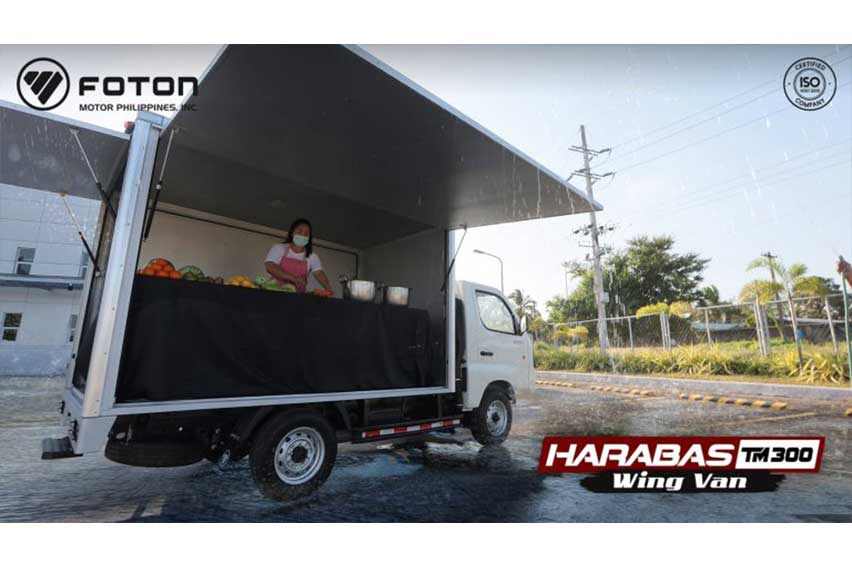 The Harabas TM300 will also ensure uninterrupted daily transportation and operations with first-in-the-industry after-sales programs, FMPI said. These programs include the 24/7 EC Mobile Service that provides immediate response to vehicle breakdowns and servicing, and EC Genuine Parts availability.
Photos from Foton Motor Philippines, Inc.
Also read
Foton, Shell PH forge alliance
Power of 3: Foton PH bolsters digital presence on various platforms
Foton Car Articles From Zigwheels