The Aston Martin Vantage F1 Edition: Track-worthy, road-friendly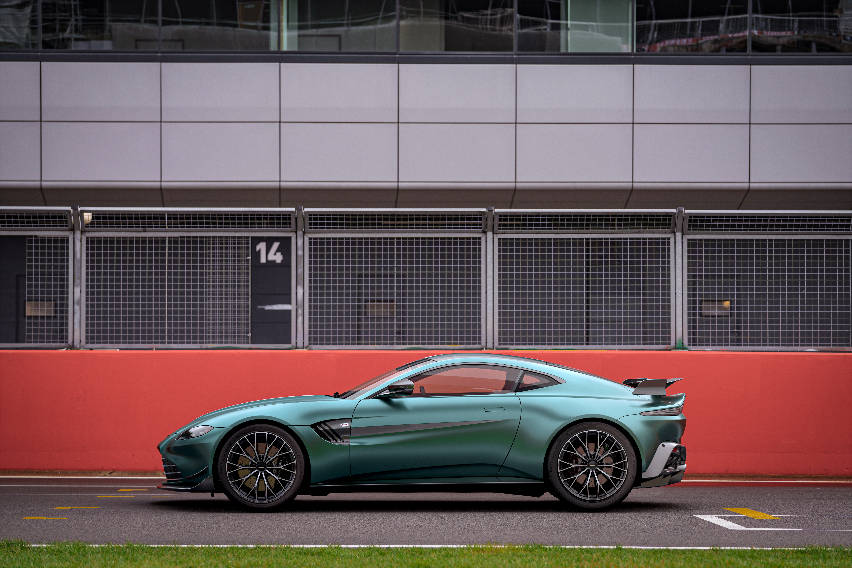 British sports car manufacturer, Aston Martin, introduces the latest addition to its Vantage lineup — the Vantage F1 Edition. Available as either a coupé or roadster, the F1 safety car-based Vantage makes for a track-worthy, street-legal automobile.

The F1 Edition Vantage is outfitted with a 4.0-liter twin-turbo V8 engine that increases its maximum power to 348hp at 685Nm of torque. The engine is married to an eight-speed automatic transmission optimized to reduce shift times and improve shifting precision. The chassis was also reworked, adding detailed underbody modifications to increase the car's structural stiffness resulting in enhanced steering feel and response. Chassis upgrades were complemented by improvements in the dampers for better vertical body control. The wheels have also been upgraded to make the F1 Edition the first Vantage to sport 21-inch tires.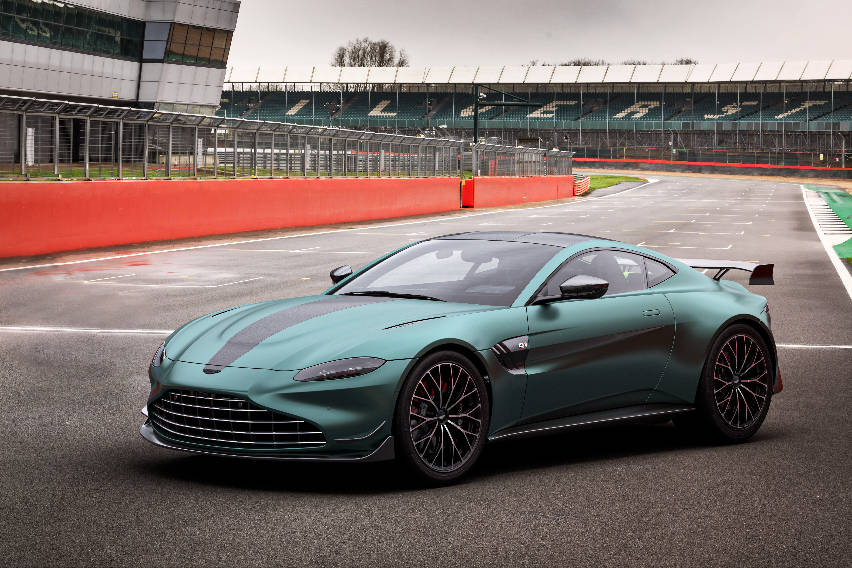 Body enhancements include a comprehensive aerodynamic kit with a full-width front splitter, front dive planes, underbody turning vanes, and a new rear wing. These features are designed and engineered to deliver positive front and rear downforce improving control, balance, and handling even at top speed.

"Performance is at the heart of every Aston Martin, but when it wears an F1 badge it has to be a truly exceptional car. The Vantage was already the most focused sports car in our range but in the development of our Official Safety Car of Formula 1, it had to be a true athlete, more powerful, more agile, more immediate, and more exciting to drive," said Moers. "I set the engineering team a tough target, as I was insistent that gains in performance came via genuine improvements in the car's dynamics, and not by fitting track-optimised tires. The results speak for themselves. A Vantage to appeal to the most discerning drivers and a new model that marks an exciting moment in Aston Martin's history," he added.

The Vantage F1 Edition is the first core model to benefit from direct input from Aston Martin's recently appointed Chief Executive Officer, Tobias Moers.

Check out the new Vantage's spec sheet.


Length: 4490 mm


Width: 2153 mm


Height: 1274 mm


Wheelbase: 2704 mm


Fuel Tank: 73 liters


Weight: 1570 kg Coupe, 1645 kg Roadster.


Weight Distribution 50:50


Exterior:


Two-door body style


Extruded bonded aluminum body structure


LED High & Low beam Headlamps with integrated direction indicator, daytime running lights, position lamp, lock/unlock graphic theater


Signature full width LED tail lamp with stop tail and dynamic indicator functions


Clamshell bonnet


Aerodynamic Body Kit


Modified Gas Struts and bumpstops to support tailgate opening efforts


Interior:


Interior Accent Stripe & Stitching — Spicy Red, Obsidian Black or Wolf Grey


Grey Alcantara Headlining


Interior Carbon Fiber Pack


Premium Audio System


Garage Door Opener


First Aid Kit


Engine:


All-alloy quad overhead cam, 4.0 liter twin turbo V8


Water-to-Air charge cooling


Front mid mounted engine, rear-wheel-drive


Compression ratio 10.5:1


Fully catalyzed stainless-steel exhaust system


Electronically Controlled Exhaust


Dual Variable Camshaft Timing


Fully CNC machined combustion chambers


Maximum Power: 348 hp


Maximum Torque: 685 Nm


Brakes:


Front ventilated two-piece cast iron brake discs 400 mm Diameter


Rear ventilated Co-Cast brake discs 360 mm Diameter


Electric Park Brake


Dynamic Stability Control (DSC)


Anti-lock braking system (ABS)


Electronic Brakeforce Distribution (EBD)


Emergency Brake Assist (EBA)


Traction Control (TC)


Hydraulic Brake Assist (HBA)


Positive Torque Control (PTC)


Dynamic Torque Vectoring (DTV)


Suspension:


Front independent double wishbone design coil springs, anti-roll bar and adaptive damping


Rear Multi-link, coil springs, anti-roll bar and adaptive damping


Adaptive Damping System (ADS) with Skyhook technology modes Sport, Sport Plus & Track


Stiffer Rear spring, uprate in damping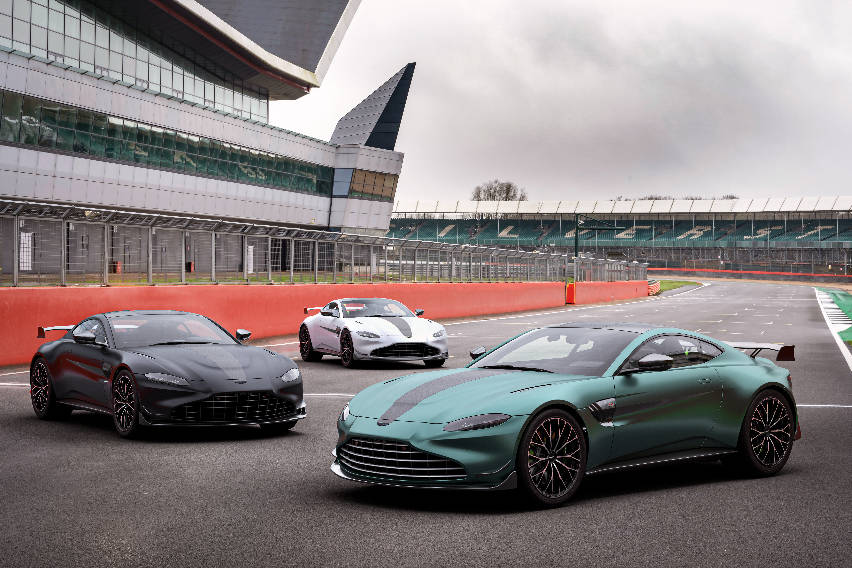 Aston Martin looks to start deliveries of the Vantage F1 Edition in May of 2021. These F1-inspired cars come with a price tag of £142,000 in the UK and €162,000 in Germany.