The Hyundai RM19 Concept Shows What a Mid-Engined Veloster Looks Like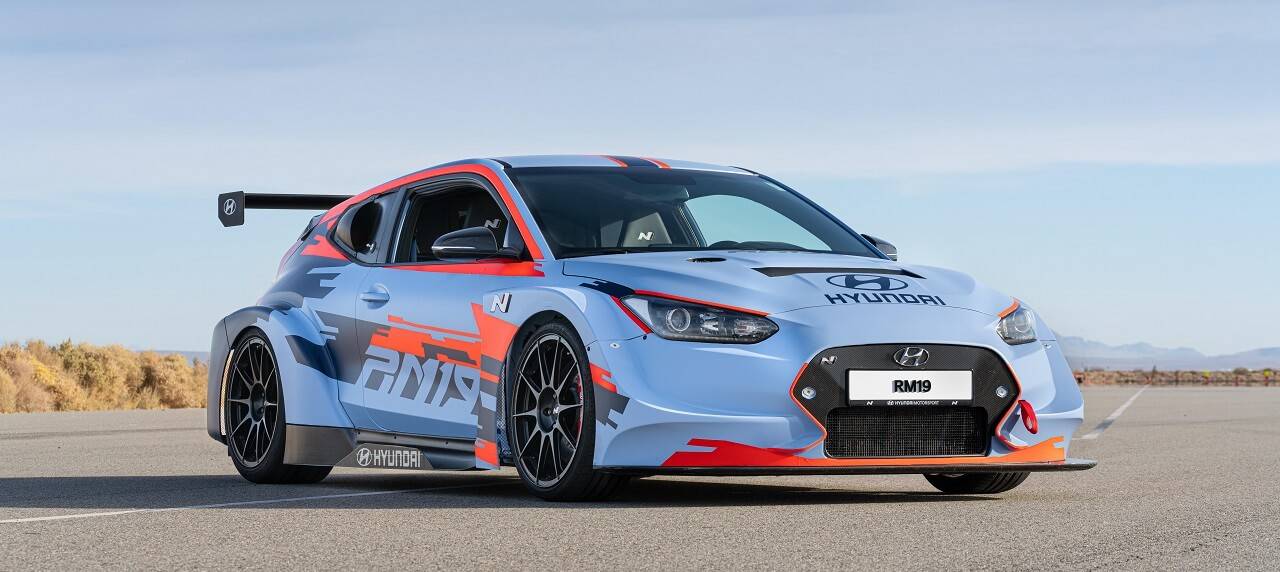 Last November 20, Hyundai Motor Company unveiled the RM19 (short for Racing Midship 19) concept sports car to little fanfare, but the announcement that the car is gearing up for production is generating a lot of post-launch buzz.
The RM19 concept packs a turbocharged 2.0-liter inline-four that can do 390-horsepower, hit 100 kilometer per hour (kph) from a standstill in less than four seconds, and reach a top speed in excess of 250 kph. These numbers give the concept enough power to mix it up with established speedsters such as the Volkswagen Golf GTI and the Honda Civic Type R.
[gallery columns="4" ids="70674,70673,70672,70671">
Essentially a reworked version of the Veloster TCR touring car that competes in the International Motor Sports Association (IMSA) circuit and United States Auto Club's TC America series, the car is a mid-engine mount, and designed for road-legal driving.
The mid-engined RM19 is the latest in a line of RM concepts that the South Korean brand has been consistently debuting since 2012. The RM series focuses on testing designs and engineering innovations "for future N brand products, including a potential brand-halo car," according to Hyundai's press release.
"The RM platform is a versatile engineering testbed, allowing effective evaluation of various powertrains and performance levels, all on normal roads and environments," said Albert Biermann, head of global research and development for Hyundai Motor Company.
"Throughout the evolution of the RM series, our engineers have gained tremendous hands-on knowledge of high performance vehicle dynamics with various front-to-rear weight distributions coupled with the effects of a fully-weighted, high-strength body structure on vehicle performance."
The car uses the same engine as the Veloster TCR and i30 from the Hyundai N Performance Division, a new high-performance wing of the Hyundai lineup. However, unlike the race cars which undergo balance of performance (BOP) adjustments, RM19 doesn't carry any such restrictions, and thus enjoys an extra boost of output. "RM19 offers racecar-like levels of performance, balance, braking and grip while retaining daily road-going capability," Hyundai says about the car's performance.
[gallery columns="2" ids="70668,70667">
Power is delivered via paddle shifters that control a six-speed sequential transmission similar to the one used in TCR-series racers, albeit with street-friendly ratios.
"The RM19 sports car signals future brand aspirations for Hyundai's high-performance N brand, solidly moving N into the prestigious arena of supercar-level performance," said Thomas Schemera, executive vice president and head of Hyundai Motor Group's Product Division.
"Hyundai N will not only increase heartbeats per minute via powerful internal combustion engines, but also through the instantaneous torque and environmental sustainability of electrified powertrains moving forward."
[gallery columns="2" ids="70670,70669">
Unfortunately for those excited to hear about the car heading into production, sources suggest it will be take at least a few years for that to happen. However, Hyundai is quick to assure that the production car will look very similar to the concept.
Also read: Confirmed: Hyundai Will Build Its Own Pickup, the Santa Cruz
Hyundai Announces World's First Continuously Variable Valve Duration Engine