Toyota PH jumpstarts 2022 with new vehicle deals
Aside from the official launch of the incoming crossover, Toyota Motor Philippines (TMP) is kickstarting the year with an array of offers and exclusive perks that customers will enjoy.
KEY TAKEAWAYS
What are the Toyota models covered in this month's promo?
These are the Wigo, Vios, Fortuner, and Grandia.
Aside from the enticing sales offer, what are the vehicles packaged with?
Toyota customers are also entitled to free one-year insurance.
"This 2022, we are welcoming the new year filled with unending possibilities and opportunities. With an open road ahead of us, it's only fitting to start journeys with something that could get everyone a long way – whether it's the first step towards a new life, new family, new business," the leading automotive distributor said in a statement.
This month, the Toyota Wigo E MT trim can be driven home with a P6,023 per month via the Pay Light option (50-percent down payment, 60 months to pay). This hatchback is powered by a fuel-efficient 1.0-liter engine that delivers practical performance.
The Toyota Vios 1.3 XE CVT variant is yours for the taking for only P7,272 per month via the Pay Light option. Aside from that, TMP said that buyers of the participating variants of the subcompact sedan can enjoy up to P80,000 in savings for outright cash transactions. Also, the select variants are packaged with a five-year warranty with all provisions and conditions stated in the warranty booklet applied.
For the whole month of January, select Toyota Innova variants are offered in attractive deals. Its 2.8 J Diesel MT variant — when acquired under the Pay Light option — can be bought for P12,586 per month. Those who prefer the 2.8 E Diesel MT variant can get it via all-in low down payment at 15-percent of P192,750. This comes with free insurance for the first year, free three-year vehicle registration at the Land Transportation Office and more. The well-loved multi-purpose vehicle can also be purchased with as much as P45,000 in cash discount.
The Toyota Fortuner is being retailed with the Pay Light option of P17,090 monthly for the 4x2 G MT or the all-in low down payment of P244,950.
Help your business ride in style with the Toyota Hiace by getting it for P21,913 per month on the GL Grandia MT variant.
Discover more vehicles under good deals by visiting https://toyota.com.ph/promos/BetterBeginnings.
Further, TMP is giving free periodic maintenance service of up to 20,000 kilometers for participating variants of Vios, Corolla Altis, Rush, Innova, Fortuner, Hilux, and Hiace.
Moreover, customers are entitled to free one-year insurance for participating models and variants that cover 24/7 personal accident insurance, passenger auto personal accident insurance, three-year compulsory third party liability insurance, and more.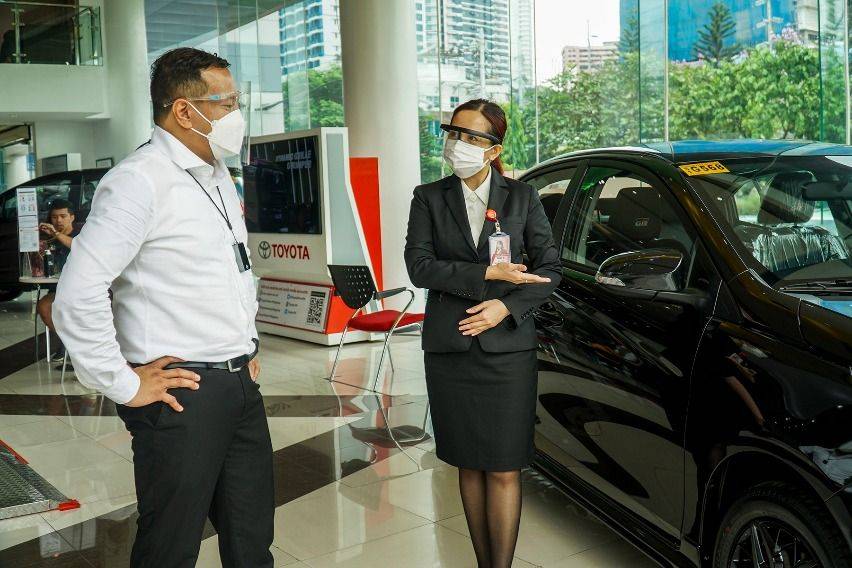 Customers looking to trade in their used vehicle for a Toyota can get up to a P40,000-rebate to purchase accessories or be availed with other existing offers.
Check all other deals for more Toyota vehicles on the official website toyota.com.ph or contact any Toyota dealership near you. Follow TMP's official pages – Toyota Motor Philippines on Facebook and Instagram, toyota.com.ph, Twitter (ToyotaMotorPH), and Viber (Toyota PH) – for regular updates on products and services, dealer operations, announcements, and events.
Photos from Toyota Motor Philippines
Also read:
Toyota PH offers low payment plans, free PMS, and more this season of gift-giving
TMP introduces myToyota Wallet app as cashless payment solution
Get a P300 e-voucher when you download myToyota, myToyota Wallet