Toyota PH receives accolades for CSR practices in 5th Driven to Serve Awards
Toyota Motor Philippines (TMP) has been recognized at the 5th Driven to Serve Awards for its corporate social responsibility (CSR) initiatives implemented at the height of the COVID-19 pandemic in 2020.
KEY TAKEAWAYS
What are the two categories in the 5th Driven to Serve Awards that Toyota Motor Philippines received recognition?
The company received Gold Awards under COVID-19 Response and Education categories.
How many hospitals, cities, and municipalities benefited from TMP's COVID-19 response initiatives?
TMP said that 37 hospitals (private and public) and 16 cities and municipalities in South Luzon benefited in the Covid-19 initiatives.
The company received Gold Awards from the Society of Philippine Motoring Journalists (SPMJ) in two categories namely COVID-19 Response (mobility support to healthcare frontliners) and Education (support to basic education learning continuity plan of an adopted school).
In 2020, TMP lent out 49 Toyota vehicles in response to the immediate need for mobility of the frontliners in the healthcare division while the company is operating on a skeletal workforce. Aside from that, TMP deployed 10 Hiace units equipped with a mobile booking application for added safety and efficiency at the Philippine General Hospital in Manila.
In June 2020, TMP also donated 30 Toyota Vios units to government hospitals in Metro Manila and Santa Rosa City, Laguna. A total of 37 hospitals (private and public) and 16 cities and municipalities in South Luzon benefitted in the aforementioned initiatives.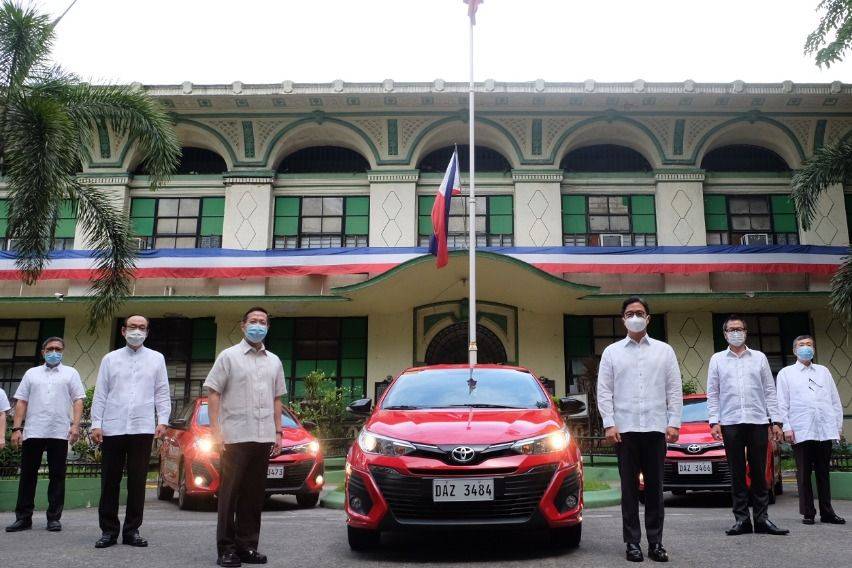 Meanwhile, TMP supported the transition to "new normal" learning of its adopted school, Pulong Sta. Cruz Elementary School (PSCES) by sponsoring 46 new laptop computers for the teachers.
Moreover, TMP Foundation turned over 8,000 printed learning modules for various grade levels and subjects, thermal scanners, face shields and masks, sanitation items, and hardware supplies for the school facilities.
"As we continue to live with the pandemic, it is vital that organizations remain committed to doing good to enact positive change in the communities where we operate," Driven to Serve Awards Board of Judges member J. Luigi Bautista said at the awarding ceremony.
"These programs demonstrate commitment to the greater good and show the portrait of a caring industry – that despite the challenges posed by the pandemic, you were able to step up and help those in need," he added.
Photos from Toyota Motor Philippines
Also read:
Toyota PH among Pag-IBIG's top private employers, contributors in South Luzon
Toyota PH's logistics arm one of BIR West Laguna's top taxpayers
PCSO takes delivery of Hiace Commuter Deluxe ambulances from Toyota PH