Tumi presents McLaren-inspired travel collection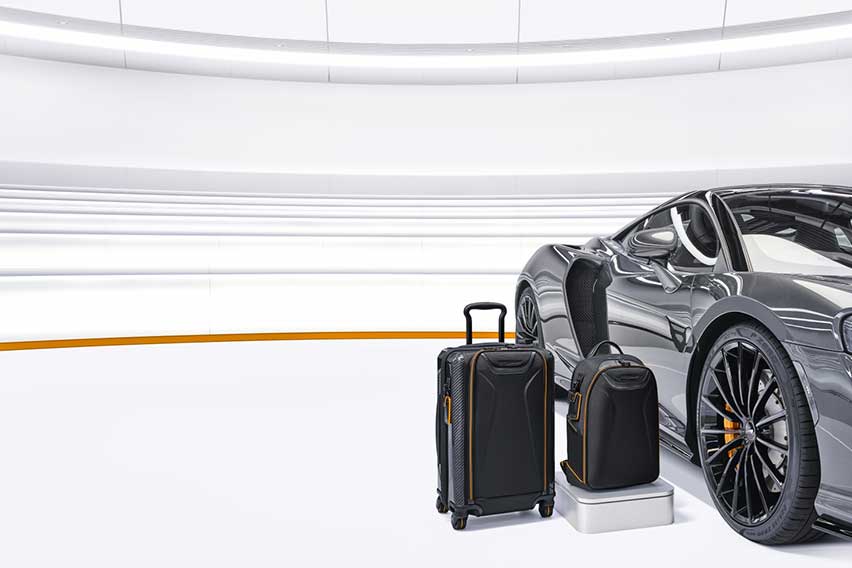 Do you fancy some travel bags to go along your McLaren (well, if you don't have one, these should work just as well)?
Travel bag manufacturer Tumi unveiled a collection of essentials for travel and even business and everyday use, which were designed and developed in partnership with British sports car maker McLaren.
McLaren said that it shared a "common vision of continually pursuing higher levels of excellence" with the American brand, "which is reflected in the details and choice of materials in the McLaren-inspired Tumi range."
Nine pieces are part of this Tumi range, which all possess "elements of McLaren's sleek, bold supercars and race cars." They are distinguishable with McLaren's signature Papaya colorway and feature CCX6 carbon fiber accents.
Key travel pieces include the Aero International Expandable 4 Wheel Carry-On and the Quantum Duffel.
The carry-on is crafted with a hybrid of materials including Tegris, an extremely hard-wearing thermoplastic composite found in race cars. The hard shell is contrasted by a molded-fabric front panel "with a supercar-influenced design that is echoed throughout the collaboration," McLaren added.
This solid build allows the bag to protect the contents it carries. The interior features a compression strap, which McLaren said works similar to the six-point racing harnesses that hold drivers of its race cars and track-focused models such as the McLaren Senna GTR.
The Velocity Backpack intends to keep wearers connected thanks to the inclusion of a USB port and padded laptop compartment. This includes TUMI's known "Add-a-Bag" sleeve.
These products were the result of the collaboration of Tumi Creative Director Victor Sanz, and McLaren Design Director Rob Melville after the partnership of the two companies was announced in 2019.
"Each piece is designed to uncomplicate, while elevating performance in all aspects of life on the move," McLaren said.
"The result is something that I am incredibly proud of," Melville shared.
"I believe (the collection) will elevate the owner's experience while serving as a reminder that, like our cars, it's about enjoying the journey and not simply the destination."
"We're two like-minded brands who share the same values—unparalleled quality, technical innovation and design excellence," Sanz added. "The value of this partnership, however, extends beyond the product."
Sanz said that Tumi's gear can handle the "most arduous excursions."
Other accessories in the collection include the Torque Sling and Lumin Utility Pouch, which are said to add contemporary styles for light-carry and hands-free days, the The Orbit Small Packing Cube, the Trace Expandable Organizer, and split compartment Teron Travel Kit.
The collection is available in Tumi's website and global retail stores, and select McLaren retailers globally.
Photos from McLaren
Also read
McLaren GT Verdant Theme Takes Exterior Paints to Next Level