VW Group Enjoys Robust Global Sales in November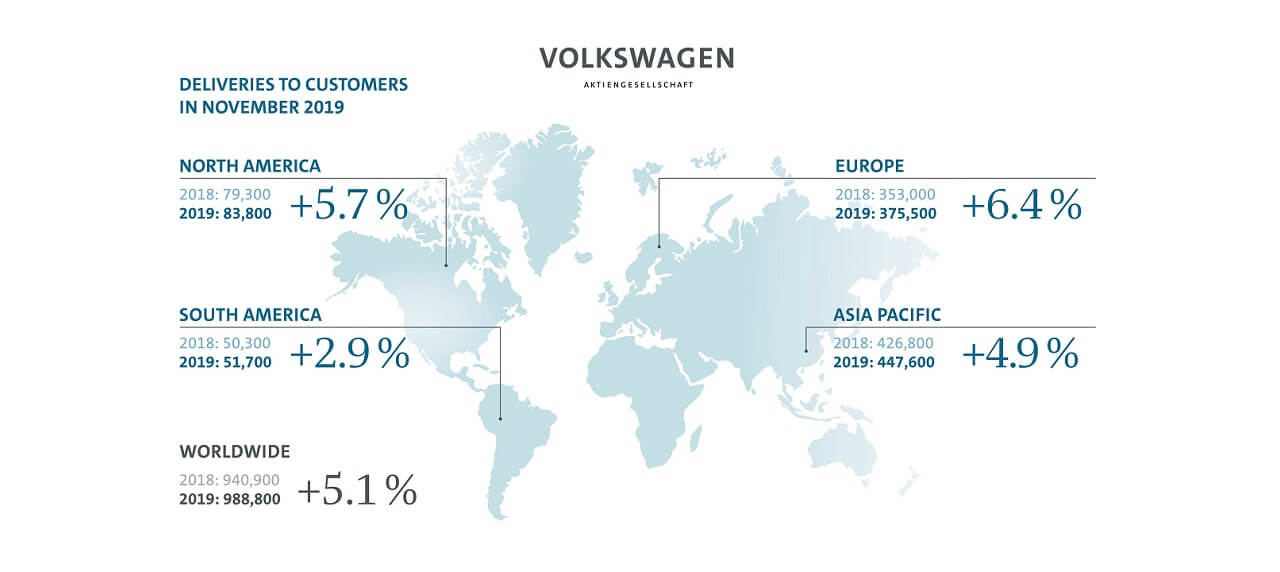 The Volkswagen Group delivered a total of 988,800 vehicles worldwide in November 2019 compared to just 940,900 in November 2018. This amounts to noteworthy increase of 5.1 percent worldwide sales compared to the same month of the previous year. The growth is even made more impressive by the fact that overall market continues to shrink.
The increase also applies to China, VW's largest single market, where the brand improved its deliveries by 5.1 percent despite the Chinese auto market shrinking overall.
Volkswagen provides the following specifics with its sales growth in various regions:
In Europe, 375,500 vehicles were delivered, corresponding to a rise of 6.4 percent compared with November 2018. In Western Europe, 304,300 customers took delivery of a vehicle from a Group brand (+7.5 percent). In the domestic market of Germany, 116,500 vehicles were handed over to customers (+ 9.1 percent). In Central and Eastern Europe, deliveries rose by 1.8 percent to 71,200 vehicles. In Russia, the Group brands handed 22,300 vehicles over to customers, 2.5 percent fewer than in November 2018.
In the North America region, the Group also recorded growth and extended its market share. 83,800 vehicles were handed over to customers, a marked rise of 5.7 percent compared with November 2018. In the USA, 56,800 vehicles were delivered, corresponding to significant growth of 13.7 percent. In Canada, deliveries amounted to 9,700 vehicles, a fall of 2.9 percent. In a shrinking overall market in Mexico, deliveries fell by 10.5 percent to 17,300 vehicles
In South America, the Group succeeded in boosting deliveries despite a fall in the overall market and therefore significantly expanded its market share. Customers took delivery of a total of 51,700 vehicles, 2.9 percent more than in November 2018. In Brazil, the group grew deliveries by 9.2 percent to 41,700 vehicles. In Argentina, the overall economic situation remained challenging. The Group was also affected by this trend and recorded a fall in deliveries of 22.6 percent to 4,500 vehicles, which still represented a significant increase in the market share.
In the Asia-Pacific region, the Volkswagen Group also grew deliveries despite declines in overall markets. 447,600 vehicles were delivered, representing a rise of 4.9 percent compared with November 2018. This positive development was driven by China, the Group's largest single market. In a shrinking overall market, deliveries once again grew markedly by 5.1 percent to 419,700 vehicles, leading to a significant rise in the Group's market share.
©volkswagenag.com
"In November, the brands of the Volkswagen Group once again showed strong delivery performance," said Dr. Christian Dahlheim, Head of Volkswagen Group Sales. "For the period from January to November, we exceeded the prior-year level for the first time this year, despite considerable adverse effects from the markets. We are confident that we will bring 2019 to a successful close."
The VW Group sells passenger cars under the Audi, Bentley, Bugatti, Lamborghini, Porsche, SEAT, Škoda and the flagship Volkswagen marques. The group also peddles motorcycles under the Ducati brand, as well as commercial vehicles, trucks, and buses under Traton, MAN, Scania, and Volkswagen Commercial Vehicles.
©volkswagenag.com